Mayor Adams tapped to stump for Biden 2024 re-election campaign
NEW YORK - Mayor Eric Adams has been tapped to spread the Democratic Party's message across the country.
First reported by the Washington Post, Adams along with around 20 other Democrats, will sit on a national advisory board convened by President Joe Biden's team. With the 2024 presidential election looming closer, Adams will also appear on national TV to stump for President Biden once he officially announces his re-election campaign.
As Lawrence Levy, executive dean of the National Center for Suburban Studies at Hofstra University explained, Adams poses as a unique pick to spread the democratic party's message.
"The Democratic Party's problem is not with the left, it's with the center," Levy said.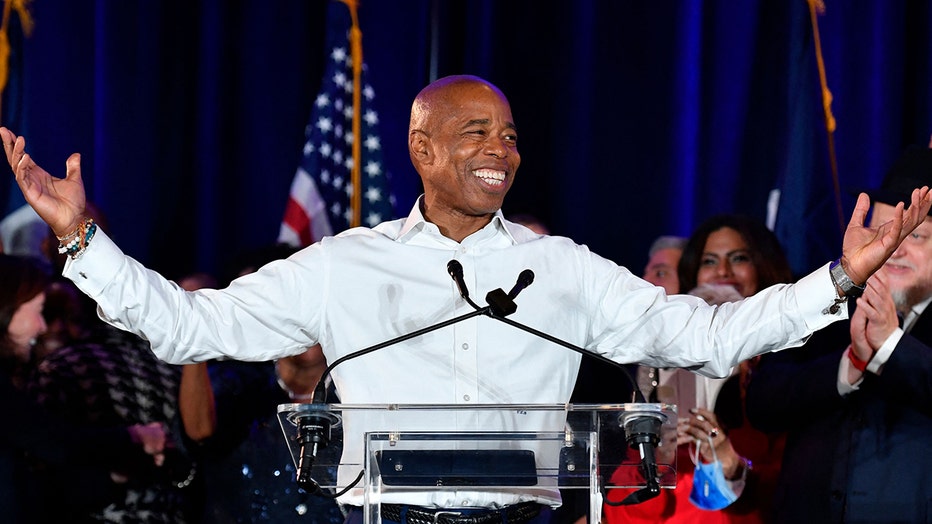 New York City Democratic Mayor-elect Eric Adams gestures to supporters during his 2021 election victory night party at the Brooklyn Marriott on November 2, 2021 in New York City. - Ex-policeman Eric Adams was elected New York City's next mayor and wi
A moderate, former police officer, and now mayor of the largest city in the country, Adams could have the ability to swing some suburban voters, especially as the Democratic Party works to maintain its moderate stance.
"Adams is a double tool for Biden," Levy said. "He not only can speak to urban audiences, particularly black voters who are a major base for the Democratic Party and Joe Biden, but he also can speak to suburbanites who find his moderate positioning and message comforting in ways that, for example, Bill de Blasio did not."
RELATED: Joe Biden's reelection bid faces opposition from some Democrats
But Adams has been critical of the federal government and the Biden administration for its immigration policies.
On Good Day New York, Adams again said that the federal government was not doing enough to provide funding to cities that are bearing the brunt of the migrant crisis.
"We need a real decompression strategy," Adams said. 'One city should not be burdened this way, that has never been done before. That is what's being done now."
But Levy said this criticism of the federal government might actually help Adams appeal to more voters.
RELATED: Biden healthy, fit for duty, president's doctor says after routine physical
"He's somebody who can come before folks and say, hey, I'm not a shill for Joe Biden and the Democratic administration. I criticize them when they need to be criticized," Levy explained about Adams. "I think it gives them more credibility than someone who is in total lockstep with the Biden and democratic administration."
A spokesperson for Mayor Adams said in a statement that these new responsibilities will not distract Adams from his job in New York City. 
"This blue-collar mayor will be happy to aid this blue-collar president in any way possible during the re-election campaign," the Mayor's spokesperson said. "They both believe that safety and justice go hand in hand and that government needs to focus on helping working class Americans succeed.  The teams have had multiple conversations about exactly how the Mayor can help – and the advisory board is just one example."