Bodycam video released: Suspect dead, Phoenix officer hurt after man reportedly tried to take patrol car
PHOENIX - Phoenix police are investigating an officer-involved shooting near 75th Avenue and Buckeye that left a suspect dead on March 12, and just over a week later, bodycam video was released.
The incident began around 7:30 a.m. after two men reportedly refused to get off of a bus. An officer was called to remove them, and they eventually got off.
Police say one of the men, identified as Adam Vespoli, 39, walked off the bus then walked to the officer's patrol car and got in the driver's seat.
"While the officer was speaking with the second male on the bus, he noticed Vespoli was in the driver's seat of the police vehicle. The officer got off the bus and ran to his vehicle, as Vespoli put the patrol car into drive. The officer placed his foot on the running board and at gunpoint ordered the male to get out of his vehicle. As the male began to accelerate, the officer said he feared for his life, and fired his weapon. The vehicle came into contact with the officer's leg during this time," Phoenix Police Sgt. Vincent Cole said.
The suspect lost control of the vehicle and the car went off the road and hit a tree. The officer tried to save Vespoli's life, but he ultimately died at the hospital from his injuries.
"The officer was also transported to a local hospital for minor injuries to his lower extremities," Cole said. He's a three-year veteran of the department.
On March 25, the police department released footage from the incident, showing what led up to the suspect's death. It also released 911 calls of the incident.
The 911 caller said the men were told they couldn't sleep on the bus while they reportedly were trying to nap.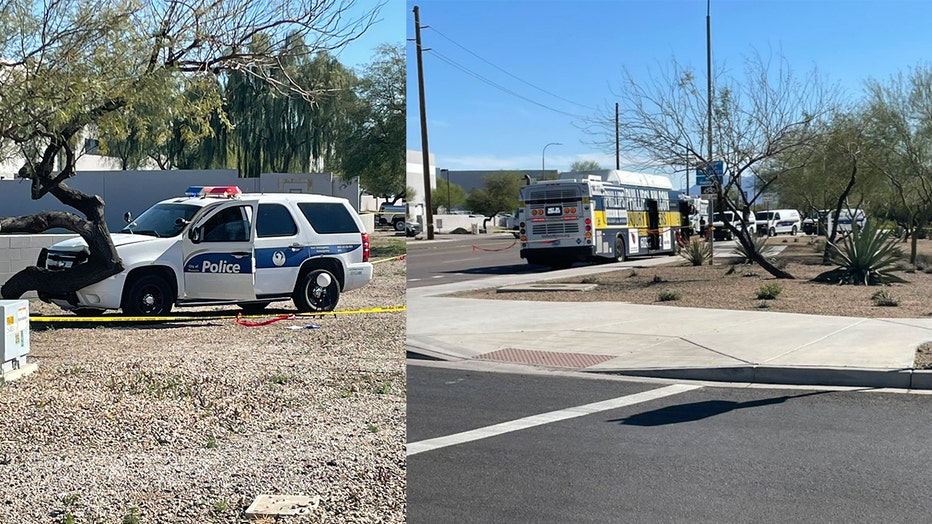 The scene of an officer-involved shooting near 75th Avenue and Buckeye.
More Arizona headlines
Tune in to FOX 10 Phoenix for the latest news: