Afghan interpreter now safe in Arizona thanks to Scottsdale immigration attorney
Tune in to FOX 10 Phoenix for the latest news
PHOENIX - A Scottsdale immigration lawyer worked around the clock to help get a man out of Afghanistan, and by late October, he arrived safe with his wife in Arizona.
The young Afghan, named Zabi, was an interpreter and served alongside the U.S. Marines.
Around the beginning of August, a friend of Darius Amiri, a lawyer with Rose Law Group in Scottsdale, reached out, asking him to help Zabi.
"He saw combat. He was right there alongside American troops, getting shot at, really putting himself at risk," said Amiri.
Amiri was in direct contact with Zabi as he tried to get to the airport where U.S. soldiers were. He said he was getting messages from Afghanistan, some of them with audible gunshots in the background.
"At this point, I am going way beyond being a lawyer and just being a human being," said Amiri
As Zabi trekked through and around Taliban checkpoints to get to the airport, Amiri was reaching out to Congressmen and Senators, making sure U.S. soldiers at the airport in Kabul had his information, ready to let him in when he got there.
"These are human beings who put their lives on the line to help our country, and we have to help them out," said Amiri.
Since Zabi helped the U.S., he is considered an enemy to the Taliban, which means he could be killed if he doesn't get out.
"He has conveyed to me that they will kill him if they find him," said Amiri.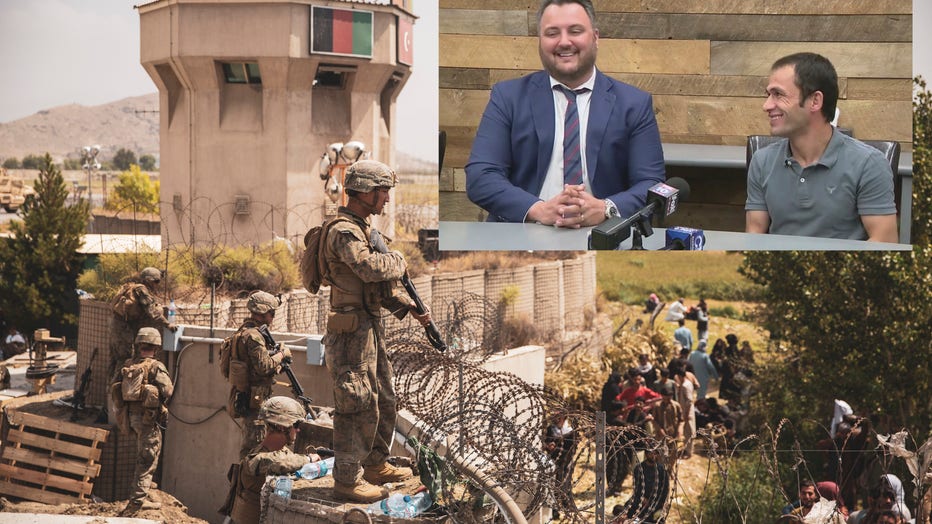 U.S. Marines assist with security at an Evacuation Control Checkpoint during an evacuation at Hamid Karzai International Airport, Kabul, Afghanistan, Aug. 20. U.S. service members are assisting the Department of State with a non-combatant evacuation
Afghan man begins new life in Tucson
Zabi is now adjusting to his new life as a refugee in Tucson.
"I feel I have reached my dreams. I feel really proud and happy and safe," he said on Oct. 26.
Describing his emotions of the first time he set foot on U.S. soil after escaping Afghanistan as the Taliban took over, he says, "Finally I reached a safe place. It was a long journey just to get here."
He and his wife were stopped at checkpoints all while they were trying to hide from the Taliban.
"At the airport it was a scary scary place. You could see Taliban with your eyes," he said.
If he was caught, it was a matter of life and death.
"It was really scary to think he might not even make it. It is really surreal that I am sitting next to him now," said Amiri, the attorney who held Zabi escape.
After six days at the airport and different planes, Zabi made it to safety and now with a new friend in Amiri.
"When we compare living in the United States and Afghanistan … We are living in the best place and best spot in the world," Zabi said.
Amiri is still working to assist other interpreters who are in Afghanistan, but he says it's an uphill battle as the country is run by the Taliban and is almost impossible to escape.
You can donate to Zabi and the other potential rescues here.
Other Top Stories
For the latest local news, download the FOX 10 News app