2 men, woman killed in double-murder suicide in Phoenix: police
PHOENIX - Three people are dead following a double-murder suicide at an apartment in Phoenix, police said.
According to Phoenix Police, officers responded to an apartment near 20th Avenue and Hadley Street just before midnight on June 19 for reports of a shooting. Once at the scene, officers found a man in front of the apartment who had been shot to death.
"A witness also told the officer that they saw the suspect force a woman inside an apartment and then they heard shots," police said in a statement.
Police secured the scene and once they got inside the apartment, they found a woman who had been shot to death and a man who was dead from an apparent self-inflicted gunshot wound.
The victims have been identified as 38-year-old Eric Sands and 29-year-old Danica Aiken. The suspect has been identified as 24-year-old Taffari Celestine.
"I couldn't see the actual shooter, but I saw when he got shot. I saw him fall," says a neighbor who wanted to remain anonymous. "I heard it sounded like it was in my backyard, actually. That's how close it was. I heard screaming, yelling, 'Please somebody help me,' type of deal. Then I heard the gunshot. Wait, that's way too close. That sounded like it was in my yard."
The neighbor explains what she did once she heard the gunshots.
"They took her in the house and I heard three more gunshots, and I said, 'you know what, there was more gunshots.' I told 911, and then it was silent," they said. "Did this really happen? Did I really see that guy fall, get shot? Did I really see that? Was that real?"
Investigators believe the suspect was the ex-boyfriend of the woman, and the other victim was her current boyfriend. Friends say the couple had only just moved in two months.
"You could tell they were just moving in. They were trying to get a new start somewhere and I guess they were found."
Loved ones are raising money on Cash App for Eric's and Danica's funeral expenses. The money left over will go to Danica's daughter. You can donate by sending money to the username $LILBLOSSOM89.
A GoFundMe has also been set up and can be found here https://gofund.me/119e8c3b.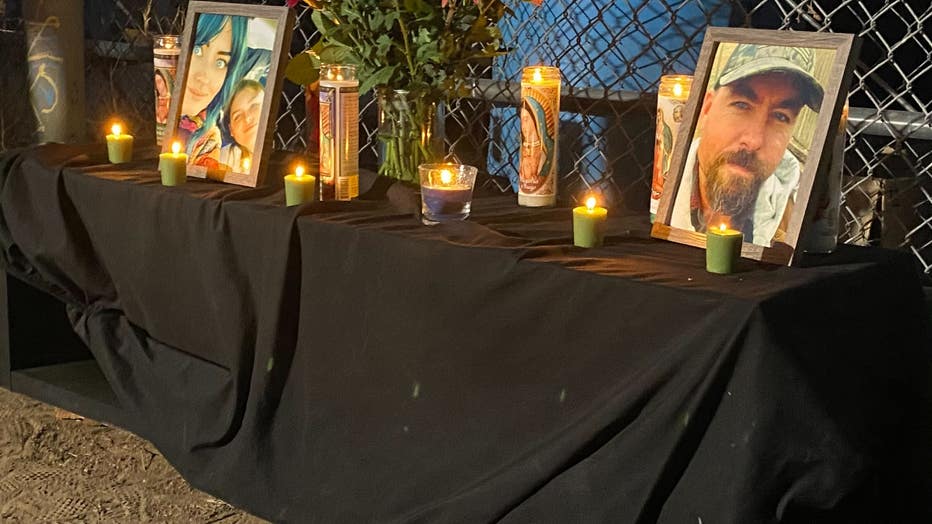 Photos of Danica Aiken and Eric Sands
A day later, the loved ones of the victims gathered outside the home where they lost their lives.
"I started crying, not going to lie to you. It's very tragic because knowing the situation and everything that unfolded, it's just horrible," says Monique Pazos, a friend of Danica.
She wants to remember the good times she had with Danica.
"She was somebody who created a safe space for everybody to come and just hang out and be themselves and she was an amazing person. She was very inclusive. She loved everybody. She helped anybody that she could. She was an unfortunate victim of domestic violence last night," Pazos said.
If you or a loved one is feeling distressed, call the National Suicide Prevention Lifeline. The crisis center provides free and confidential emotional support 24 hours a day, 7 days a week to civilians and veterans. Call the National Suicide Prevention Lifeline at 1-800-273-8255. Or text HOME to 741-741 (Crisis Text Line).
Help is available for those who are victims of domestic violence. Call the National Domestic Violence Hotline at 1-800-799-7233 (TTY: 1-800-787-3224). You can also text START to 88788.
More Arizona crime news