Arizona Coyotes put in $1.7 billion proposal to build arena in Tempe
TEMPE, Ariz. - The Arizona Coyotes have proposed a $1.7 billion development in Tempe that will include a hockey arena.
Renderings released Monday by the Coyotes include proposed restaurants, shops and apartments on a 46-acre tract of land near Rio Salado and Priest Drive, not far from Loop 202.
The team said the arena would be funded by private investors but would seek city sales tax revenues to help pay for $200 million in additional costs, including infrastructure work.
"They seem to understand that the days of taxpayers shoveling out cash so sports teams and billionaires can build arenas are over, and I think that's a good thing," said Coyotes fan Trey Terry.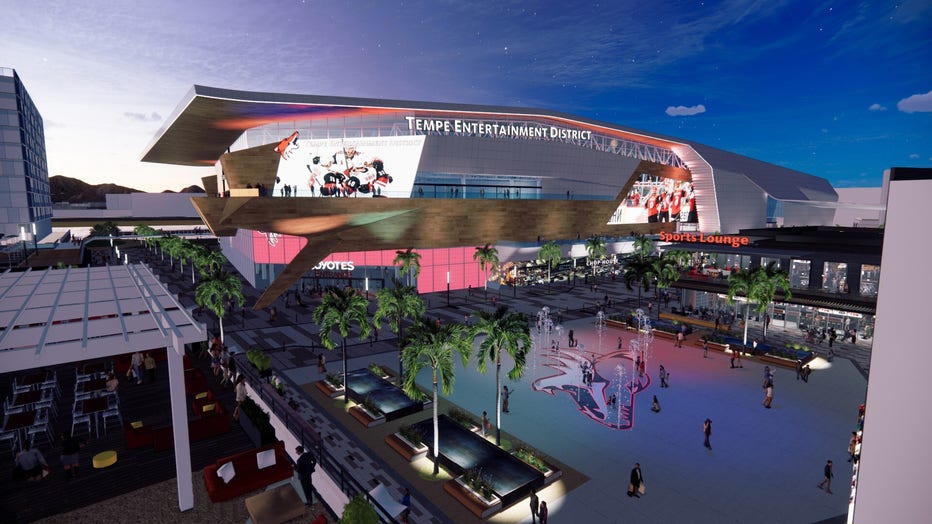 Renderings released by the Arizona Coyotes include proposed restaurants, shops and apartments on a 46-acre tract of land near Rio Salado and Priest Drive, not far from Loop 202. (Courtesy: Arizona Coyotes)
The Coyotes put in the only proposal for the land earlier this month. The city of Tempe said the evaluation process would take several months and will include extensive examinations, with opportunities for community feedback.
"Cautiously optimistic is how I'd put it," said Alexi Rentzis, a longtime Coyotes fan. "If they get the deal, I'm like, great! They're not leaving."
The Coyotes had been leasing Gila River Arena on an annual basis since the Glendale City Council voted to opt out of a multimillion-dollar long-term deal in 2016. Glendale announced recently that it will not renew its agreement with the franchise beyond the 2021-22 season.
The Coyotes have played at Gila River Arena since moving from America West Arena, which they shared with the NBA's Phoenix Suns, in Downtown Phoenix in 2003. That venue is now called Footprint Center.
Owner Alex Meruelo has said he plans to keep the Coyotes in Arizona. The franchise is searching for a temporary home to use following the 2021-22 season.
Coyotes' rebranding brings back popular Kachina logo
The Coyotes are bringing back their popular Kachina logo.
The franchise announced a rebranding on Sept. 20 that will change its primary logo back to the Kachina logo and introduce white Kachina jerseys for away games.
The Coyotes said the rebranding was part of the franchise's commitment to inclusivity and innovation by reaching out to communities that have not typically been home to hockey fans.
"Our rebrand will highlight that the Coyotes are a dynamic, energetic and a forward-looking organization and this campaign with demonstrate our commitment to be a leader in our community," Coyotes President and CEO Xavier Gutierrez said in a news release. "The Valley and the entire state are a part of Our Pack."
The Coyotes will continue to wear black Kachina jerseys for home games, excluding eight games when the team will wear its red Coyotes head jerseys.
The white Kachina jerseys haven't been worn since the 2002-2003 season.
The ice at Gila River Arena already has the Kachina logo.
___
More AP NHL: https://apnews.com/hub/NHL and https://twitter.com/AP_Sports
Other Top Stories
Tune in to FOX 10 Phoenix for the latest news
For the latest local news, download the FOX 10 News app