Facebook constructing solar-powered data center in Mesa
MESA, Ariz. (AP) - Social media giant Facebook says it is building a data center in metro Phoenix powered only by renewable energy. 
The company's Thursday announcement says the data center in Mesa will represent an investment of more than $800 million and support about 100 jobs. In addition, the job is expected to bring 1,400 construction jobs to the city.
The data center will house routers, switches, servers, storage systems and other equipment.
"Pretty much going to be their servers, everything that supports the cloud services. Facebook, Instagram and everything Facebook has to offer," said Mesa City Councilmember Kevin Thompson.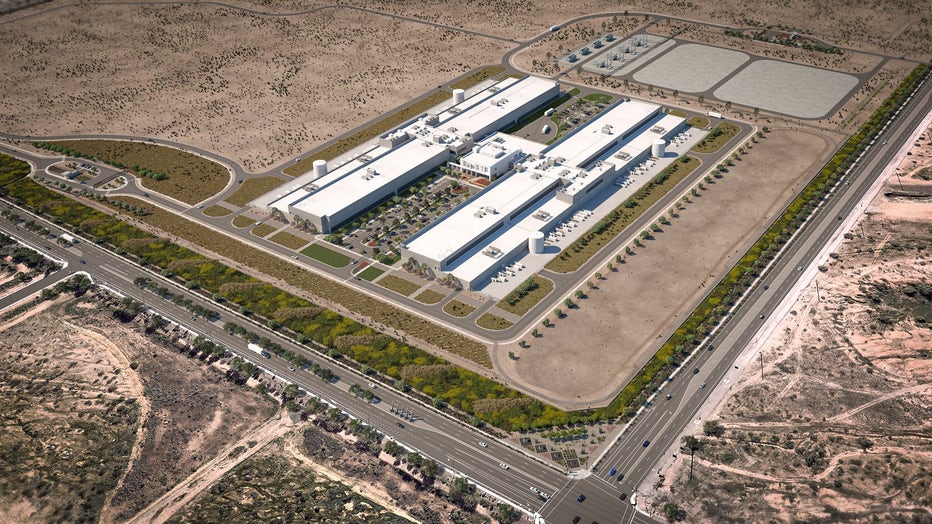 A rendering of the future site in Mesa. (Facebook)
Facebook says power will come from three new solar facilities in Pinal County in conjunction with the Salt River Project. Councilmember Thompson said the solar facilities will put about 450MW of power back into the power grid.
The facility, to be located north of the Gateway Airport near Ellsworth and Elliot, will occupy 960,000 square feet in its first phase. It will use 60% less water than the average data center, and that the water will be recycled several times before being used for agriculture. The facility is expected to come online in 2023.
More info: https://www.facebook.com/FBMesaDataCenter
More Arizona headlines
For the latest local news, download the FOX 10 News app.
Tune in to FOX 10 Phoenix for the latest news: