Avondale Police K-9 found after going missing, but reportedly attacked a man while out
GOODYEAR, Ariz. - Police say they found a K-9 who went missing from his handler's home, but it appears the dog bit someone while out, reportedly leaving several deep puncture wounds.
Avondale Police Department says K-9 Rico went missing from his handler's home around 11:30 p.m. on Sunday, March 5 in Goodyear near Lower Buckeye and Estrella Parkways.
A report from the Maricopa County Animal Care and Control (MCACC) says the dog was let outside to eat and when family members came to get him, they noticed a side door was open, and he was gone.
Avondale police reached out to nearby agencies for help in finding the police dog, using helicopters to search overnight.
Map of the area:
While Rico was out, a man working on his travel trailer said he saw a dog begin to approach him. He saw, according to the report, "an off-leash Large Belgian Malinois w/ silver choke chain coming towards him."
The report further explains, "The dog took two to three steps towards him and then lunged towards his face, he placed his arms out to block his face and the dog bit onto his right forearm. (The victim) began hitting the dog and yelling at his family to get inside the house. (The victim) wrestled with the dog for a minute the dog released his right forearm and redirected attempting to bite his face when (the victim) went to block the dog with both hands he was bit on his left hand and then his right. (The victim) started choking the dog with its collar after a minute the dog appeared exhausted, the dog loosened his hold on (the victim's) right hand but then went back and bit onto his right index finger. Once the dog released his finger (the victim) had released the dog, completely pushing it away when his wife came out of the garage with a broom and began hitting the dog until it ran off down the street."
The victim went to urgent care, paperwork says, to be treated for at least eight deep puncture wounds.
"He advised his bone was visible on his right index finger," documents read. "On his left arm he had ten puncture wounds and two large lacerations. The doctor took X-Rays, these showed no broken bones. (The victim's) wounds were treated with cleaning solution, the lacerations were treated with medical tape and the punctures were left open to prevent infection."
The victim told police that his neighbor has a short video of the incident caught partially of him and his wife screaming, as well as the dog running away. 
MCACC says it informed the victim that his case involves elements of heath, criminal and civil.
By 9 a.m. the next morning, Rico was found by an off-duty officer. He was taken to a veterinarian as a precaution and is OK.
Rico is 7, and he's been a K-9 officer for five years.
Avondale Police provided an update on Rico, saying, "Rico is currently in quarantine at home with his handler. There is only one person who has reported being bitten, and no additional dog bites have been reported. Regarding potential discipline, the incident is currently under review. No additional information is available at this time."
The department also said, "Rico will not be euthanized, nor will euthanasia be an option and an assessment will need to take place to determine the best course of action."
Victim says 'I am not a bad person'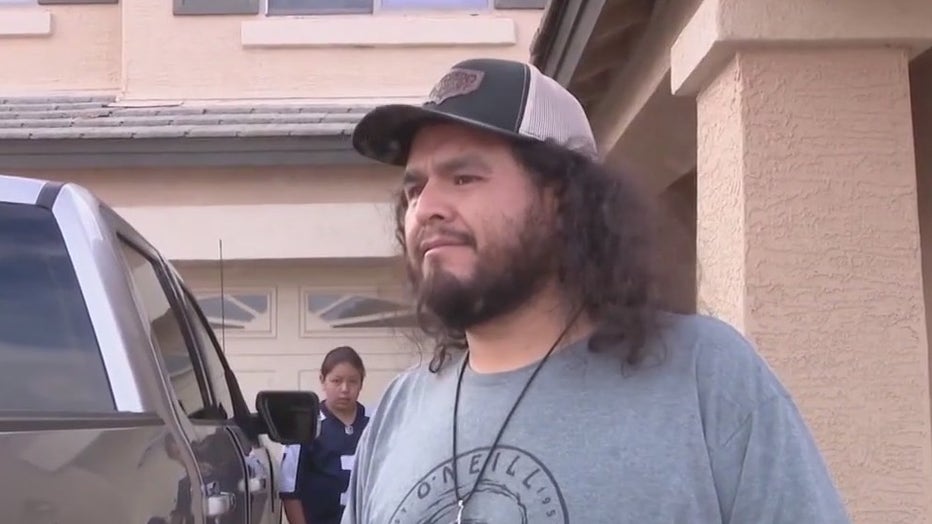 "I really felt hurt because police dogs are trained to attack bad people, I am not a bad person, but I got attacked," he said. "My kids were out here playing ten minutes prior to that, what if my kids were out here? My worry is that I won't get the feeling in my fingers and movement just to get back to work."
The victim, Rogelio Jacquez, according to the report, says is depressed because of the incident, cannot work as a welder, and cannot feel his fingers.
He says he just moved into this home less than a week ago with his kids and wife.
A neighbor's home security camera caught the screams of Jacquez and his wife while they were appearing to fight off Rico. The K-9 was then seen running down the road away from the attack.
If you'd like to help the family during this time, you can donate to their GoFundMe.
How did this happen?
Police are investigating how exactly Rico was able to escape from his home.
"That's definitely a question we're looking into right now," Daniel Benavidez with the Avondale Police Department said. "That's the big question is, how did this dog get out, and we want to look into that."
Avondale Police say their K-9 officers do have microchips that can be scanned if they are found, but the police dogs do not have a GPS tracking chip.
FOX 10 spoke with a witness who said his neighbor was bitten by the K-9. Police previously confirmed that a Goodyear resident reported a dog bite incident not long after he got out.
"Goodyear Police is looking into that because it involves an animal bite and because Rico was missing at that time, we're working with them on that," Benavidez said.
Goodyear PD released a statement saying, "The single reported dog bite last night occurred in the area of 161st just south of Lower Buckeye Parkway, during the same timeframe that the K9 officer was missing. The injury was consistent with a dog bite and was non-life-threatening. The description given by the victim was 'a German Shepherd type dog.' The case was turned over to RAC (Animal and Rabies Control) for further investigation."