Remembering Ginarro New: Phoenix police officer killed in the line of duty
PHOENIX - A funeral was held on Thursday for fallen Phoenix Police Officer Ginarro New, who was hit by a driver who ran a red light on May 31.
SkyFOX was over the scene as Officer New's body was moved from the medical examiner's office to Hansen Mortuary on June 2.
The crash happened Monday night after 27-year-old Officer New entered the intersection of Greenway Parkway and Cave Creek Road and his police SUV was hit by another car, Phoenix police said in a statement.
The impact sent the police SUV through a brick wall and it came to rest on its side in a parking lot, the statement said.
Firefighters extricated New from the car and took him to a hospital where he died of his injuries.
SkyFOX aerial video from the scene showed New's car mangled with most of the back half torn off.
The other driver, 31-year-old Christopher Castro, was pronounced dead.
In late August, the medical examiner's office released a report saying Castro's blood alcohol content (BAC) was three times over the legal amount, .233.
New joined the department in July 2019, police spokeswoman Sgt. Ann Justus said.  He was a native of Coolidge, Arizona and a U.S. Marine who never stopped wanting to serve his community.
He is survived by his wife, mother, brother, and grandmother.
"I want to express my deep thanks and appreciation to...the doctors, the nurses, the surgeons, who tried to save Officer New as well as the Phoenix Fire Department that did everything possible to try to preserve his life," Phoenix Police Chief Jeri Williams told reporters Tuesday morning.
Arizona Gov. Doug Ducey ordered flags at all state buildings lowered to half-staff until sunset on June 1.
Funeral service held
Public funeral services for Officer New were held at Dream City Church on June 10 at 9 a.m. In lieu of graveside services, full police honors will take place immediately following the funeral service in the church courtyard.
Fellow officer mourns before the funeral
Sometimes it's the simple moments that are missed the most when someone dies.
"Some of our best moments? Just hanging out in the patrol car. Going to the calls. We liked Filiberto's and getting coffee," said Officer Raul Saenz.
Saenz worked with Ginarro New for a year and a half. He was one of the responding officers in the deadly rollover crash.
"The moment I saw his patrol car, I was just doing my best to not think the worst," Saenz said. "I just need to focus on what I'm doing right now, do my job, and I can think about that later."
New will head to his final resting place on Thursday, and it'll be the moments that can no longer be shared with the young officer that are on everyone's mind.
"I wish I could give him a hug and tell him that I love him," Saenz said. "And we're gonna take care of his wife." 
A Department in Mourning
The grief being felt from Officer New's passing isn't just being shouldered by his wife and family, but it's also being felt by his brothers and sisters in blue at the Phoenix Police Department.
FOX 10's Matt Galka sat down with Phoenix police chief Jeri Williams after the procession.
"Obviously we're all devastated," Chief Williams said.
Security video from inside the J'Adore Salon on Greenway and Cave Creek shows the accident. There's a cloud of dust and a car flying through the air seen on video. SkyFOX showed the aftermath.
Chief Williams said her reaction to seeing the banged-up police cruiser was simple: why would anyone need to be going that fast?
"That's our first thought, second thought, third thought, too. Also, how did you not see a police cruiser? They're not small vehicles. The impact of that traffic accident is something I have not seen in 32 years. It was troubling to see those images, walk up to the vehicle and those images will stay with you."
Benefits are being planned for the young officer's family as the department works through a young officer's passing.
"Ginarro did a lot in his 27 years. He had a life prior to this as an EMT, a teacher, a marine. It hurts right now."
Data from AAA shows Arizona is the deadliest state in the country when it comes to red-light runners. When asked if anything will change, Chief Williams said she hopes conversations will urge the public to pay attention and slow down.
Fundraiser held to benefit Officer New's family
The Phoenix Law Enforcement Association is holding a fundraiser to benefit the officer's family.
"We're going to hold a benefit, a fundraiser," said PLEA president Britt London. "The community reaches out and ask what they can do, and the best thing we can do for his family right now is a donation to help them through this time."
The fundraiser barbecue is being held at the PLEA headquarters on 11th Avenue and Adams Street in downtown Phoenix from 10 a.m. to 10 p.m. on June 3.
Anyone interested can also make a donation to the Phoenix Police Foundation at https://phoenixpolicefoundation.org or https://pleacharities.org/donate.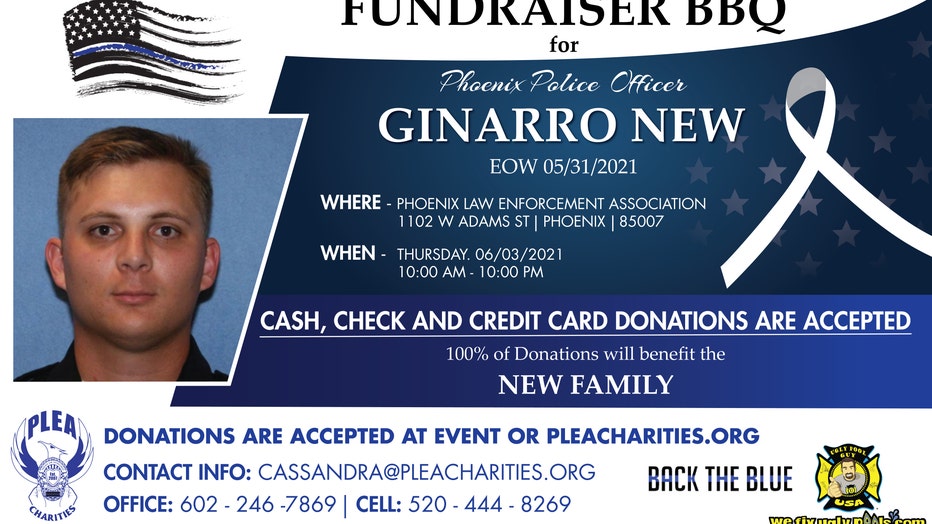 Fundraiser flyer for Ginnaro New's family
Tune in to FOX 10 Phoenix for the latest news:
Sign up for FOX 10 email alerts, newsletters
Get breaking news alerts in the FOX 10 News app. It is FREE! Download for Apple iOS or Android.
More Arizona headlines:
The Associated Press contributed to this report.