Apache Junction bar stabbing leaves 3 badly injured, suspect arrested after a pursuit
APACHE JUNCTION, Ariz. - Three people were badly hurt after a stabbing broke out at a bar in Apache Junction, fire officials said.
The incident happened at around 1:23 a.m. at the Dog Run Saloon near Superstition Boulevard and Idaho Road on July 23.
Police reportedly arrested the suspect after a pursuit.
"When officers stopped the vehicle, three of the subjects were detained but one person fled in the vehicle, dragging an officer a short distance. Another officer fired at the suspect's vehicle allowing the officer being dragged to release himself," police said.
They further explained, "The suspect continued to flee toward Canyon Lake. The Mesa Police Department Air Unit and the Pinal County Sheriff's Office assisted in the pursuit. Near the lake, the suspect rammed one PSCO and one AJPD vehicle. PSCO units disabled the suspect's vehicle and detained him."
The suspect's name is 41-year-old Weston James.
The victims are doing OK, and one even left the hospital already.
Anyone with information on this incident can call Apache Junction Police Department Criminal Investigation Division at 480-982-8260.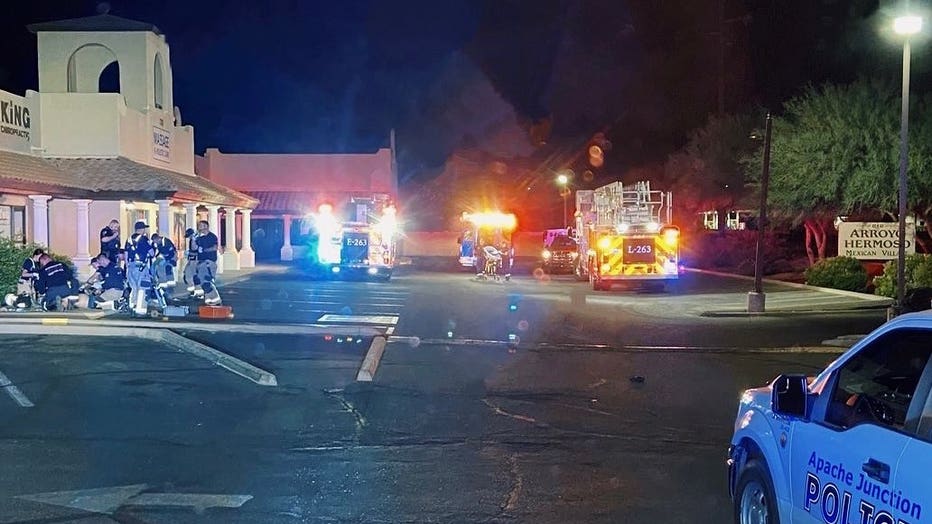 The scene of a stabbing in Apache Junction
More Arizona headlines