Events, things to do in Phoenix this weekend: April 14-16
Need plans this weekend? Check out the Garden Bros. Nuclear Circus, Country Thunder Music Festival, Monster Jam, Foodstock Food Truck Festival, Maricopa County Fair and more happening in the Phoenix area for April 14-16.
Want your weekend event featured? Click the link here to send over your ideas.
Avondale
Garden Bros. Nuclear Circus
"This year's show has blasted into the next generation of showbiz with breathtaking special effects, concert-style sound and lighting, and 3 RINGS bursting with excitement, laughter, and memories that families will always cherish.  The very best performers from over 22 countries make up this action-jammed, fast-paced 100-minute performance: featuring the Wheel of Death, Human Cannonball, Motorcycles in the Sphere of Fear, Cuban Troop of Hand to Hand balancing, Showgirls Hanging from silks and webs, Olympic Gymnasts, the Funniest Clowns, and Back Flipping Dogs as seen on America's Got Talent."
Tickets: $20 child, $60 adult. 
Parking: $20
Ride tickets: $7
Through April 16
Phoenix Raceway
7602 Jimmie Johnson Drive
Florence
Country Thunder Music Festival
The four-day concert takes place at Canyon Moon Ranch in Florence. Headliners include Jon Pardi, Luke Bryan, Cody Johnson and Dierks Bentley. Several other country music stars, including Ashley McBryde, Parker McCollum, Kip Moore, Lonestar, Tracy Byrd, Nate Smith, Randall King, Hailey Whitters and The Reklaws will also perform at the event.
Tickets start at $175 and parking starts at $25.
Through April 16
20585 E. Water Way
Glendale
Monster Jam
"The most unexpected, unscripted and unforgettable motorsports experience for families and fans in the world today returns to Glendale for an adrenaline-charged weekend at State Farm Stadium on April 15, 2023.  At Monster Jam®, world champion athletes and their 12,000-pound monster trucks tear up the dirt in wide-open competitions of speed and skill."
Featured competitors at this year's event include Grave Digger, ThunderROARus, Megalodon, El Toro Loco, Zombie, Son-uva Digger, Lucas Stabilizer, Monster Mutt, Avenger, Axe, Bad Company, and Shaker.
Tickets start at $25 and parking is $25. 
State Farm Stadium officials stated, "It is recommended that fans purchase parking in advance through SeatGeek.com. Fans without pre-paid parking should arrive to any State Farm Stadium carpark and pay with credit or debit card ready. Cash is not accepted."
State Farm Stadium
1 Cardinals Drive
Mesa
Celebrate Mesa
Experience numerous activities, including carnival rides, a petting zoo, archery tag, bounce houses, live music, and interactive games. Fire department and other city vehicles and equipment will be on display. The Living Green Village features a tree planting at 11 a.m. as part of the city's "Trees are Cool" challenge.
Free admission
April 15
10 a.m. - 2 p.m.
Pioneer Park
526 E. Main St.
Mesa Music Festival
"The 6th Annual Mesa Music Festival is the world's premiere emerging artist festival. It welcomes participation from industry veterans, emerging artists and everyone in between. It's a unique event that is a true celebration of music in downtown Mesa. We host artists and attendees from around the world for 3 days of music, art and fun."
Tickets: Admission is free
Through Saturday, April 15 - for a schedule of events, head to http://mesamusicfest.com.
Venues:
ASU Mix Center - 50 N. Centennial Way
Mesa Sessions Stage - MacDonald and Main Street
Peoria
Foodstock Food Truck Festival
"Family-friendly event featuring more than 60 food trucks, live music, VIP Beer and Spirits Tasting, bounce house, face painting, and a Pirate-themed splash pad and playground for kids."
Over 55 food trucks will serve up $3 samples (while supplies last) for a cause. Proceeds will help feed West Valley children experiencing food insecurity. Officials say blankets are encouraged for picnics on the field and cash or credit is accepted at the food trucks.
Admission: $5 per person; kids 12 and under are free; parking is free
April 15
4 p.m. - 10 p.m.
Peoria Sports Complex
16101 N. 83rd Ave.
Phoenix
Los Angeles Clippers vs. Phoenix Suns
The Phoenix Suns are back in the playoffs, hosting the Los Angeles Clippers in Game 1 of the first round of the Western Conference playoffs.
Tickets are still available for purchase at: https://www.nba.com/suns/tickets/single
April 16
5 p.m.
Footprint Center
Maricopa County Fair
"Don't miss out on the fun and excitement at the Maricopa County Fair. Get your discounted tickets now and experience thrilling rides, delicious food, and amazing entertainment for the whole family."
Tickets start at $10; parking is $12
Through April 16
AZ Exposition & State Fairgrounds
1826 West McDowell Road
Dinosaurs in the Desert
"They're baaack! And this time… they've brought friends… Journey back in time at the Phoenix Zoo! Immerse yourself in a world where colossal dinosaurs and other ancient beasts dominate the landscape in this not-to-be-missed prehistoric experience. All new creatures include Giganotosaurus, saber-toothed cat, sea scorpion, terror bird and more."
Tickets: Included with general Phoenix Zoo admission ($29.95 children, $39.95 adults)
Through April 30
Phoenix Zoo
455 N. Galvin Parkway
Rustler's Rooste Pig Roast BBQ
Are you hungry for an all-you-can-eat western BBQ and a pig roast? The food line at Rustler's Rooste opens at 10:30 a.m. and goes until 2:30 p.m. 
At the event, enjoy "live music performances by The Marble Heart Band and The Peso Dollar Band will start at 11 a.m. Plus even more fun with Face Painters, Henna artists, a Magician, & Balloonatix!"
Tickets: $33 adults, $11 children ages 5-12
April 16
Rustler's Rooste
8383 South 48th Street
Queen Creek
Olive Blossom Festival
"The Olive Blossom Festival is an annual celebration of springtime at the Queen Creek Olive Mill. We pride ourselves on making extra virgin olive oil from Blossom-to-Bottle. This festival is (1) an opportunity to observe our groves in full bloom and understand where the journey begins for every high-quality Extra Virgin Olive Oil and (2) to celebrate the launch our Master Blender's bottle, a limited edition late harvest EVOO, personally handcrafted by Perry Rea, our Olive Oil Sommelier, in partnership with our friends from the Corning Olive Oil Company."
The event includes vendors, live music, tractor tours (April 15 only) and more.
Free admission.
April 15, 8 a.m. - 9 p.m.
April 16, 8 a.m. - 5 p.m.
Queen Creek Olive Mill
25062 S. Meridian Road
Scottsdale
Arizona Trolley Dances
"This series of site-specific dance performances originates at the Center, where patrons hop on a trolley for short dance works in various locations around Old Town Scottsdale. Multiple Arizona-based companies and movement artists will be showcased at this event. Discover diverse dance styles and hidden locations around Old Town Scottsdale for a one-of-a-kind event, where the artistry of movement revels in a sense of place."  
Tickets: $20 children, $30 adults 
April 14
Scottsdale Center for the Performing Arts
7380 E. Second Street
National Kidney Foundation of Arizona Kidney Walk
"National Kidney Foundation of Arizona (NKF AZ) is proud to host its annual Kidney Walk Phoenix, the only Kidney Walk in the state. The signature fundraising event raises awareness and critical funds to fight kidney disease while bringing the community together to support the lives of kidney patients and their loved ones."
April 16
8 a.m.
Salt River Field at Talking Stick
Tempe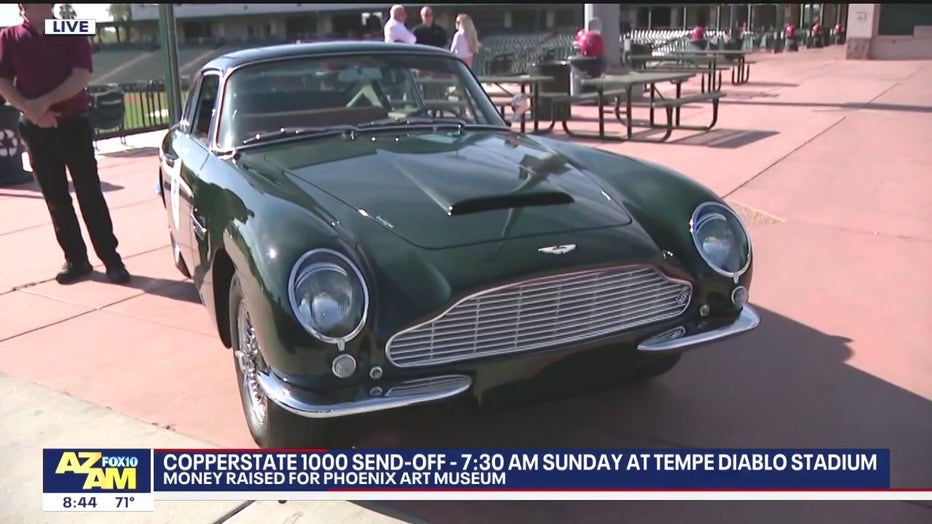 Copperstate 1000
The 33rd annual event showcases vintage, sports, racing, classic, and grand touring automobiles made before the 1974 model year.
"Whether you're a die-hard fan or simply looking for family entertainment, you won't want to miss this event. There is absolutely nothing like it," said Men's Arts Council President Joel Coen. "The cars that participate in this event come from around the world and many have a multi-million dollar price tag." 
Free admission
Send-off event: April 16, 7:30 a.m. - 11:30 a.m.; cars depart at 10 a.m.
Tempe Diablo Stadium
2200 W. Alameda Drive
Pat's Run
The 4.2 mile run/walk celebrates Pat Tillman's legacy. The event goes through the streets of Tempe ending inside Sun Devil Stadium at the 42-yard line.
Registration: $42
April 15
Wheelchair participants begin at 7 a.m.
4.2 mile run/walk begins at 7:05 a.m.
Kids' Run starts at 10 a.m.