Arizona first responder brought back to life with an AED talks the importance of access to devices
PHOENIX - When Buffalo Bills Safety Damar Hamlin collapsed on the field during Monday night's game after suffering from cardiac arrest, he received CPR for 9 minutes and his heartbeat was restored on the field thanks to an automated external defibrillator, also known as an AED.
We're hearing more stories of how these devices have saved lives in Arizona, like one man who at the time was of similar age and physical ability as Hamlin when he had a cardiac arrest, proving it can happen to anyone at any time.
Since then, he's devoted his life to making AED machines accessible to everyone who needs them.
Brandon Griffith was in high school when he first performed CPR.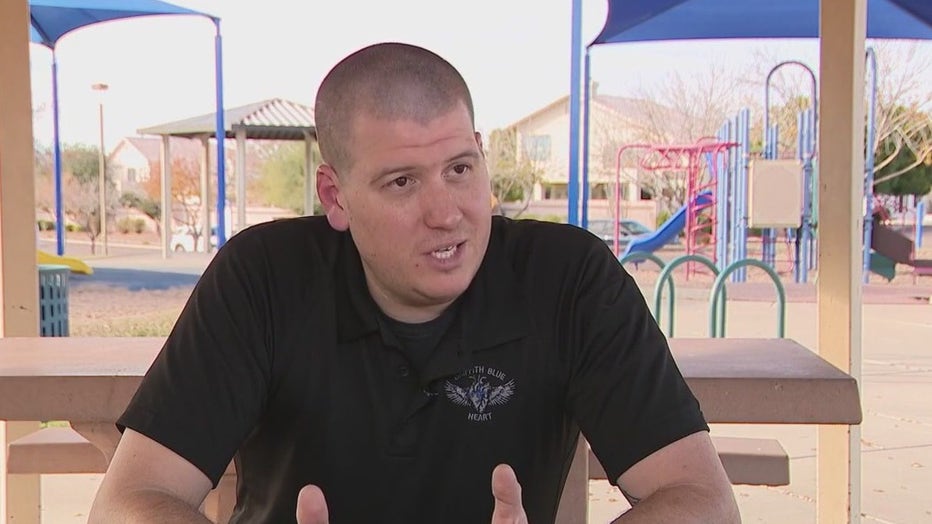 "I became an EMT, I became a cop, I don't know how many times I did CPR in the field," Griffith said.
At the age of 26, he had just made the police SWAT team and was at his peak physical fitness when he suddenly collapsed at home.
"There is nothing I can do to save my own life," Griffith said. "That feeling of helplessness is not something that I wish on anybody."
He went into cardiac arrest and his wife started CPR until help arrived, but the officer could only offer CPR until paramedics came minutes later with an AED.
"It tells your heart all four chambers to beat in the right sequence," Griffith explains. "It takes one misfire for you to drop dead and that's what happened to me."
He said he was dead for nearly 17 minutes before he regained his pulse. The experience has given him a new lease on life.
Griffith is one of the few officers in the country to return to full active duty with a defibrillator implanted in his chest. In addition to now working for the Pinal County Sheriff's Office, he created the nonprofit Griffith Blue Heart, which specializes in training, preparing, and equipping law enforcement for cardiac emergencies – and in particular – supplying them with AEDs.
"We are on scene first 90% of the time. Most municipal agencies get on scene for the first one to four and a half minutes where you have the highest likelihood of resuscitation," he said. "We want every single cop to have an AED out there."
So far, Paradise Valley, Gilbert, Buckeye, and Wickenburg have AEDs in all their patrol vehicles. The Scottsdale Police Department carries them in some of theirs.
Phoenix, Tempe, Mesa, and Peoria say they do not carry them.
Griffith says he's recently worked with Sedona, Flagstaff, Goodyear, Page, and Glendale thanks to grants, state, county and city funding. He was able to help get them a few AEDs and provide training.
"We need to have AEDs everywhere. We need to start making this more of a community response. You can't just rely on let's call 911 … it's everyone's job," Griffith said.
Griffith also trains departments on other emergency tools, such as the use of tourniquets and Narcan.
Around 350,000 Americans die of cardiac arrest every year, says the American Heart Association. The Centers for Disease Control and Prevention says about 2,000 of those are under the age of 25.
Young athletic men are at the highest risk.
For now, he recommends getting an AED for the workplace, or home. You can get them from distributors online.