New marijuana dispensary in the West Valley aims to provide education on CBDs
SUN CITY, Ariz. - Copperstate is branching out with cannabis education at its new dispensary in Sun City.
They're not just helping patients with medical marijuana, but also teaching them about the newest trend in cannabis medicine: CBDs.
CBD is a non-intoxicating compound derived from hemp or marijuana, and it is touted as an all-natural way to alleviate many ailments.
People of all ages are looking to reap the said benefits. 
"I always call CBD your internal helmet, because it helps with inflammation in the brain," said Jane Fix, Director of Patient Services for Sol Flower. "If you're getting beat around and suffering concussions, CBD is beneficial for you. It's also very good for stress and anxiety and arthritic conditions."
Sol Flower is the newest dispensary in Sun City, and Fix sits down with new patients, and guides them through the entire process. 
"Methods of consumption are important for particular conditions," said Fix. "Patients have a lot of anxiety and bad or misinformation, so I like to take the anxiety out of the cannabis use, and just start them slow and guide them through the process."
This new facility isn't just for Medical Marijuana cardholders.
"It offers an opportunity for people who might not have their Medical Marijuana card to actually come in and see the dispensary, we have it behind us here. Take a class, a Cannabis 101 class or they have different classes on alternative health options," said Allie Marconi, Director of Marketing for Sol Flower.
Marconi says the goal of the new dispensary is to chisel away at the stigma surrounding the industry, and help people who are new to it. The number one way to do that, according to Marconi, is to provide education.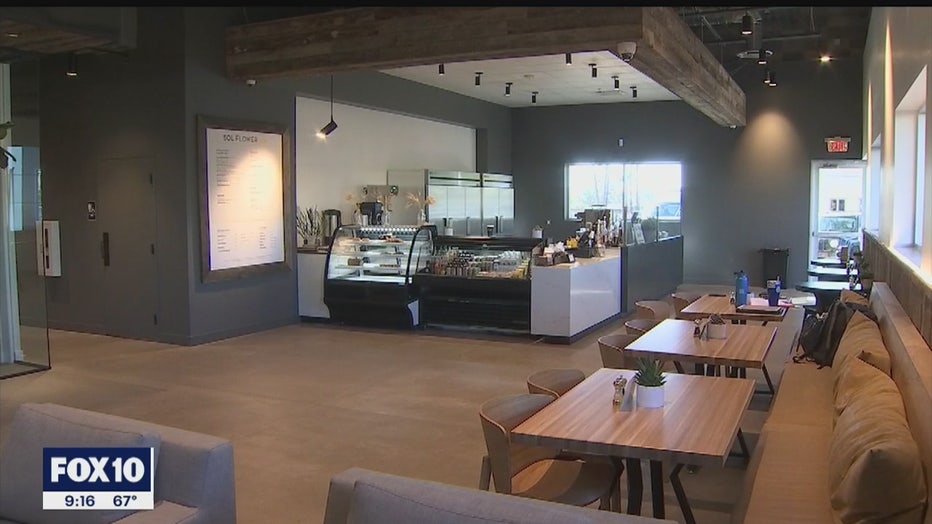 Sol Flower offers one to two classes per day for cardholders and non-cardholders. 
"We'll do a Cannabis 101, and we have Cannabis for Seniors, which has been really popular, a cannabis book club, said Marconi. "Some non-cannabis classes that we have are a halotherapy. We do meditation, learning more about kitchen herbs and how those can benefit your life, as well as essential oils."           
Chef Teresa Hansen specializes as an edible chef for Good Things Coming. She teaches people at Sol Flower how to cook with marijuana and CBD. One day, Chef Hansen was making a winter kale salad infused with a lemon ginger CBD oil.
"You will take one of these droppers, you can take it orally, directly under your tongue, or you can infuse it into food, which is a really easy way to consume cannabis and to consume CBD," said Chef Hansen.
Hansen teaches about the proper dosage to us. If people are not comfortable making infused foods on their own, they can enjoy specialized drinks in the cafe. 
"We have the smoothie, strawberry banana smoothie, CBD, and the abuela's hot chocolate, also infused with CBD as well," said Dean Armijo, Chef of Sol Flower Cafe.
The cafe also offers breakfast and lunch, and soon, many of these products will have the option to be infused.  
Most of the products offered at Sol Flower are made in Arizona at Copperstate Farms.  
"We have a 40-acre grow, cannabis cultivating facility in Snowflake, Arizona," said Marconi. "It's now one of the largest greenhouses in America, which is so exciting that we have that right here in Arizona."
Marconi says they hope to continue to grow their company and concept.  
There's also a sol flower location in Tempe, but it does not offer the cooking classes or cafe.