Preying on a People: Inside the scheme of trafficking, health care fraud that victimizes Native Americans
PHOENIX - Preying on a People is a three-part investigative series. All three parts are included in this story.
The FBI is cracking down on a scheme that targets and takes advantage of Native Americans that involves human trafficking and health care fraud.
Native Americans are 500% more likely to experience alcohol-induced deaths and 20% more likely to die from drug use, according to a 2021 report by Arizona's Department of Health Services.
Now they're being recruited from multiple reservations in our state, New Mexico and South Dakota by behavioral group homes and sober living homes. Organizers pitch services to the most vulnerable, but what happens when the services promised are never provided?
'Preying on a people'
The new housing development is located in Phoenix near 91st Avenue and Indian School Road – five minutes from State Farm Stadium.
"Cindy" and "Monica" say dozens of behavioral group homes have popped up in the neighborhood. They are among the residents who are fed up, and want to remain anonymous.
"This neighborhood has been living a nightmare for the last year," Cindy said.
Since then, they say it's normal to see people passed out in driveways and porch fronts.
"I think it's really blown up in 2022. It's just become the new fraud scheme," says FBI Special Agent Antoinette Ferrari.
What's going on?
The agency knows all about the neighborhood and explains how this scheme works.
A group home or sober living home is set up by either purchasing or renting a house.
The services offered are for substance abuse or mental health issues.
Organizers target Native Americans from several reservations. These individuals may be intoxicated and will likely be offered alcohol while transported to the home.
Organizers receive government funding through the Arizona Health Care Cost Containment System, or AHCCCS, capitalizing on Arizona Medicaid benefits belonging to members.
Tenants are also told to give up their food stamps to provide food for the home or as rent payment.
In order for group homes to get paid directly through AHCCCS, that requires licensing with the department of health. The FBI believes unlicensed facilities are getting paid as well, but the question is how?
"Well, for example, if I opened a legitimate facility, and then I asked you to bring patients to me, I could pay you to bring those patients to me, but that's kickback and that's illegal. That's health care fraud," Ferrari explained.
Where the kick-back money comes from exactly is part of the investigation.
The bad actors aren't providing the therapy services they're supposed to, yet millions of dollars are being paid out through health care funding, Ferrari says.
'These recruiters are getting paid per patient'
Last September, Phoenix Police investigated a death in the neighborhood.
"What happened that night is that as a neighbor was walking her dog, she basically saw a body laying there in between two unlicensed group homes," Cindy explained.
Police say 44-year-old Carson Leslie fell asleep in the back of a car, choking on his own vomit. According to the medical examiner's office, Leslie's death was an accident and the cause was chronic alcohol abuse.
The toxicology report reveals his blood alcohol content was .541, nearly seven times the legal limit.
Documents say he was in Flagstaff and approached a driver in a car belonging to Victoria Group Home, LLC. Leslie wanted to go to a sober living facility to get help.
The health department says Victoria Group Home, LLC is not licensed with the state.
"These are supposed to be sober living homes. They're letting them out. They're getting drunk, and then they come back into the neighborhood, don't realize they're at the wrong house at 2 or 3 a.m. trying to break in," Monica says.
Residents have taken pictures of large, unmarked vans they say indigenous people are transported in.
The FBI says all kinds of vehicle are involved, staking out locations like flea markets, trading posts and the Phoenix Indian Medical Center.
"These recruiters are getting paid per patient, sometimes per van load, per car load. So they're going to get as many patients as they can, as many clients as they can," Ferrari said.
That idea scares residents like Cindy and Monica.
"My biggest fear is, because some of these are for mental as well as drugs, that you know we have family, you know, children, that they will try to break into our house, and somehow, you know, attack us," Monica said.
The FBI says law enforcement agencies, specifically Navajo Nation Police, have received an increased amount of missing persons reports because Native Americans taken to these homes often don't know where they are and how they got there.
AHCCCS released a statement saying, in full, "AHCCCS continues to monitor this issue to protect the health and safety of enrolled members. We ask the public to report suspicious behavior, whether it be suspected Medicaid fraud, endangerment to AHCCCS members, or concern of any sort. We work closely with the Arizona Department of Health Services (ADHS), the FBI, and local law enforcement to route tips to the correct agency, so there is no "wrong way" to report suspicious activity.
If you are not sure whether your suspicion involves Medicaid fraud, submit it to AHCCCS and we will route it as needed. Anyone can report provider or member fraud using the online form on the Report Fraud web page or by calling 602-417-4193 or 888-ITS-NOT-OK (888-487-6686).
Since January 2022, the AHCCCS Office of the Inspector General has terminated 87 providers suspected in these targeting activities, and has instituted several provider payment suspensions. In addition, AHCCCS has allocated additional resources for quality management oversight and is conducting onsite facility reviews to ensure member health and safety."
Learn more about this investigation and the FBI's effort to help victims here.
PART 2
Jade Lara lives in Tuba City now, but last January, she was in San Tan Valley five months pregnant staying at a group home called Healing Touch Behavioral Health.
That stay didn't last long.
"I was noticing the gentleman upstairs, the guys that were staying upstairs, were still drinking. They were able to go and leave. They would come back, and then we could hear them clearly getting intoxicated upstairs," Lara said.
She says the situation became dangerous overnight when an intoxicated man would not leave women in the house alone.
"I'm trying to go to sleep. Five o'clock in the morning, this guy comes back into our room without a T-shirt and asks me if he can crawl in bed with me. I'm scared. At this point I don't feel safe," she said.  
Lara left after a week of living there.
FOX 10 reached out to Healing Touch for comment.
Off camera, the manager says alcohol and drugs are strictly prohibited, and it is a coed facility licensed in Arizona with 24/7 supervision. He denies Lara's claims, and she says she did not report allegations to authorities.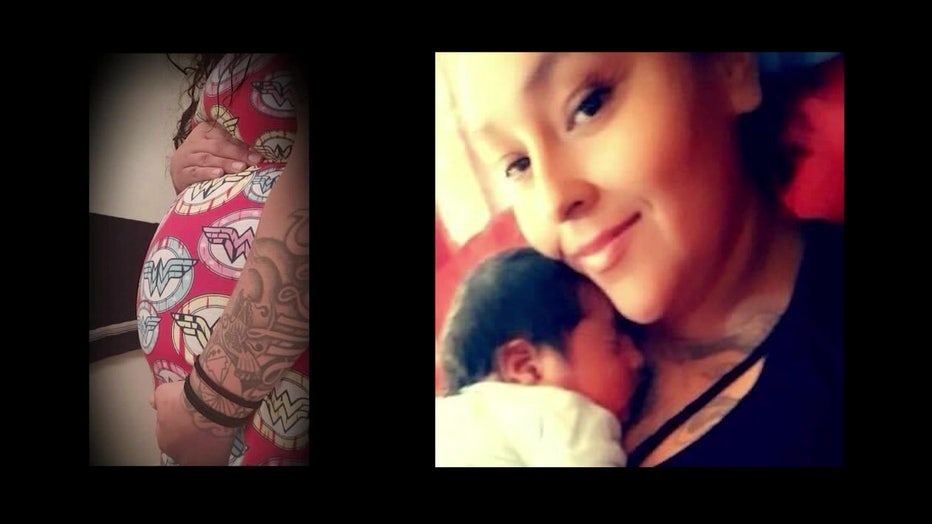 'They were smoking drugs in the house'
"He said that it would be really stable, but it's actually not here," says Graciela Choyguha with the Tohono O'odham tribe.
Through our investigation, we received a tip about "N.G. Sober Living," which the department of health confirms is not licensed. Several people who say they stayed at the so-called sober living home claimed they received no therapy services, like Choyguha. 
"The whole time we've been here, we been here three months, and I think we've been to six Airbnbs," she said.
We learned the group of patients moved to Avondale temporarily and they claim alleged intoxicated behavior is common.
"Some of the people that were in the house were going to the stores, getting alcohol, bringing it back to the house. They were smoking drugs in the house," says Michael White, who was staying at a sober living home.
He's not Native American but was recruited while in "The Zone," the largest homeless encampment in Phoenix.
With nowhere to go, he was promised a bed, food and safety. So, he got in the car.
White says despite not being an indigenous person, he was somehow enrolled in the American Indian Health Program for AHCCCS benefits, but never received therapy services.
"Literally, I was sitting in a house. They would leave in the mornings, nobody is there during the day. They would come back at all hours in the night between 10 o'clock and 2 o'clock in the morning," he said.
"They promise that they'll have a roof over their head, they'll have food, clothing, hygiene, helping them get better is what we've been hearing," says advocate Coleen Chatter.
For the past year or so, she and Reva Stewart say they've seen a rapidly growing number of missing indigenous people. Flyers outside the Drumbeat Indian Arts Store speak for themselves.
"We get a phone call from a family saying, 'My relative is missing. Can you help us?' We'll do our research and we'll gather our paperwork and we'll go and look and locate that individual," Chatter explained.
They believe many of the missing have been abducted from reservations and taken to sober living homes.
Stewart says it happened to her own cousin who vanished after being picked up by an unmarked van.
"I started asking questions and I said, 'How did you get down here from Farmington?' She's like, 'This van was driving around, and they said they knew my brother, so I trusted them, and they said, 'We know your brother, and we're going to take you to Phoenix for a day trip, and we're going to take you home the next day,'" Stewart said.
Her cousin arrived at a group home, was told to sign up for AHCCCS benefits but when she refused, she was kicked out and left to wander the streets of Phoenix.
Stewart would eventually get her home safe.
'We feel like we're not being heard'
She and Chatter patrol the Phoenix Indian Medical Center on the lookout for suspicious vans, and it's in this area we meet Marvin Deschinny from Colorado. He says he took a visit to Shiprock, New Mexico before being approached by recruiters who brought him to a home in Phoenix.
He claims he's lived in 70 homes and finally escaped.
"The only way I get out is jump the fence and just run," Deschinny said.
He said he was given alcohol while at a sober living home.
"Did they provide you alcohol or anything?" FOX 10 Investigator Justin Lum asked.
"Yeah," Deschinny replied.
"And that's what you were trying to get away from, right?"
"Well, yeah. Actually they said, 'Yeah, I'll buy you alcohol.'"
"Do you know what day it is?" Deschinny was asked after appearing confused.
His response, "I'm trying to hitchhike back to Flagstaff. I'm lost in Phoenix. I'm fed up with Phoenix."
We've learned he's since made it back home safely.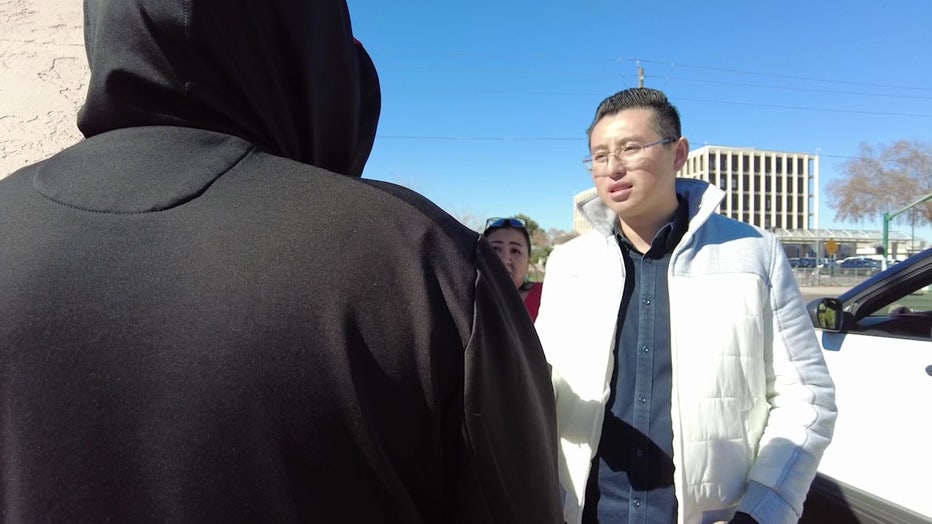 Marvin Deschinny talking with FOX 10 Investigator Justin Lum
Stewart has been raising money to get food and bus passes for lost Native Americans trying to get home.
"It's disgusting. It really is. I feel like as a Native American mother, grandmother, sister, our people are being taken advantage of in such a huge way that it's not just targeting our Navajo Nation, it's targeting all the 22 tribes around Arizona," Stewart said.
Her statement is echoed, but what advocates want is to shut down the scheme.
"We're burnt out. It just feels like we're not getting the awareness out there," Chatter said. "We feel like we're not being heard."
FOX 10 reached out to the manager of N.G. Sober Living named Leon. He said he'd call back, but never did. It's unknown if the FBI is looking into N.G. Sober Living, but they are getting tips.
Authorities say tips are pouring in on countless group homes in the Valley.
PART 3
On a chilly January morning, we visited "The Zone," the largest homeless encampment in Phoenix where nearly a thousand people live in tents on the streets.
We found the managing director of N.G. Sober Living, Leon Kayijamahe, after being called to the area by a man named Michael White, the man we spoke with over the phone in part 2 of this series.
He says Leon dropped him off at "The Zone" after he was staying at the home for weeks. "The Zone" is where he says he was first picked up by Leon.
"He told me that, 'You've reported to Fox News and you told them about us and you've been blabbing your mouth, and I'm gonna drop you off here, and I don't want you in my house anymore,'" White said.
He didn't want to be dumped at the homeless site and police arrived during the incident.
We've tried to talk to Leon before this, but he declined. At the site, he declined again.
"The houses are unsupervised. There's drug and alcohol use in the homes, but the houses are nice, so it literally enables somebody that is off the streets to have a nice place to sleep and to stay in their addiction and they don't want to talk about it because they're comfortable," White said.
How homes are getting paid
The FBI in Phoenix won't say specifically which group homes investigators are looking into, but investigators say the overall scheme involves organizers targeting indigenous people from reservations in Arizona, New Mexico, South Dakota and even at local flea markets and medical centers.
The recruiters promise therapy services, yet offer alcohol during the transport.
Organizers make sure victims are enrolled in the American Indian Health Plan through AHCCCS so they can make money off the benefits, licensed or not.
"You could be licensed, but then you could employ people who for example, the department of health or AHCCCS have no idea are working under you," FBI Agent Ferrari said.
We found a program in Phoenix where we watched several clients get picked up. A man named Tony Ssekamatte says he manages a sober living facility named Good Life Homes.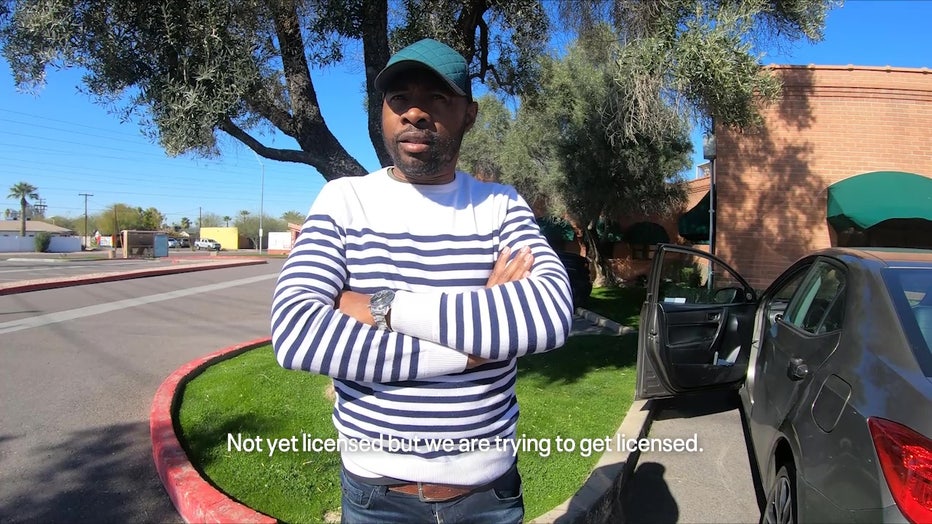 When asked if the home is licensed, he said, "Not yet licensed, but we are trying to get licensed."
He was asked if he gets paid through AHCCCS for each client, he said, "Not straight to us, but we get paid through the IOPS or the clinics."
Looking at the AHCCCS outpatient rates for behavioral health, some services cost nearly $400.
Counseling and therapy can add up quickly – as much as $30 for every 15 minutes.
Ssekamatte is aware of the FBI's investigation and says he does not intentionally recruit Native Americans nor does he allow alcohol or drug use at his group home.
'They prey on the weakest people in my community'
"One individual can bring in more than $7,000 into one of these homes with the funding through AHCCCS or even through Medicare depending if it's a residential behavioral health facility or if it's a sober living facility," says Arizona Sen. Theresa Hatathlie, a Democrat representing District 6.
This is where Senate Bill 1661 comes in – proposed by Hatathlie.
If passed into law, a behavior health group home admitting a patient must notify their family as soon as possible.
The client must be sober when transported to the home or referred by an approved provider of a tribal health care program.
A first violation costs $750. A second violation is a thousand, and a third means a license suspension for 30 days.
At a recent hearing in front of the Senate's Health and Human Services Committee, Navajo Nation First Lady, Jasmine Blackwater-Nygren spoke on behalf of the bill.
"They prey on the weakest people in my community who need the most help," she remarked.  
Lieutenant Governor Monica Antone of the Gila River Indian Community
She says there are more than 60 cases of missing natives out of Tuba City alone.
"We've witnessed unmarked vans drive onto tribal land, pull into gas stations. They find inebriated tribal members. They pull them in and drive them off without ever receiving proper consent from the individual and without ever alerting the person's family," Blackwater-Nygren said.
It's hitting home for tribal leaders.
Lieutenant Governor Monica Antone of the Gila River Indian Community says her niece was found dead at a sober living home after moving house to house.
She says three other members of the community have also died in sober living homes.
"Once they're in these homes, they allow them to use fentanyl, they allow them to drink still, so they'll call AHCCCS up and say, 'Hey they relapsed, I need another 30 days,' so the $7,000 she talked about can be used for another 90 days," Antone said.
A cycle not only preying on a people, but seeping into neighborhoods of unsuspecting families.
According to the state department of health's database, there are 901 licensed behavioral health adult group homes and 249 licensed sober living homes. Between those two categories, there are almost 1,200 legitimate homes across the state that the state knows of.
We reached out to Arizona Attorney General Kris Mayes for comment on this issue, but she declined. We have also asked Governor Katie Hobbs for comment but have not heard back.