How a homeless encampment grew on private property with Arizonans living out of cars and RVs
PHOENIX - We're getting a full view of the Valley's homeless crisis parked in a large, vacant lot – it's a new homeless community that's popped up in Phoenix, but it's in violation of the City code.
Since our investigation began, we have learned that people living in the area have left on their own accord, but one question remains:
How did it get to this point?
We received a tip from a business owner about a large homeless encampment near 35th Avenue and Indian School Road just north of the Grand Canal and what we're hearing through police is that this is the biggest homeless encampment they've seen in the Maryvale Estrella Mountain Precinct.
This is a huge vacant lot with dozens of tents and RVs, which makes it unique compared to other camps that we've seen. There's no way you miss it driving by.
How did dozens of homeless people end up here on a vacant lot? To get the answer - we take a look for ourselves.
Growing homeless encampment in a privately owned vacant lot at 35th Avenue and Indian School Road in Phoenix
'Never thought my life would be like this'
Jenna lives in her RV and has been homeless for two years.
"Well, I have a solar-powered system. I got my solar panels up top, everything is routed through that when the generator's not running, and then we switch, ya know? Water, we have to go and get water either from a water mill or we can just go to a place that has an open tap, fill up what we can," she said.
Things were different a few years back.
"I was a massage therapist. I was a deep tissue specialist before COVID hit," she said.
She says the population here has quickly grown over the past six months. It all started with a handful of tents against the back wall.
Jenna sells tires to make money and rations her food.
"With food stamps, it is so much easier when you got food stamps. Then that way you have your allotted amount, and you can already budget for it for the month," she said.
Many of the people we talked to there have been chronically homeless, struggling to get out of the lifestyle.
A 30-year-old said he's been homeless for 17 years. Some blame the pandemic.
"Look, how we're living, I was a direct hit of COVID. It's not fair," a woman named Maria said.
Some are trying to figure out how to step back into society.
"Some of us don't have IDs. Some of us don't have a way to get a legit job," Jenna added.
Darrell lives out of an abandoned speedboat he found and agrees, saying, "When you don't have an address, it makes it real tough."
Life isn't what he thought it would be.
He says, "I never thought my life would be like this. I always thought I'd be able to go to work, come home, kids there, be able to celebrate holidays everything else like that. But it's just not that way anymore."
He and Jenna sell disposable vape pens. They say it's common for people there to trade and barter supplies.
"During the day they have their own little business going there. It's like a set-up flea market," says a man going by the name of Mike to stay anonymous. He's a nearby business owner.
This is a way of life in the midst of an industrial area – where nearby business owners watch the encampment's growth.
"It's gotten really bad. It's got really bad. They light fires at night," he said.
Mike notified Phoenix Mayor Kate Gallego and Phoenix Police about his concerns.
A spokesperson with Phoenix Police tells FOX 10, "Phoenix Police Department's Community Action Squad is aware of this situation and have been communicating with the property owner. Because this property is on private property nothing will be done without the request of the property owner."
We've learned through county records that the owner of the property is CC Sands LLC, out of Florida. The 190,000-square-foot lot was purchased for a million dollars last June.
5th in the nation for percentage of unsheltered Arizonans
It sits in District 4, so we reached out to Phoenix Councilmember Laura Pastor who says, "The growing homeless encampment at this property is deeply concerning. I have worked with the city's executive team to press our departments to act quickly and deliver much-needed services. There is a great sense of urgency to resolve this issue and limit the impact on surrounding neighborhoods. I will continue to work with city departments to ensure that our unsheltered neighbors are receiving the care and services they need."
The City says outreach teams have been to the property several times in the last week to do just that. Phoenix Police officials say when they visited the encampment, five people accepted outreach services. Meanwhile, eight people were arrested for alleged felonies, and 44 citations were issued. Officials say they continue to talk to the homeless about services provided by the city. The camp was gone by the time officials visited on Feb. 1.
Last month, more than a thousand volunteers spent a day counting homeless individuals across Maricopa County – a yearly snapshot of how many men, women, and children are experiencing homelessness.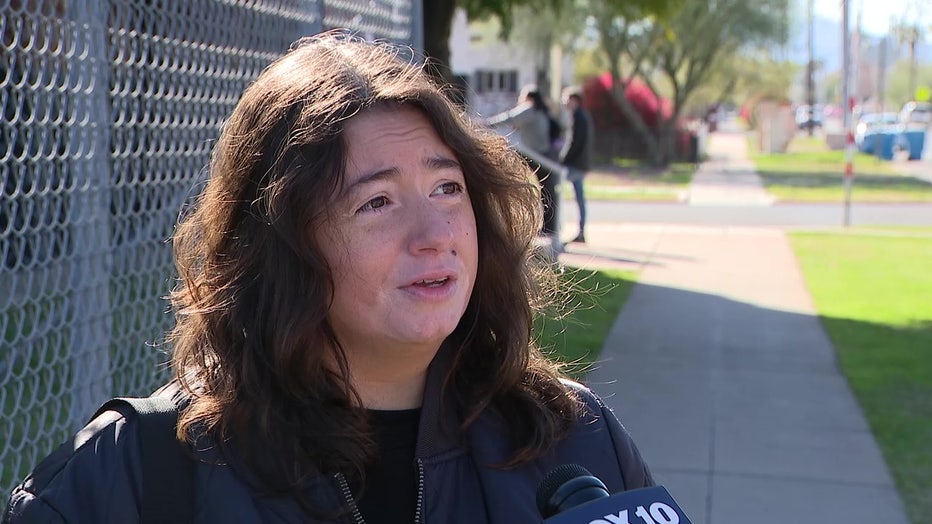 Michelle Miguel with the Maricopa Association of Governments
Michelle Miguel with the Maricopa Association of Governments expects an increase from the 9,026 people counted last year at this time.
"It's a lot of first-time individuals experiencing homelessness," Miguel says. "We're seeing families. An increase in families. An increase of folks that are 18-24. Our young adults and our seniors, first-time homeless too."
59% of Arizona's estimated homeless population, about 13,553 people, are unsheltered, which is about 8,027 of them. In 2022, we ranked fifth in the nation in that category, says the United States Department of Housing and Urban Development.
The term "unsheltered" is used when a person's primary nighttime location is a public or private place not designated as a regular sleeping area. For example, streets, parks, and cars.
From 2020-2022, Arizona's homeless population increased by 23%, the third-largest increase in the country. That's 2,574 people.
What's being done?
The Phoenix City Council voted to spend up to $15 million dollars in American Rescue Plan funding to acquire a 30,000 to 40,000-square-foot facility to be used for shelter – equipped with a kitchen, bathroom facilities, sleeping quarters, storage and infrastructure for heating, ventilation and air conditioning.
"If anything is found property-wise, in District 7, that is not in the concentration where we already have the majority of services, I would be open to taking on more in the district," says Yassamin Ansari, Phoenix Vice Mayor, during a council meeting.
But, can the funding keep up with how quickly people are becoming homeless?
'It's heartbreaking'
Meanwhile, the property in question still has space – which worries Mike, the local business owner.
"You know, the more it grows, the more people there's going to be there, and the more they're going to have to look for things in order to survive," he said.
Survival in a crisis – Jenna is no stranger to this.
"It's heartbreaking just to see how many people have gone through so much and every step of the way it's like we're just getting stomped on," she said.
We've learned this property has remained vacant for years and ownership has changed many times. FOX 10 has tried to get in contact with the current owner as well but has not had luck getting a response, but we're told they are working with Phoenix PD's Community Action Squad.
More reports: