Major region of Arizona rattled by monsoon rain, winds, dust
PHOENIX - A blowing dust advisory and severe thunderstorm warning were issued for a major part of Arizona on Saturday, July 10, says the National Weather Service (NWS).
For the second night in a row, monsoon storms swept across the Valley, causing major power outages and damage from high winds.
The southeast part of the Valley were one of the areas hit the hardest, especially in and around Queen Creek. Downed trees could be seen at practically every house, and windows were broken out of cars and homes.
Several people even reported seeing their backyard trampolines take off and fly away.
59 mile-per-hour winds were recorded in the East Valley, and there were 110,000 recorded lightning strikes from Saturday's storm, according to the National Weather Service.
Thousands of residents across the Phoenix metro area were affected by power outages, but as of Sunday morning, most power has been restored to homes.
High winds took down power poles in the city of Phoenix as well - 35th Avenue is closed from Cactus Road to Cheryl Drive indefinitely after the storm took down power lines in the area.
The blowing dust advisory was in effect from 5 p.m. to 11 p.m. Saturday for all areas between Tucson and Phoenix. For most areas of Arizona, the thunderstorm warning was in effect through midnight Saturday.
Just the night before, a dust storm advisory was in effect for several areas in Arizona. The dust storm also brought monsoon thunderstorms to the southeast region of the Valley with wind speeds up to 70 mph.
Several regions of Arizona are also under an excessive heat warning through the weekend, NWS says, adding that a major portion of the West Coast, including California, will be feeling extremely warm.
Click here for a live map of the latest outage information.
Aftermath of monsoon season's damage to homes, property
Many were left with damage as severe weather tore up their homes on Saturday night. Some power lines are still down as of Sunday afternoon after heavy winds, rain and dust storms pounded most of Arizona.
A man says his entire roof was torn off and they are now working to repair the damage.
"The roof blew off and I thought was probably a few shingles so I came down last night and low and behold the roof apparatus over the car park was missing and a lot of other damage," Phoenix resident DP Davis said.
He wasn't home at the time of the storm but was called to check out his son's home after neighbors reported heavy storm damage.
Lena Hedrick experienced broken windows and lots of debris in her backyard.
"We were sitting at the dining room table saw a flash, heard a boom and then we felt the crash. In fact, it shook the house," she said.
Meteorologists with the National Weather Service say at this point they don't think the cause of this damage was a microburst, but rather a squall that ripped through the Phoenix area.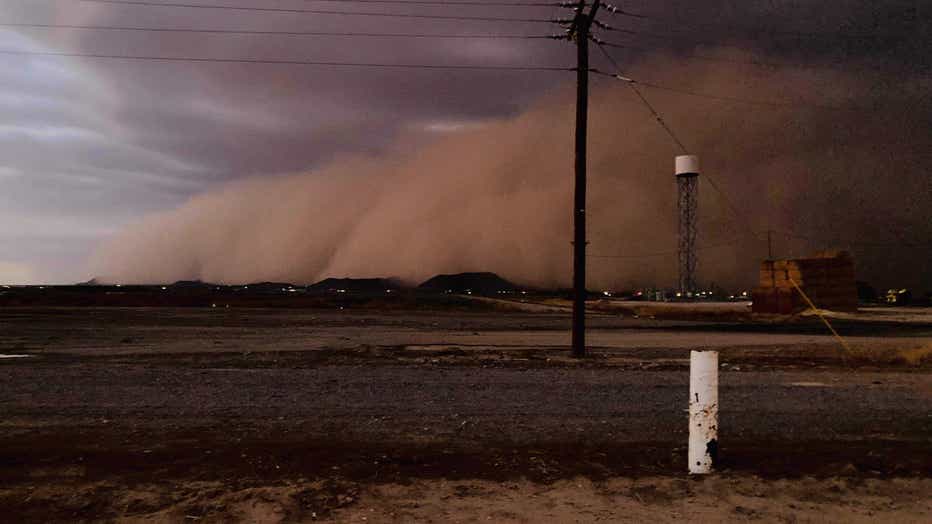 Dust storm in Casa Grande. Courtesy of Francisco Mendoza Lopez
Related Stories:
Tune in to FOX 10 Phoenix for the latest news:
Be prepared and stay safe during the monsoon
"Most Valley residents know how quickly and furiously storms can move in and out, bringing strong winds, dust, rain, and flash flooding. These storms can cause interruptions in services, such as water, power, and gas," stated Captain Ashley Losch of the Glendale Fire Department.
GFD reminds residents of ways they can be prepared and stay safe:
Have flashlights with extra batteries on hand.
Have food that can be prepared without the need for cooking or refrigeration.
Have at least one gallon of clean water for each person in the household.
Have backup power for anyone requiring power for a medical device.
Have backup power for cell phones that do not require charging.
Have a first aid kit ready and accessible.
Never drive into areas with flowing water; it takes less than 10 inches to wash a car away.
Avoid flooded areas, such as washes.
If waters are rising, seek higher ground.
Do not approach downed power lines, the ground can be energized for up to 200 feet.
Keep pets indoors during storms.
Road Conditions
Call 511 anywhere in Arizona or 1-888-411-ROAD (7623)
You can check the latest weather conditions by visiting the FOX 10 Phoenix weather page, or download the Free FOX 10 Weather app, which is available on Apple iOS and Android.