Breakfast Club officials respond following 'n-word' incident at its Downtown Phoenix location
PHOENIX - Officials with Phoenix eatery Breakfast Club issued a statement Wednesday amidst mounting controversy over a racism-related incident at its location in Downtown Phoenix.
The incident was made public after a photo was posted by Rakevion White, who works at the Breakfast Club's location at Cityscape in Downtown Phoenix. The photo shows a food order ticket with the "n-word" printed on it.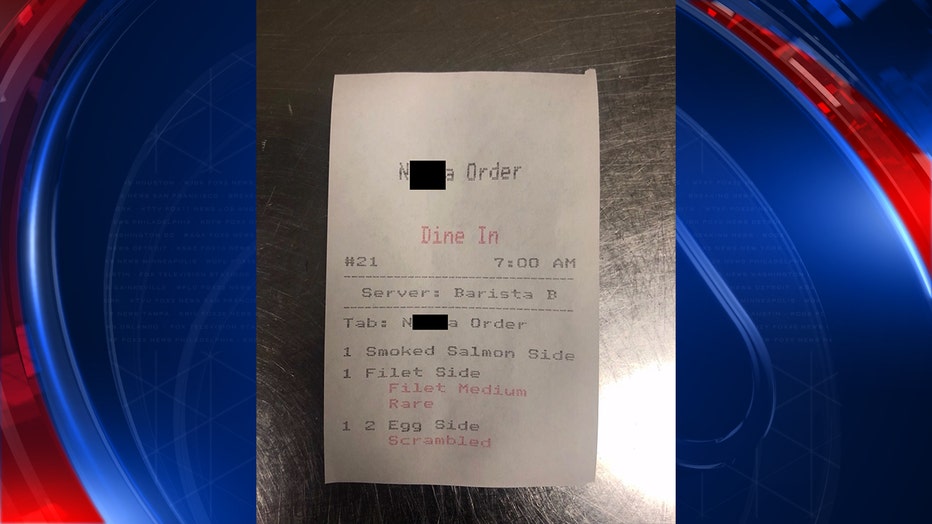 A photo showing a food ticket that is at the center of a racism-related incident at the Breakfast Club location in Downtown Phoenix. The derogatory term printed on the ticket has been obscured from view. (Courtesy: Rakevion White)
In the same post, the man claims that almost four weeks following the incident, the employees involved were not disciplined, and the other African-American employees at the location were not allowed to work as waiters, and had their hours reduced as well.
The statement issued by Breakfast Club was posted to the company's Instagram page on Wednesday:
In the statement, company officials said the incident happened on October 22, where an employee used a racial slur in place of his own name on a food ticket. The incident, which was described by the employee involved as "an attempt at a joke", was posted to the restaurant's electronic ordering system.
Company officials said the employee involved was disciplined, but not fired.
"This was not a decision to minimize his unacceptable conduct," read a portion of the statement. "Rather, it was based on the depth of his remorse, the sincerity of his apology to everyone he offended, and his five-year prior record of treating his fellow employees with respect."
"The young individual has been with us for five years, made a really poor judgment call, and did something that's created this issue," said the CEO of Breakfast Club, Kyle Shivers. "We addressed it with them, engaged everyone internally, and elected to walk through this incident as a teachable moment instead of immediate termination. Per that question, things have now expanded beyond the boundaries of the store, and those are things we're taking into consideration now."
In the statement, officials said they recognize that some may disagree with the decision, but they believe in moments where "individuals and communities can learn from even horrific mistakes, grow, and become better and closer."
"We have offered this employee a second chance. There will not be a third," read a portion of the statement.
"My anxiety was really high today, just because I didn't know how it was going to go," said White. "A lot of people did not come to the restaurant today."
On Wednesday, community activists and officials with NAACP met with the owners of Breakfast Club.
"I definitely want them to be reprimanded correctly," said White. "If that's termination, then so be it."
White said since the job is helping him put himself through school at Arizona State University, quitting is not an option. He is, however, appreciating the support he has received from the community.
"I did receive a lot of customer support, and a lot of customers called in to speak to management and ask why the employees are still here," said White.