Changes proposed for Arizona's universal school voucher program amid controversy: here's what you should know
PHOENIX - Some big changes are being proposed for Arizona's universal school voucher program.
The program went into effect in 2022, and it allowed parents of all school-age students to use taxpayer money for private school and home school expenses.
Here's what you should know.
How does Arizona's universal school voucher program work?
The current universal school voucher program, also known as Empowerment Scholarship Accounts, came into effect after former Governor Doug Ducey signed House Bill 2853.
The program allows all Arizona parents the ability to take state money that would go to their local public school, and instead use it for private school tuition or other educational costs.
A universal school voucher expansion, according to the Associated Press, has been a key goal during former Gov. Ducey's eight years in office.
Read More: Universal school vouchers: What you should know about the bill that Arizona Gov. Doug Ducey signed into law
How much does it cost the state?
According to recent figures, ESA's price tag is more than $350 million. This is because the number of students benefiting from ESA is now more than double initial estimates. 
"I like the option that we have school choice for all. However, I don't think Arizona is prepared. We went from roughly 12,000 to over 50,000," said Lynn Fox-Embrey, who uses ESA to home-school her kids, some of whom have special needs, over the past six years.
According to the Arizona Department of Education's website, 50,088 Arizona students are beneficiaries of ESA, as of Mar. 20.
What are the new changes that are being proposed?
The new changes aim to crack down on how parents can spend taxpayer money. Previously, Arizona Superintendent of Public Instruction Tom Horme has pointed out questionable educational expenses from years past, including bounce houses, above-ground pools, outdoor pizza oven and kayaks. The state has a list of items that are disallowed from being claimed as ESA expenses.
According to a draft parent handbook for the 2023-2024 program school year that has been posted on the Department of Education's website, it states that while all "reasonable education-related expenses" will be approved, parents will need to submit evidence for supplemental items that are "not typically known to be used for education."
Parents, according to the draft handbook, will need to submit the following for supplemental items affected:
Proof of registration/enrollment in a class. Parents who teach the class at home will need to submit a note attesting to this when submitting an order
Formal curriculum that shows the item in question in needed for the class. The formal curriculum will need to include a scope, defined as an overview, objectives or purpose, as well as a plan of instruction.
The draft handbook also states that in order to maintain program eligibility, the following need to be completed:
Debit card receipt submission in the quarter that a transaction involving ESA money took place
Complete invoices or receipts need to be included when submitting expenses or making payments
All required credentials need to be included when submitting debit card receipts or reimbursements, even if the provider or vendor is registered with the state
An attestation that no ESA funds were spent in a quarter where there was no spending
Some parents, like Fox-Embrey, are unsure about the changes being proposed.
"We have to write formal curriculums," said Fox-Embrey. "I see the need of change, but I think you're tying people's hands to make it almost impossible. I believe the narrative is they want us to put our kids in private schools."
How can I let the Department of Education know how I feel about the proposed changes?
The Department of Education is holding a special, public meeting on Mar. 23, where people can comment on the proposed changes to the ESA handbook.
I thought Governor Katie Hobbs wants to do away with school vouchers…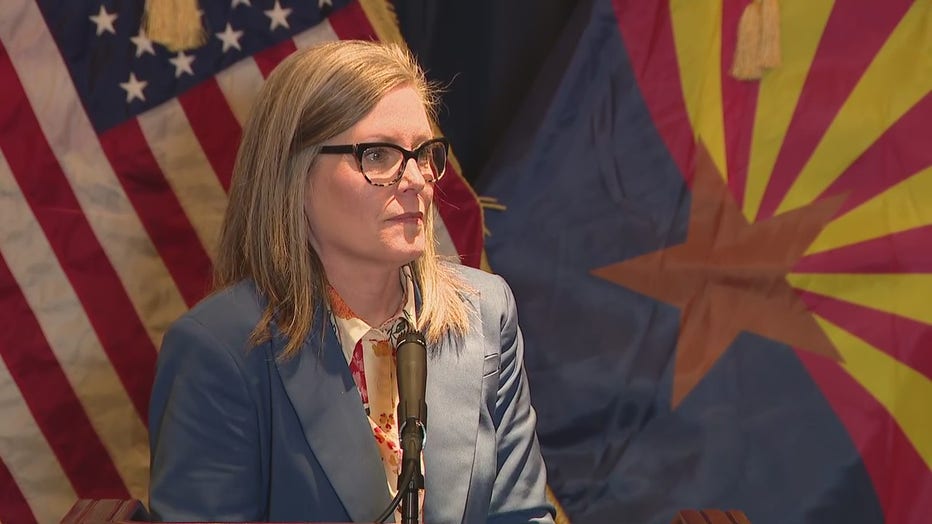 Arizona Governor Katie Hobbs
Gov. Hobbs, who succeeded Ducey after defeating Kari Lake in the November 2022 election, does want to undo the ESA expansion.
In her proposed budget, Gov. Hobbs has stated in her proposed budget that the ESA expansion is siphoning money from underfunded school, and would cost $1.5 billion over the next decade. Hobbs' staffers estimated that the undo would save the state $135 million next fiscal year.
The proposal, however, will face an uphill climb at the Republican-controlled Legislature, where backers of the voucher expansion say it allows parents to choose the best schools for their children.
Gov. Hobbs is not proposing doing away with all vouchers, but wants to return the voucher program to what it was before the expansion — when disabled children, students living on American Indian reservations, students attending low-performing public schools and others were eligible for the voucher funds.
The Associated Press (AP) contributed to this report.