Events, things to do in Phoenix this weekend: March 3-5
Need plans this weekend? Check out music festivals, Highland Games, mask celebrations and more happening in the Valley for March 3-5:
Want your weekend event featured? Click the link here to send over your ideas.
Chandler
Beer, Bourbon, Barbeque and Band Festival
"Here comes the season for outdoor grillin'! Get ready for two days of beer sippin', bourbon tastin', music listenin', and barbeque eatin' because Beer, Bourbon, and Barbeque Festival is coming to Downtown Chandler!
We'll be having live music all day, featuring local beer, craft cocktails, BBQ, and games."
Glendale
Glendale Folk & Heritage Festival
"The Glendale Folk and Heritage Festival is back for a celebration of folk music and its history and culture…The event will feature more than 400 performers, showcasing folk and bluegrass music. There will also be free kids activities like face painting, crafts and a musical instrument 'petting zoo.'"
Gilbert
Phoenix Scottish Games
"A Highland Games is a day(s) long celebration of Scottish heritage, combining aspects of sport and culture.  Think of a county fair and a track meet all rolled into one.
The "games" part consists of men – and women – competing in the traditional Scottish "heavy athletics" events:  throwing various weights, stones, and the caber (a pole) for distance, height or accuracy. Multiple events occur all throughout the day."
Phoenix
Heard Museum Guild Indian Fair & Market
"This premier event is one of the largest American Indian art markets in the world and draws nearly 15,000 visitors and more than 600 of the Nation's most preeminent American Indian artists.
Indian Fair and Market provides the opportunity to meet and purchase art directly from multiple generations of artists working in all forms of the visual arts. All proceeds from ticket sales support the Heard Museum's mission of advancing American Indian art."
Italian Festival
"The Italian Festival has a variety of live entertainment during the weekend including Opera singers, The Sicilian Band, revolutionary accordion player Cory Pesaturo, and traditional flag wavers from the Piemonte region. The event will provide authentic cuisine such as fresh biscotti's, gelato, espresso, pasta, and pizza. 
A few local vendors include L'Impasto, Little Italy of Scottsdale, Pasta Rea, My Daddy's Italian Bakery, and Pomo Pizzeria. Non-food vendors will also be in attendance to sell jewelry, handmade Italian leather purses and much more. Plus, kids can enjoy face painting and balloon makers in the Kids Fun Zone."
M3F Music Festival
"M3F's lineup will once again bring together an eclectic group of artists across the worlds of indie, pop, R&B, electronic, and more. This includes the beloved Grammy-nominated vocalist Maggie Rogers, forward-thinking English beatmaker and producer Jamie xx, French electronic duo Polo & Pan, Detroit singer Quinn XCII, versatile beatsmith Channel Tres, and the off-kilter sounds of the multi-talented Toro y Moi. Additional highlights include Purple Disco Machine, COIN, Chelsea Cutler, Peach Pit, Hayden James, Becky Hill, and more."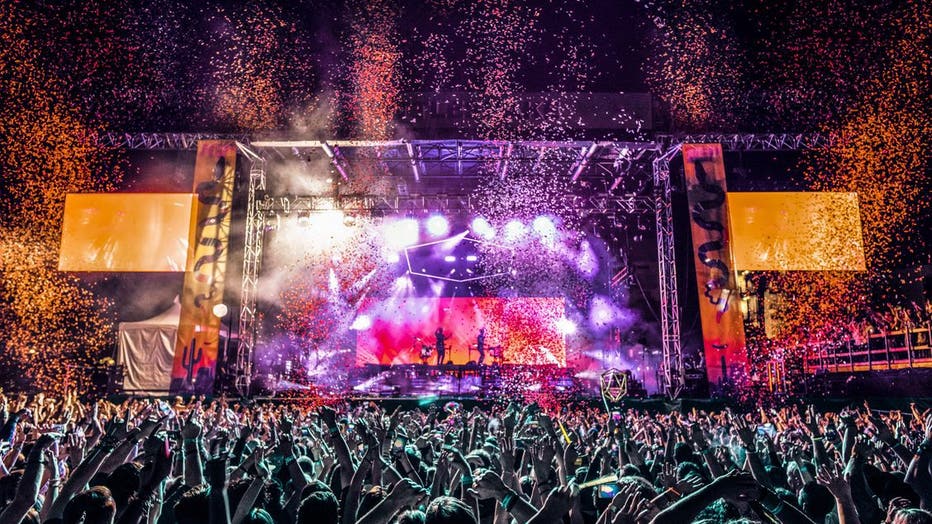 Melrose Street Fair
"Artisan marketplace, family activities, car show, live music, food trucks, and beer garden."
Mesa
Mask Alive! Festival of Masks
"Cultural Coalition's Annual Mask Alive! Festival of Masks brings a crowd pleasing line-up of performances to Pioneer Park in Mesa every March. Families of all ages enjoy an afternoon in the park at this free festival that celebrates the global artistic tradition of storytelling through masks.
Featuring live performances of dance and music representing cultures from around the world including Mexico, Japan, West Africa, Egypt, and more! One of the most culturally diverse events open to the public for free, Mask Alive! is always a great time that is fun for the whole family - Serving an average audience of 3000 people annually!"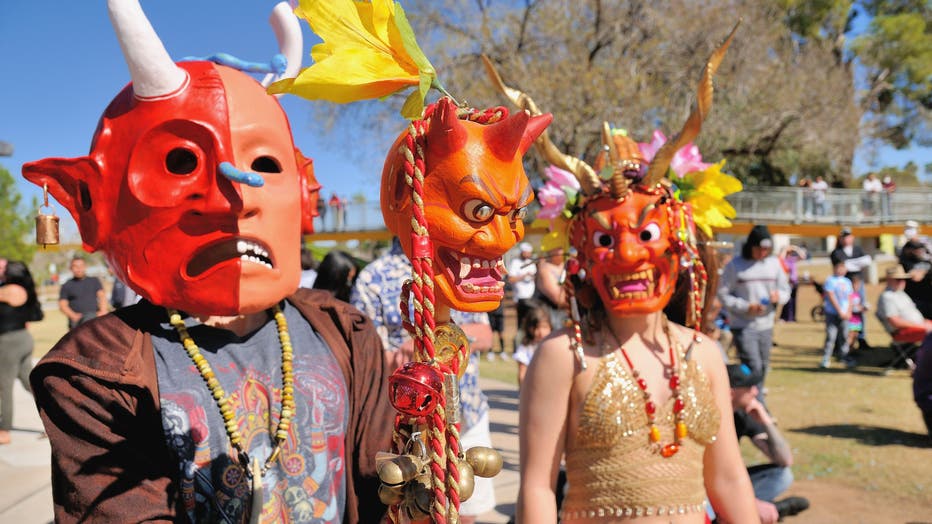 Mask Alive (Credit: Cultural Coalition)