Former volunteer arrested in connection to fire at Democratic Party headquarters in Phoenix
PHOENIX - A man who volunteered for the Arizona Democratic Party has been arrested for his involvement in setting the party headquarters on fire on July 24, police say.
Matthew Egler, 29, has been accused of arson, and sources say he had worked for the party from 2016 to 2017, but had been banned for unspecified reasons.
Egler told investigators he was upset about not being allowed to volunteer and set fire to the Democratic Party office in retaliation, according to court documents.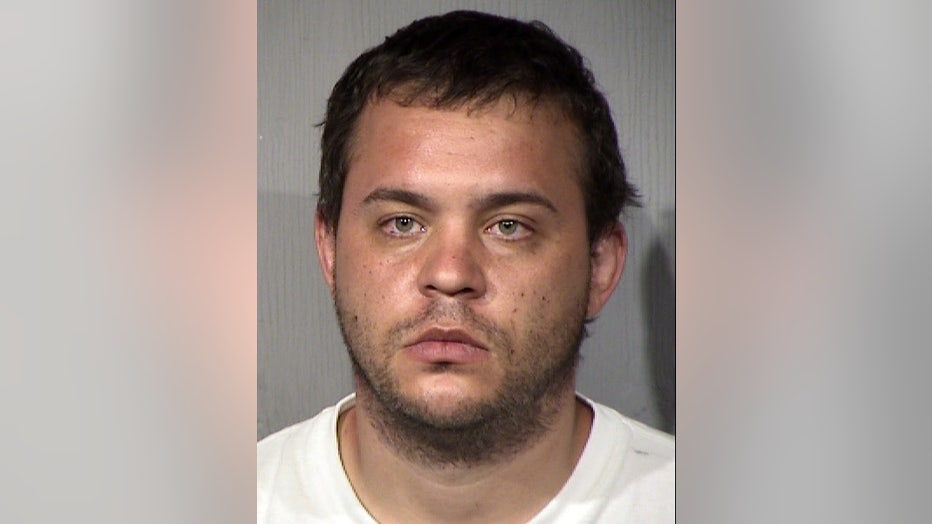 Police arrested Egler on July 29 and booked him into jail for arson of an occupied structure. He is being held on a $75,000 bond.
Surveillance video newly released by Phoenix Police shows a man breaking glass to get inside the building and lighting a fire inside.
Further investigation revealed Egler had posted information on social media that linked him to the crime.
On Periscope, Egler called the fire a "bombing" and expressed frustration with the Maricopa County Democrats. On his Twitter account, a post reads, "I told you I bombed the az dem headquarters - this is sedition and terrorism and treason."
Appearing in court, the prosecutor says Egler believes he's part of the First Family.
"In several instances, he states that he is Ivanka Trump's husband and the father of her child. He had requested several times to talk to her through various social media, the White House and her account," the prosecutor says.
The Arizona Democratic Party issued a joint statement with Maricopa County Democrats, writing:
"We are deeply saddened and shocked by today's news, but appreciate the swift action by law enforcement to ensure that the suspect is in custody. This is a time for all Arizona Democrats to come together as friends and family. This unfortunate incident will not distract or deter us from achieving the goals we set in 2016. We remain committed to our mission to elect Democrats in November."
Mayor Kate Gallego spoke out following the arrest, calling the fire a "horrible tragedy" and thanked first responders for finding a culprit.
The Phoenix Fire Department says the fire broke out at about 1 a.m. on July 24 near Central and Thomas. Firefighters were able to quickly extinguish the fire, and no one was injured.
The blaze destroyed the part of the building housing the county Democratic offices, including computers, tablets, phone-banking equipment and years of candidate and organizing information, county Chair Steven Slugocki said in an email to supporters.