'I can affect change': Local artist shares deeper meaning behind Philadelphia sports murals
PHILADELPHIA - People across the region are showing their excitement for the Eagles in different ways. For instance, captivating murals are popping up around the city as the Birds prepare for the big game in Arizona.
FOX 29's Ellen Kolodziej spoke with the man behind the artwork and he has quite a story of his own.
For artist Shaun Durbin, painting one of his Eagles murals means much more than just cheering on the hometown team.
"I do it because I love artwork and I want to see a smile when people drive by," Durbin explained.
Durbin gets a lot of smiles for the work, but it goes deeper than that. Shaun spent eight years behind bars and painting helped him turn his life around.
"I would get locked up, in my twenties, come out for six weeks, get locked back up. I just really had no direction. I felt lost," Durbin said. "Art has really shown me that I don't have to do some of the things. I have a gift and a talent. Being with the mural arts showed me that I can actually do this work and I can affect change."
Affect change with his work, but also have a little fun, especially with the Birds in the Super Bowl.
"We doing good with sports here, in Philly. He'll be on the Eagles, he'll be on the Flyers, he'll be on the Phillies and, of course, you know, the Sixers," Shaun's helper, Aaron Sawyer, said.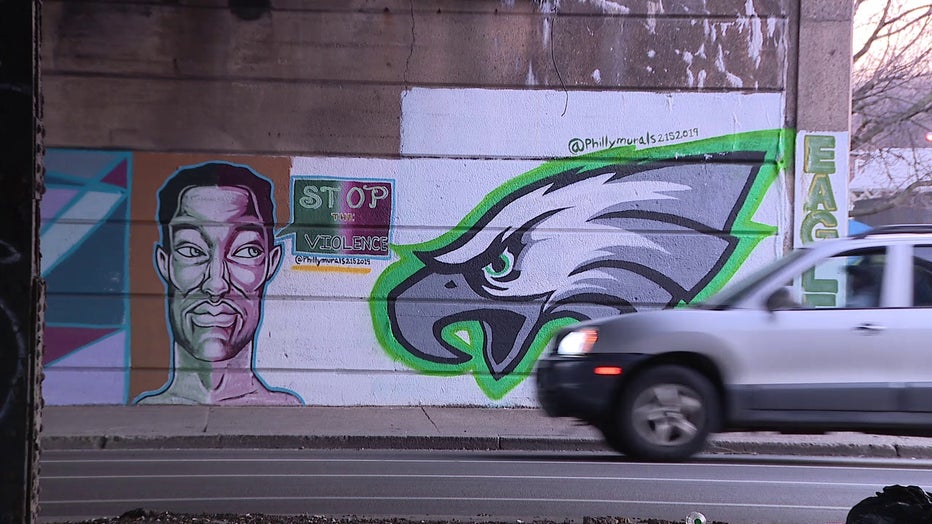 "Sometimes, I'm up here on the ladder or painting and out of nowhere, you hear E-A-G-L-E-S Eagles!" Shaun commented.
He says all the feedback he gets from people on the street truly is a Philly thing. "That's a sort of payment to me, cause I'm affecting change in little ways. It may not matter to other people, but it matters to me."
Anyone interested in Shaun's art can reach him on Instagram, here.