Man accused of sexually assaulting 85-year-old patient at Mesa adult care facility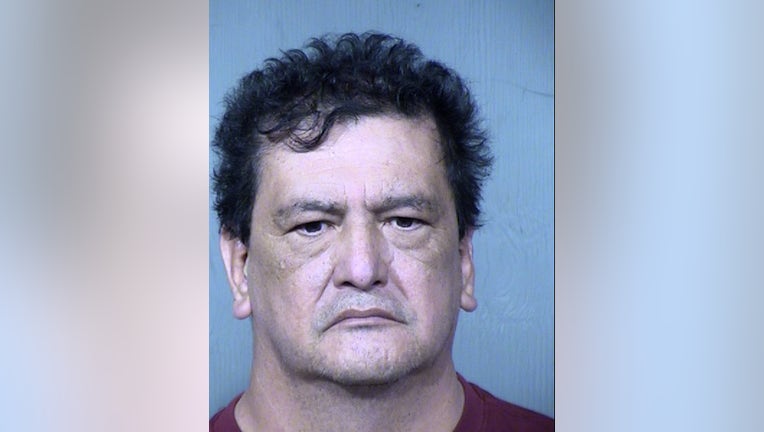 MESA, Ariz. - Court documents show a 58-year-old man has been accused of multiple sexual offenses in connection with the sexual assault of an 85-year-old dementia patient at an adult care facility in Mesa.
According to the documents, Manual Corral was arrested on Sunday night. Mesa Police officials say they were contacted by staff members at Heritage Village on Sunday regarding the sexual assault incident.
Victim described assault incident to police
(WARNING: Due to potentially disturbing content, discretion is advised)
Investigators say the woman was sexually assaulted on Friday night by the "nightwatchman", and staff members at the facility say Corral, who started working at the facility in June 2019, was the only staff assigned to the alleged victim's unit.
The alleged victim told detectives that she was asleep on Friday night when she woke up to the "nightwatchman" putting his hands over her mouth. The suspect then touched the alleged victim's breasts, following which a number of sexual acts were committed.
After the alleged assault, the suspect left the room. Police say injuries to the alleged victim were consistent with her account of what happened.
During an interview, Corral admitted to investigators that he went into the alleged victim's room and approached her while she was in bed, and then engaged in various sexual acts with the woman.
Police: Suspect was previously investigated for sexual offenses
According to Mesa Police officials, Corral was identified as a suspect in three previous police investigations. The first investigation happened in 2012, when a woman claimed that Corral forced her to perform a sexual act on him. Corral was also questioned in 2014 for alleged physical abuse on two different male patients. 
Corral, police say, also admitted to lying to investigators in the 2012 case.
Court documents state Corral is facing six counts of sexual assault, a count of kidnapping, and a count of sexual abuse. A Secured Appearance Bond has been set at $75,000.
Heritage Village officials issue response
Officials with Heritage Village have issued a statement with regard to Corral's arrest Tuesday afternoon.
According to the statement, the assault was reported to a medical technician on Sunday, and law enforcement was immediately contacted.
The statement did not name Corral, but did say that an arrest has been made and that an employee has been fired from his position.
Officials say at the time of Corral's hiring, all required background checks were performed and came back clean. Corral, according to the statement, also holds a valid Arizona Fingerprint Card from the Department of Public Safety.
"We are working in full cooperation with law enforcement and all governing agencies, and making every effort to restore comfort and peace of mind to our residents, families and staff," read a portion of the statement.
Officials say they can't comment further on the matter at this time, due to the ongoing and sensitive nature of the investigation.