Man, woman arrested after shooting in Laveen neighborhood
LAVEEN, Ariz. - Police say a suspect who pointed a gun at Phoenix officers in a Laveen neighborhood, prompting a shooting, has been arrested.
Phoenix Police say the incident began on Dec. 21 when officers tried to pull over a vehicle near 47th Avenue and Vineyard Road. The driver refused to pull over and drove to a neighborhood near 43rd Avenue and Alta Vista Road.
When the driver stopped in the neighborhood, a man ran from the car and jumped over a wall. Officers followed him to the driveway of a home where he pulled out a gun and pointed it at one of the officers, police said.
"This is when the officer involved shooting occurred," the department said.
The man, identified as 30-year-old Jesus Banuelos, was not hit by gunfire but continued to hold the gun to his head. Police negotiators responded to the scene and talked with Banuelos for nearly three hours, police said.
Banuelos eventually dropped the gun and was taken into custody. He was booked into jail and is accused of multiple charges, including aggravated assault on a police officer.
The suspect's vehicle was found nearby. The driver, identified as 42-year-old Jennifer Covington, was arrested for unlawful flight from a police officer.
A second woman who was inside the car was interviewed by police and released.
On Jan. 4., police released body camera footage of the incident.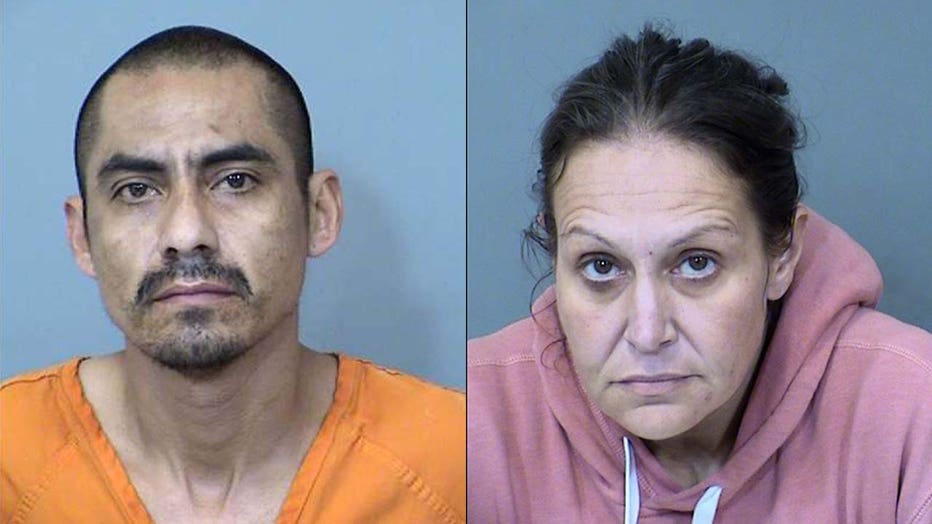 Jesus Banuelos and Jennifer Covington
If you or a loved one is feeling distressed, call the National Suicide Prevention Lifeline. The crisis center provides free and confidential emotional support 24 hours a day, 7 days a week to civilians and veterans. Call the National Suicide Prevention Lifeline at 1-800-273-8255. Or text HOME to 741-741 (Crisis Text Line).
Help is available for those who are victims of domestic violence. Call the National Domestic Violence Hotline at 1-800-799-7233 (TTY: 1-800-787-3224). You can also text START to 88788.