Recipes: Healthy Super Bowl party snacks
PHOENIX - Here are some ideas for healthy snacks you and your loved ones can enjoy while watching the Super Bowl:
Cheesy Buffalo Chicken Dip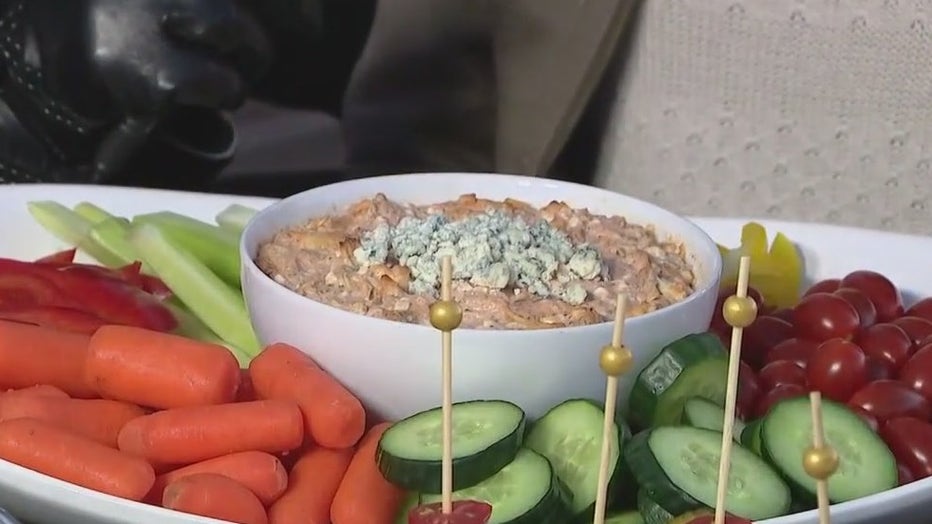 Ingredients:
½ (8 oz) package fat free cream cheese, softened
1/2 cup plain Greek yogurt
1 1/2 tbsp ranch dry seasoning mix
1/2 cup blue cheese (or shredded mozzarella cheese)
1/2 cup Franks Red Hot Buffalo Wing Sauce (more or less depending on desired heat)
1 1/2 cup chicken, cooked and shredded (or pulled)
Veggies and baked crackers for serving
Directions:
Preheat oven to 350 degrees.
Spray a small baking dish with non-stick spray. In a bowl, mix together the first 5 ingredients.
Add the pulled chicken, and stir until well combined.
Spoon mixture into baking dish, and bake for 20-25 minutes, or until dip is warmed through and cheese is melted.
Serve warm with baked chips, celery sticks, or other veggies!
Layered Taco Dip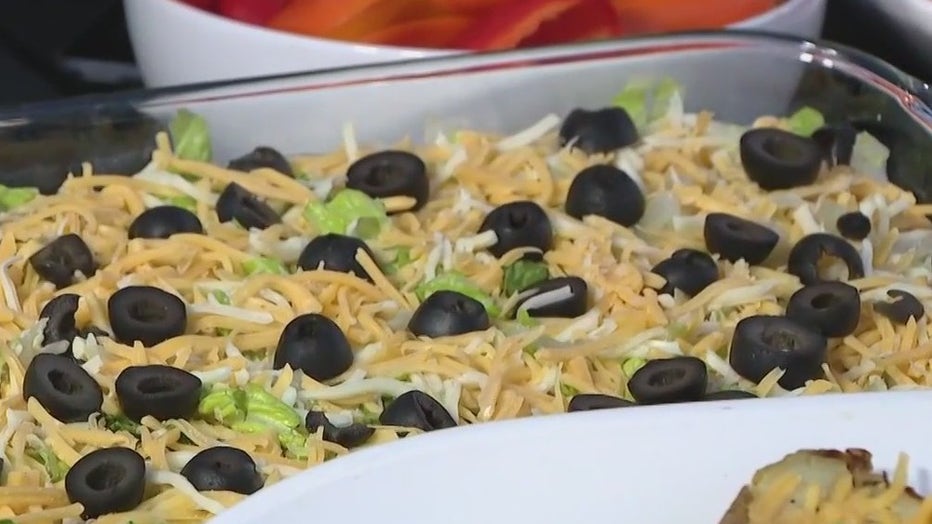 Ingredients:
1 cup nonfat plain Greek yogurt
1 cup low fat cottage cheese
2 tbsp taco seasoning
2 tbsp salsa
1/2 tsp garlic powder
1 (15 oz) can fat free refried beans (or pinto beans, smashed)
1 cup shredded lettuce
1 cup reduced fat/2% shredded cheddar
1 cup sliced black olives
Serve with baked chips and veggies
Directions
Mix Greek yogurt, cottage cheese, taco seasoning, salsa, and garlic in a blender or food processor until smooth. 
Spread in a 9×13 inch clear glass baking dish. Layer remaining ingredients in this order: refried beans, tomatoes, lettuce, cheese, and black olives. 
Serve as a dip with baked tortilla chips and sliced veggies
Loaded Potato Skins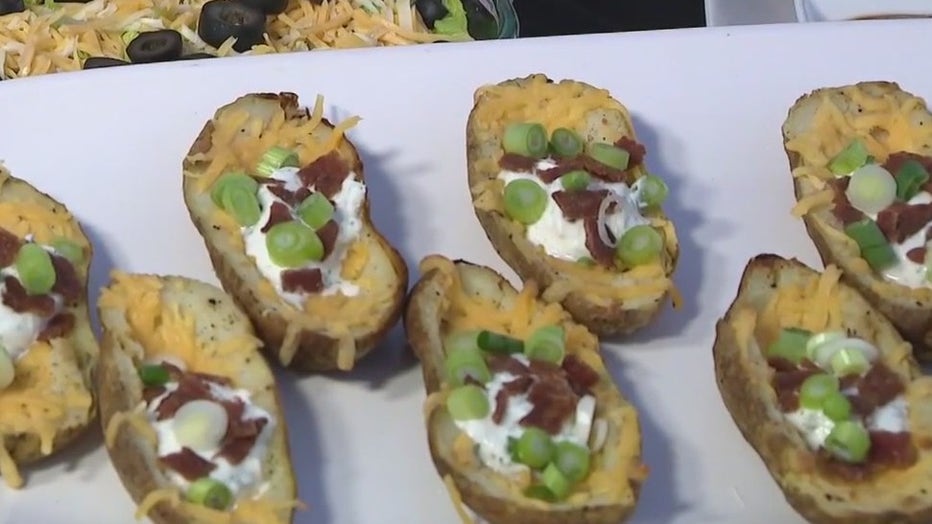 Ingredients:
3 strips turkey bacon
6 small russet baked potatoes, baked until fork tender
Avocado oil or olive oil
1 1/2 teaspoon salt (seperated)
1/4 teaspoon pepper
1/2 cup shredded 2% cheddar cheese
3 green onions, chopped
Herby Greek Yogurt: 1/2 cup 0% Greek yogurt ¼ tsp garlic powder 1 tbsp fresh dill, finely chopped salt and pepper
1/2 cup 0% Greek yogurt
¼ tsp garlic powder
1 tbsp fresh dill, finely chopped
salt and pepper
Preheat oven to 400° and line a baking sheet with parchment paper. Place the potatoes on the sheet pan and drizzle with a small amount of avocado or olive oil and 1 teaspoon of salt. Roll the potatoes in the salt and olive oil mixture until well coated. Bake the potatoes for 40-50 minutes until tender. Remove from the oven and let cool.
Meanwhile, in a skillet over medium heat, cook the turkey bacon until crispy, then remove from the pan. When cool enough to handle, dice into small pieces and set aside. Add the Greek yogurt, garlic powder, dill, salt, and pepper to a mixing bowl and stir until well combined. Set aside in the fridge.
Once the potatoes are cool enough to handle, use a knife to slice them in half lengthwise. Use a spoon to scoop out the flesh of the potatoes, leaving 1/4 inch of flesh remaining.(You can discard the insides or save for other recipes like mashed potatoes). 
Spray the potatoes with olive oil on all sides and sprinkle lightly with salt and pepper. Place cut side up on the prepared baking sheet. Bake for 10 minutes, flip the potatoes and bake for an additional 10 minutes. Remove the potatoes from the oven, flip to skin side down, and top each with cheese and bacon. 
Broil for 2-3 minutes until the cheese is melted. Take the potatoes out of the oven, top each with a dollop of Greek yogurt dip and a sprinkling of green onions. Serve hot. 
If prepping ahead of time, do not add greek yogurt and green onion, but refrigerate until ready to serve.  Reheat potato skins in the oven or in an air fryer at 400 degrees for a few minutes until heated through, then top with greek yogurt and green onions.
Burger Bites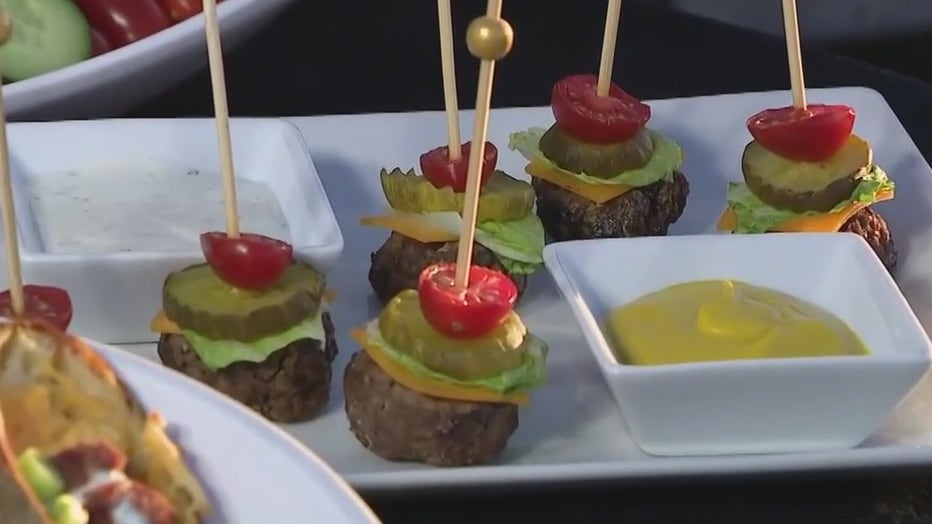 Ingredients:
28 fancy toothpicks
1 lb ground beef, 93/7 or more lean
1 ½  tbsp steak seasoning
¼ onion, grated
2 tsp  Worcestershire sauce
28 cherry tomatoes
28 dill pickle spheres
6 slices 2% cheddar or pepper jack cheese, cut into 1-inch cubes
3 leaves romaine lettuce, cut into 28 (1 1/2-inch) pieces
Mustard, ketchup, and BBQ, chipotle sauce for dipping
Preheat oven to 350F and prepare a baking sheet with foil. .In a large bowl, combine ground beef, grated onion, steak seasoning and Worcestershire sauce. 
Shape 1 to 2 tablespoonfuls of mixture into meatballs; flatten slightly to resemble hamburgers. Line them in rows of 6 on a baking sheet. Bake for 15 minutes. 
While the meatballs are cooking, cut each piece of cheese into 6 rectangles. Halve the cherry tomatoes, and cut lettuce into about 1 – 2 inch square pieces. 
When the burgers are done, put together your layers with a meatball on the bottom, followed by a piece of cheese, then pickle round, lettuce, and topped with a halved cherry tomato. Serve with ketchup, mustard, barbeque or any other burger style dipping sauce.