Tucson constable, 2 others killed by resident evicted from apartment
TUCSON. Ariz. - Four people were fatally shot in a triple murder-suicide at a Tucson apartment complex on Aug. 25, police said.
The shooting happened at an apartment complex near the area of Lind Rd. and Kelvin Blvd. Officers were called to the scene at around 11:13 a.m., and when they arrived they found a woman who had been shot.
That woman, identified as 28-year-old Angela Fox-Heath, was pronounced dead at the scene. She was the apartment complex's manager.
"As officers continued the investigation, additional information was gathered that Mrs. Fox-Heath was the apartment complex manager and had been accompanying 43-year-old Constable Deborah Martinez-Garibay, who was serving an eviction notice on a tenant in the complex," read a portion of the statement.
The tenant that was being served an eviction notice, according to police, was 24-year-old Gavin Lee Stansell.
"As Constable Martinez-Garibay and Mrs. Fox-Heath were contacting Mr. Stansell, he opened fire and Mrs. Fox-Heath was fatally struck," read a portion of the statement.
Officials say SWAT team members were called to the scene, and made entry into Stansell's apartment. The bodies of both Martinez and Stansell were found inside.
"Search of the apartment revealed additional information that Mr. Stansell had entered a neighboring apartment and fatally shot 25-year-old Elijah Miranda," read a portion of the statement.
Eviction filings reveal new details on accused killer
An eviction complaint filed on Aug. 15 by a landlord in Pima County Consolidated Justice Court indicated that a man leasing the apartment where police said the shooting happened had previously threatened violence.  
The complaint identified the man as Gavin Lee Stansell and said he or his guest had threatened and intimidated neighbors with a gun on July 27.  Stansell failed to appear at a hearing in the case set for Monday, court records said. 
According to the records, a judge ruled that Stansell had breached his lease agreement, writing: "The evidence shows that defendant threatened another resident with a firearm and has otherwise disturbed the peace."
County, state officials react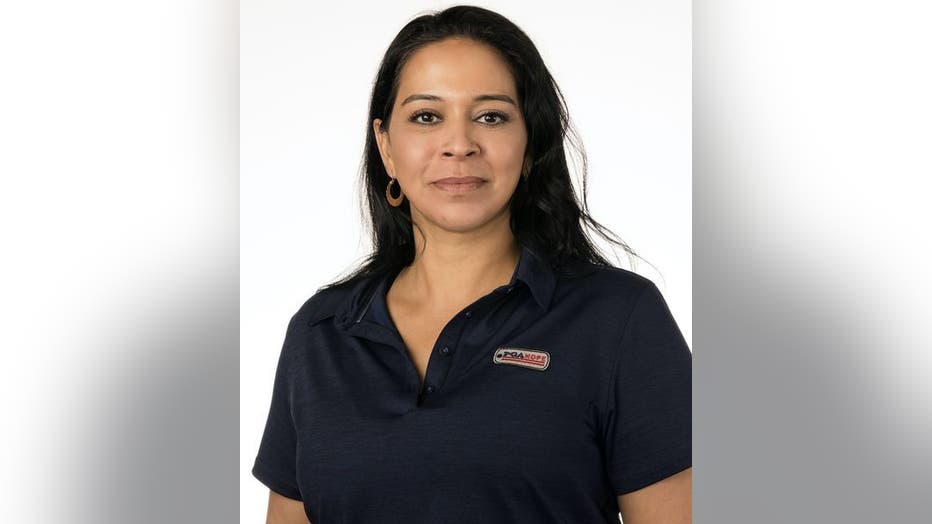 Deborah Martinez (Pima County)
On Pima County's Twitter, officials released a statement from the county's Board of Supervisors chair, Sharon Bronson.
"We extend our deepest condolences to the family, friends, and colleagues of Precinct 8 Constable Deborah Martinez, who was killed today in the line of duty," read a portion of the statement.
Gov. Doug Ducey has also ordered flags at all state buildings to be lowered to half-staff on Aug. 26 in honor of Martinez and others who were killed.
"The loss of Constable Deborah Martinez is felt across our state," said Gov. Ducey in the statement. "Whether it was serving in the U.S. Army or carrying out her duties as a constable for Pima County, she dedicated her life to helping others and her community. Constable Martinez was a Tucson native who will be remembered for the way she treated others with dignity and respect. Our thoughts and prayers are with her friends and family, as well as those who also lost their lives in today's tragic events."
If you or a loved one is feeling distressed, call the National Suicide Prevention Lifeline. The crisis center provides free and confidential emotional support 24 hours a day, 7 days a week to civilians and veterans. Call the National Suicide Prevention Lifeline at 1-800-273-8255. Or text HOME to 741-741 (Crisis Text Line).
Reports: Constable appointed to position in March
According to an article published by newspaper Tucson Sentinel, Martinez was appointed as constable in March. Martinez's predecessor, Kristen Randall, resigned two months prior.
In an article published by the Arizona Daily Star, it was stated that Randall resigned due to her frustration with her inability to keep people in their homes, in a job that requires her to evict these people.
The Arizona Daily Star article stated that during her time in office, Randall would provide tenants advance notice of their evictions, and inform them of help that is available.
Funeral, procession to be held
A memorial service for Martinez will take place at 10 a.m. on Sept. 1, at St. Augustine Cathedral in Tucson, the Pima County Sheriff's Department said.
Before the service, Martinez will be escorted to the cathedral from Carrillo's Mortuary.
What do constables do, and what dangers do they face?
On Pima County government's website, it is stated that there are 10 constables within the county. The Constable's Office serves civil and criminal papers for the Pima Justice Court, Pima County agencies and departments. They also serve papers received from out-of-area courts that are equivalent to the level of the county's justice court.
The shooting in Tucson was not the first violent incident involving a constable. In Phoenix, a constable was also involved in a shooting in recent months.
Read More: Deadly Phoenix shooting breaks out when a constable serves court documents at a residence
The incident happened on July 12.
"A constable was serving court documents in the area of 46th Street and Thomas Road when it's believed he encountered and then returned gunfire," said Sgt. Monica Bretado with the Maricopa County Sheriff's Office, in a news release.
The person who died in the July incident has been identified as 33-year-old Marcus Mungean. The constable involved in the incident told investigators that Mungean opened fire first, resulting in the constable returning gunfire.
Constables say serving eviction notices sometimes trigger intense reactions.
"These evictions are charged with such emotion," said Maricopa County Constable Michael Branham. "Someone's losing a house. Someone is trying to take back a property. We like to say there are really no winners in eviction cases."
In Maricopa County, about 25% of the county's constables carry firearms.
"Not everyone chooses to do that," said Branham. "A number of successful constables that have transitioned an entire 20+ year career without ever carrying a firearm, so it's up to the individual officer."
Constables, while they are peace officers, do not go through an academy. They do, however, undergo training that includes de-escalation and mental health tactics.
"The honest truth is this is law enforcement, and law enforcement is a dangerous profession," said Branham. "We continue to try to find ways to get better at it, or make things better for the people who are having these horrible events happen to them, like an eviction."
The Associated Press contributed to this report.
(Click here for interactive map)