Sen. Kyrsten Sinema vows to never join Republicans: 'You don't go from one broken party to another'
Sen. Kyrsten Sinema, I-Ariz., dismissed the idea that she would ever join the Republican Party, revealing she is "absolutely" done with party affiliation as she weighs another run for Senate in 2024.
During an appearance on CBS's "Face the Nation" Sunday, Sinema was asked if she would ever consider becoming a member of the GOP.
"No," the independent laughed. "You don't go from one broken party to another."
After making a sudden exit from the Democratic Party to register as an independent in December 2022, the senator told CBS that "there is less tolerance for difference" in the current political climate.
"One of the unfortunate things that's happening in Arizona, and we see this in other parts of the country as well, is that the two political parties have gotten more and more extreme," Sinema said. "They've moved away from that center of working together and finding that common ground, and they're going toward the fringes because that's where the money is, and that's where the attention is, and that's where the likes on Twitter are, and that's where you get the clicks and the accolades."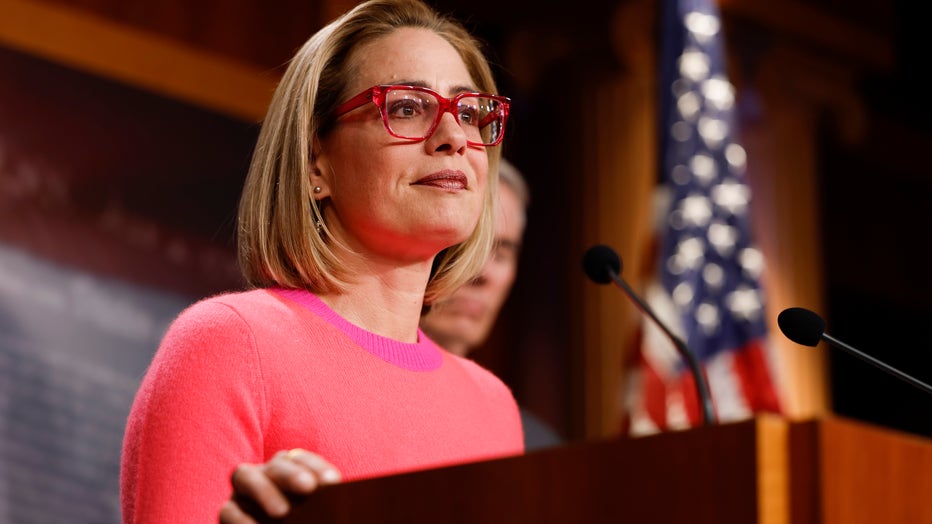 U.S. Sen. Kyrtsen Sinema (I-AZ) speaks at a news conference after the Senate passed the Respect for Marriage Act at the Capitol Building on November 29, 2022 in Washington, DC. (File photo by Anna Moneymaker/Getty Images)
Sinema further explained wanting to remain far away from party affiliation, highlighting that while political differences are important for democracy, they should not prevent lawmakers from making progress in Congress.
"We have differences, differences which should be celebrated. That's an important part of a democracy. But those differences shouldn't stop us from getting things done," Sinema said during the interview.
"I hope that that demonstrates to Arizona and to America that our system works better when we put down the partisanship, when we seek to find the common ground," the Senator said.
Sinema, whose term ends in 2024, has yet to announce whether she will seek re-election in the Senate. "I'm not here to talk about elections today," she said Sunday.
While the independent has not announced another run for Senate, Rep. Ruben Gallego, D-Ariz., has already entered the race to fight for her seat next cycle.
Get updates on this story at FOXNews.com.