Super Bowl Gameday Experience preps underway in downtown Phoenix
PHOENIX - The city of Glendale might be hosting the Kansas City Chiefs and Philadelphia Eagles, but downtown Phoenix is hosting the Super Bowl Gameday Experience.
That means a lot of construction is underway to set everything up to deal with the influx of people.
As you might imagine, the impact the game will have on businesses is huge, to put it lightly.
"It's incredible. If you've been downtown during this process in the last couple of weeks, putting up all the signage and the fanfare. It's really exciting. It's kind of a bigger buzz than normal," says Harmon Swartz with Huss Brewing Co.
Huss Brewing is right in the middle of the action, and right in the middle of the Super Bowl Gameday Experience. For the last few weeks, they've gotten to see downtown Phoenix prepare for the influx of hundreds of thousands of visitors.
The city is already starting to block off the roads and get ready for all the foot traffic.
"We have to be careful of the things we can and cannot say. Just being really mindful. All of our employees and staff had to be credentialed and go through the process for security purposes and all of that," Swartz said.
The employees are getting a behind-the-scenes look at the setup involved and are getting ready to serve up their very best to locals, and visitors, including celebrities, who will be in town.
Huss Brewing isn't the only one, of course, expecting a massive surge in customers in the downtown area.
"We already have a lot of reservations, but we've already stopped them. We want walk-in crowds. We want people to feel as if they can get a table," says Jeff Carlberg of IL Bosco Pizza.
They're offering up their back patio to private parties and getting ready to serve up as many pies as their kitchen staff can keep up with.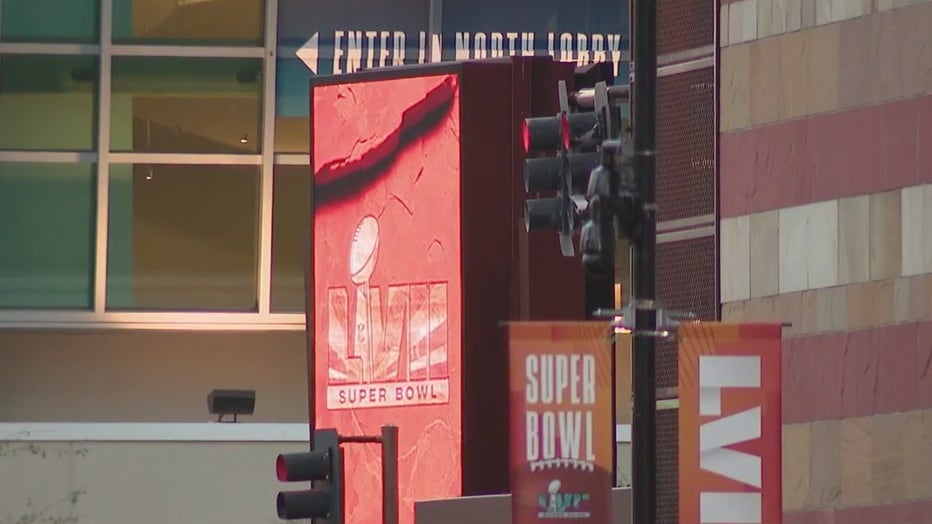 Super Bowl LVII signs in downtown Phoenix
"This is a big deal for us. First Friday is this coming Friday, which is an amazing deal for us. Then Super Bowl is the very next weekend. Then we have Waste Management. We just had Barrett Jackson, but Super Bowl is the king of everything," Carlberg says.
Super Bowl will air on FOX 10 on Sunday, Feb. 12.
More coverage: https://www.fox10phoenix.com/tag/sports/super-bowl
More reports:
Tune in to FOX 10 Phoenix for the latest news: