Tempe holding public meetings over its proposed tobacco ordinance; here's what you should know
TEMPE, Ariz. - The City of Tempe is holding a virtual and in-person public meeting on Mar. 20, as the East Valley city is considering a new ordinance that contains stricter rules on tobacco.
In addition to the public meetings, the city has also launched an online survey for people to submit feedback.
Here's what you should know about the ordinance.
What are they proposing?
According to a statement released by Tempe city officials on Mar. 7, if the proposal is approved, the city will establish a citywide tobacco license registry, and will enact fees to ensure compliance.
In addition, the legal age for buying tobacco will be increased to 21, which will align Tempe with a federal legislation that was signed into law in 2019.
Read More: FOX 10 Explains
Why the changes?
Tempe city officials listed a number of reasons behind the new ordinance.
On their website, officials state that based on Arizona Department of Health Services data, 51% of the state's high school students have tried vaping products, and teens who vape are nearly 4 times more likely to start smoking cigarettes.
In addition, officials state that Arizona is one of 10 states that does not have a statewide tobacco licensing registry, which means sells with repeated violations of selling tobacco products to minors can still sell such products.
Officials also say the approach they are taking could be the first step towards a more comprehensive ordinance that would include product restrictions.
Where can I attend the meeting? What about the survey?
The in-person meeting is being held at Tempe Public Library on 2500 S. Rural Road at 6:00 p.m. on Mar. 20.
As for the survey, people can take it on the City of Tempe website. The survey will be open until Apr. 3.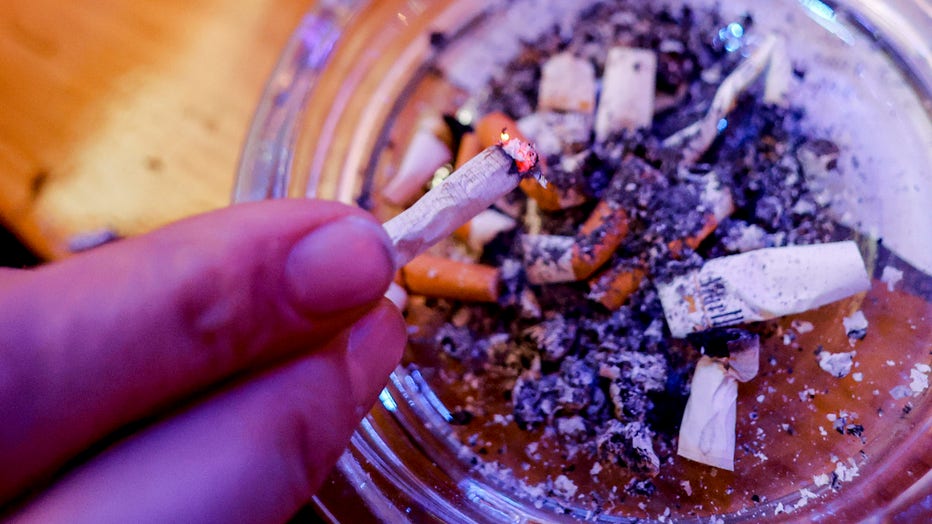 A person ashes his cigarette in a smoking pub. (Photo by Axel Heimken/picture alliance via Getty Images)
What will city officials do next?
According to the city's website, The ordinance could be brought to the full Tempe City Council for discussion during a future meeting, after the public engagement process is complete.
"Then, pending Council consensus, any new fees would be posted on the city's website for 60 days before a vote is taken. The Council would also hold two public hearings ahead of a vote, which would take place at two separate Regular Council Meetings," read a portion of the website.
What are people saying about the ordinance so far?
As of Mar. 20, there are two responses to the city's survey that can be accessed on the city's website.
One of the responses was filed by a person named Jamie C. That person said they "greatly support" the tobacco license, but does not support a ban on flavored cigarettes.
The other response was filed by a person who lives outside Tempe. That person, whose name was not shown on the website, is not supportive of the ordinance, stating that people using fake IDs to get tobacco products should be fined instead of businesses, and that the measure would be unfair to those between the ages of 18 and 21.
"Federal law is 18, they can be charged as an adult, [die in] battle in our military, and yet, they [can't] decide on whether or not to smoke?" read a portion of that person's response.