As another woman dies in a Phoenix hit-and-run crash, advocates blame dangerous city streets
PHOENIX - A woman is dead and a suspect is on the loose following a hit-and-run crash in west Phoenix.
Phoenix Police say the crash happened just after 11:30 p.m. on Dec. 6 near 91st Avenue and Thomas Road. When officers got to the scene, they found a pedestrian lying in the roadway.
The unidentified victim died at the scene.
Investigators say the woman was crossing the street when she was hit by a vehicle going westbound on Thomas. A second vehicle also hit the woman while she was lying on the ground.
Both vehicles fled from the scene.
There is no description of either vehicle at this time.
A sign of a bigger problem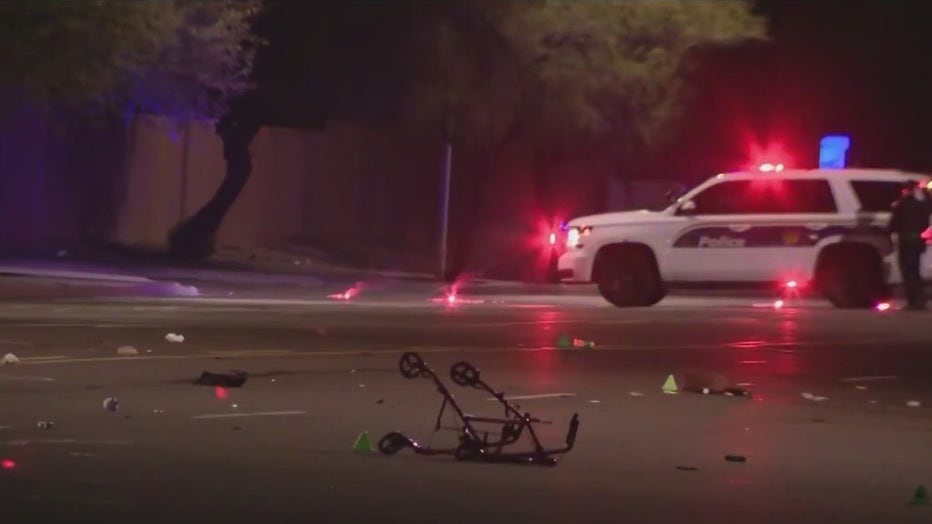 A walker lies in the roadway after a deadly hit-and-run crash.
Police say the woman crossed mid-block with her walker when she was hit. It's a common problem with these accidents, particularly when it's an extra-long walk to get to the nearest crosswalk.
Many streets in the Valley are great for driving - wide open, with long stretches in between stops.
But they're not great for biking and walking, which leads to dangerous situations like the one from last night.
Raymond, a homeless man who walks with a cane himself, isn't surprised a deadly accident happened here. And a memorial across the corner shows it's not the first time.
"These cars…do not wait…they gun their car when the light changes," he said. 
Stacey Champion, an advocate for safer streets, says it comes down to one message.
"Our streets are dangerous by design," Champion said.
Champion is pushing for cities to redesign existing roadways, for better signs, barricades, lighting and more. It's much easier than changing human behavior.
"You can't expect people to walk a mile out of their way to cross the street," she said. "It's just not going to happen. It's not realistic."
Raymond has the battle scars he says are from his own scrapes with cars while walking and biking around here. And he doubts this intersection has seen its last deadly hit-and-run.
"When I grew [up] driving, you stop and let a pedestrian go," he said. "But now pedestrians have no rights nowadays. It's dangerous out there."
Tune in to FOX 10 Phoenix for the latest news: