UArizona knocked out of March Madness tournament by Princeton
UArizona is out of the NCAA March Madness tournament – causing a major upset for fans expecting the team to win against Princeton.
The Thursday game ended with the Wildcats coming up short four points. The final score was 59-55.
Arizona won the Pac-12 Tournament and earned a No. 2 seed in the NCAA Tournament's South Region. This was the Wildcats second straight deep March run under coach Tommy Lloyd.
Princeton is now moving on to the second round of the tournament. The NCAA March Madness Twitter says "only 0.12% of brackets remain perfect."
President Joe Biden favored UArizona to win it all – as he shared his bracket in a tweet.
"Good luck to every team in this year's NCAA tournament. I've got Arizona in the men's tournament and Villanova in the women's – and as you know, in this household, Villanova always wins," Biden said.
Fans react to the loss
At Matty G's Steakburgers & Lobsta' Rolls in Chandler, it was all cheers for the Wildcats.
"It's amazing to be a two seed this year, we made it to the Sweet 16 last year, so looking forward to going even further in this year's tournament," said Monica Johnston, president of the East Valley Cats, before the upset.
"Basketball has been so important since the Lute Olson days in the 80s, and they put us on the map, and it's very important," said Richard Morris, an alum.
Claire Cook, also an alum, said, "It's the best part about Tucson. It's a college town, the town rallies, and well, I could say that this is everything to that community."
Drinking brews while watching baskets, spirits were optimistically high at the half as they led by a point. But, smiles soon turned to grimaces as the score inched closer and closer.
The last few seconds brought a heartbreaking loss as the team fell in a stunning upset. While the loss certainly stings, fans say they are still proud to wear blue and red – win or lose.
Two Arizona teams will continue on in March Madness, including Arizona State and Grand Canyon University.
The Associated Press contributed to this report.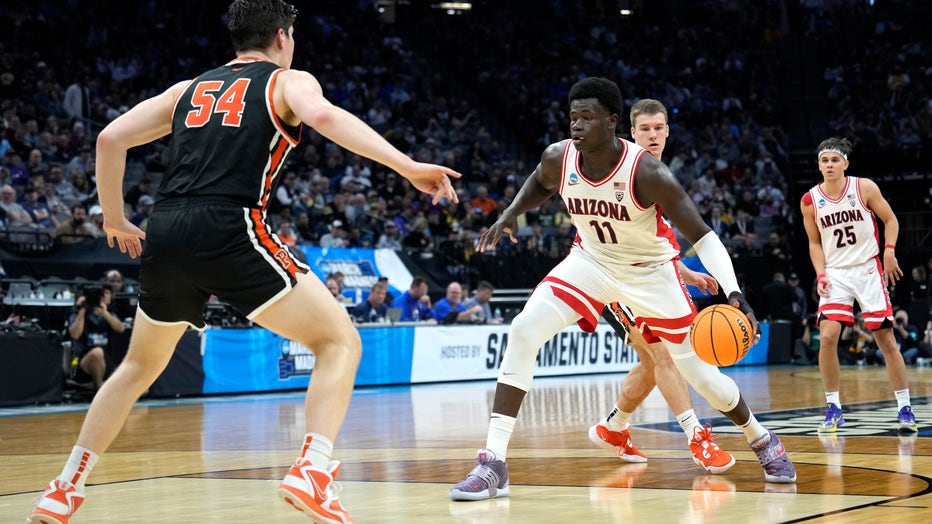 SACRAMENTO, CALIFORNIA - MARCH 16: Oumar Ballo #11 of the Arizona Wildcats drives to the basket against Zach Martini #54 of the Princeton Tigers during the first half in the first round of the NCAA Mens Basketball Tournament at Golden 1 Center on Mar