2 Phoenix Children's Hospital employees say names on COVID-19 vaccine exemption list were revealed in an email
PHOENIX - Two employees with Phoenix Children's Hospital allege the hospital was negligent with their private health information.
It started with an email allegedly sent to employees with approved vaccine exemptions, with addresses visible to everyone on the thread. The complaint is being headed up by the two employees, but it is seeking class-action status for the nearly 400 people on the email chain.
The group email, which was sent out in mid-October by Phoenix Children's Hospital, was meant to outline the protocols to employees who had an approved exemption to the COVID-19 vaccine. A COVID-19 vaccine mandate deadline was set for October 1, with religious or medical exemptions allowed. The hospital says the distribution list of 368 people was "inadvertently visible" when the protocols were sent out.
"Obviously, that is very private information that should be closely held and safeguarded," said a hospital official.
The error is now the basis for a class action complaint. Attorney Alexander Kolodin represents the two employees in the complaint.
"It's one of those things like if you hit someone with your car. Did you mean to hit them with your car? No, of course not, but do you still have to pay them for their injuries and damage? Yeah. That's what negligence is all about," said Kolodin.
Whether or not an email error is negligent will be up for interpretation, according to employment lawyer Joshua Black.
"Could a reasonable person make that mistake? And if so, that's like not negligent. It would have to rise to a level that was somehow beyond that, that there was no reasonable or prudent care being given," said Black, an employment attorney who is not involved with the case.
PCH issues statement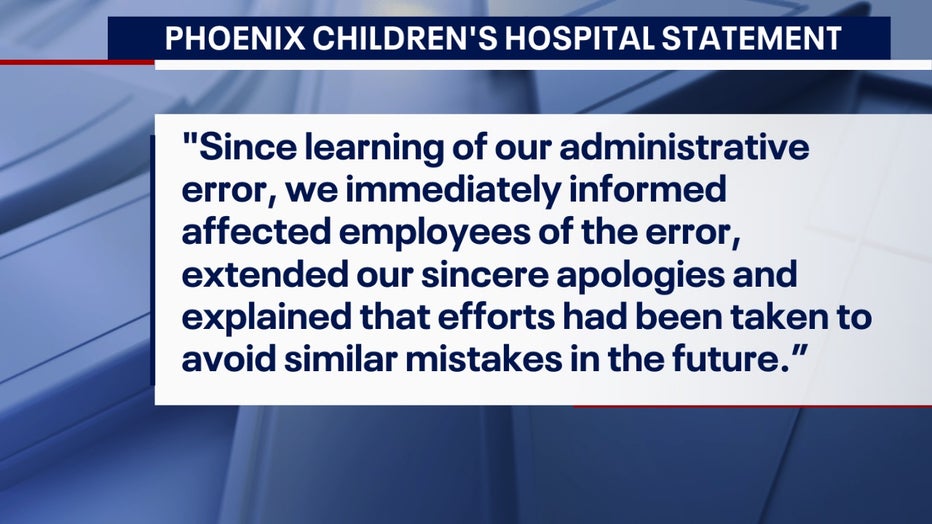 Officials with the Phoenix Children's Hospital have issued a statement on the incident, which reads:
More COVID-19 Vaccine coverage:
Tune in to FOX 10 Phoenix for the latest news