Alice Cooper remembers legendary singer Glen Campbell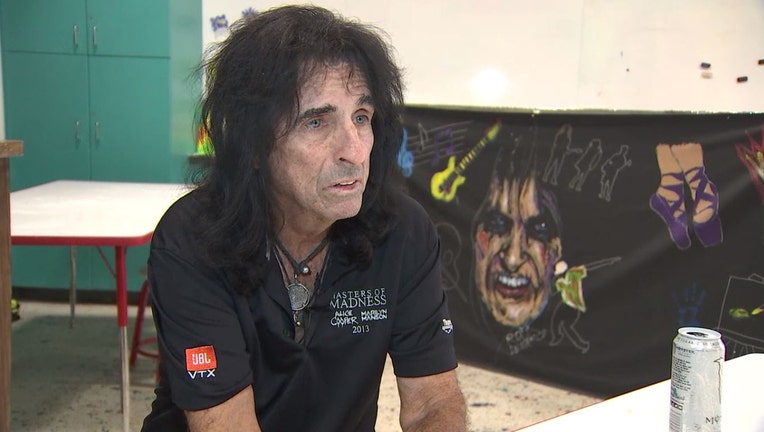 article
PHOENIX (KSAZ) - (Can't see the YouTube video? Click here)
As the music world remembers legendary singer Glen Campbell, Alice Cooper, a Phoenix resident with a legendary career in his own right, spoke with FOX 10's Matt Rodewald about his memories of Campbell.
Alice Cooper is on tour, but was in Phoenix on Tuesday. Cooper said while he and Campbell were on the opposite sides of the music world, it was the best part of their friendship.
"You know, if Glen called up and was like, 'Alice, let's play tomorrow?' I'd go, 'absolutely, let's go.'" said Cooper. "I loved being with Glen."
Cooper said Campbell was more than just a country singer.
"The respect he had in the Rock n' Roll world," said Cooper. "People like Eddie Van Halen one time said, 'could you get me a guitar lesson with Glen?' and most rockers would go 'What?' That's the kind of guitar player he was."
For over two decades, Cooper adn Campbell were the best of friends. They were golfing buddies, as well as music buddies. Campbell played several of Cooper's Christmas Pudding fundraiser shows.
It was also there that Cooper started to notice the effects Alzheimer's had of Campbell.
"We were telling jokes," recounted Cooper. "I told him a joke, and he was laughing his head off. Came back about 10 minutes later and he says 'Tell me that joke again.' I tell him the joke. He came back like five times."
Alzheimer's, however, didn't take away from the fun Cooper and Campbell had sharing stories together.
"He could go hang out with the rat pack, or he could hang out with Donnie and Marie [Osmond], or he could hang out with the Beatles or anybody," said Cooper. "He was in that middle, he was that sort of all purpose, good-looking kid that could do anything. He was the golden boy, and yet, him and I were like 'this'."