All hands on deck: Scottsdale PD steps up enforcement during WM Phoenix Open
SCOTTSDALE, Ariz. - With a million visitors expected just for the WM Phoenix Open, the same weekend as the Super Bowl in town, law enforcement agencies are expected to step up, and you might see officers from other departments helping out.
For Saturday's kickoff event, the Concert in the Coliseum on the 16th Hole hosted thousands of people who turned out for the Walker Hayes and Maroon 5 concert.
"This is basically a small city inside a city. So our goal at the Scottsdale Police Department is to make sure our services to our community are not interrupted during this time. So we call in help," says Scottsdale Police Officer Aaron Bolin.
All hands on deck means other Valley police departments lend officers, and so do state and federal agencies. 
"People should expect to see other officers from other agencies, working within our city. You're going to see them here at the event … you'll also see them on the street helping us with crowd management in our Old Town area," he said.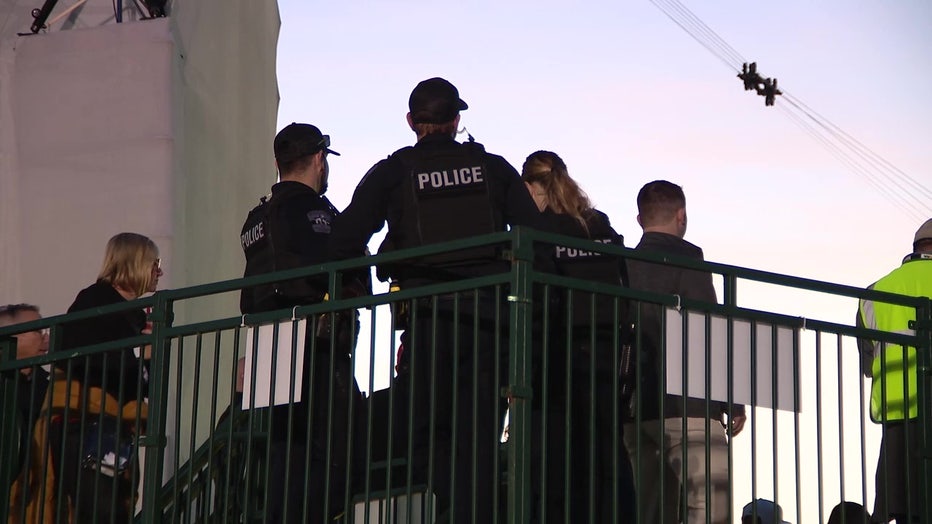 Scottsdale PD at WM Phoenix Open on Feb. 4, 2023
The Scottsdale Police Department is taking the lead on the WM Phoenix Open as the host city with additional officers designated to a special DUI task force for the entire week.
"Outside of the event, DUI is probably the biggest issue that we've dealt with typically. Inside the event, it'll be usually more medical-related. The weather is going to be great this week which means people don't always balance drinking water and staying hydrated with some of the adult beverages they're consuming," Bolin cautioned.
Fire and medical teams will be on hand to handle those cases inside the venue. Authorities are asking everyone to stay safe and pace themselves, so they can enjoy a full week of events.
Traffic patterns have changed, so pay attention to signs. Parking and ride share options for the event are at WestWorld and Salt River Fields.
Tune in to FOX 10 Phoenix for the latest news:
More reports: