Appeals court refuses to lift hold on Obama immigration action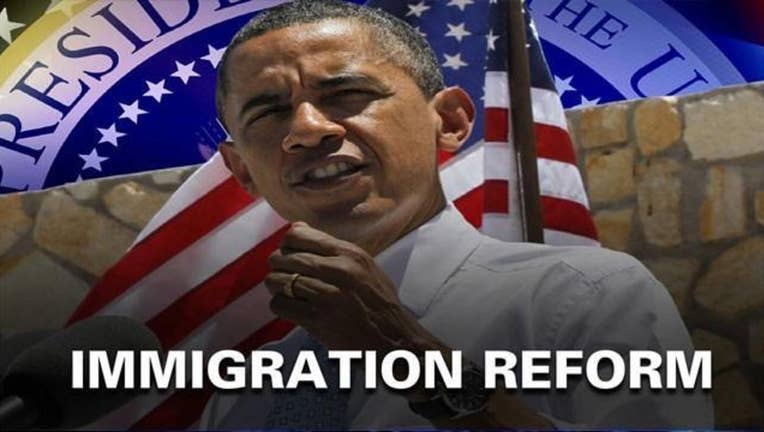 "The decision is a blow, a blow for so many families who have waited for so long," said Lydia Guzman.

A Federal Appeals Court refused to lift a temporary hold on President Obama's Executive Action to shield an estimated 5 million immigrants living illegally in the United States from deportation.

"We deserve to have these families protected, our nation deserves better, our communities deserve better, but we're going to continue to move forward, this is not the end," said Guzman.

It's estimated there are hundreds of thousands of illegal immigrants living in Arizona. The 26 states are suing to block the stay, including Arizona. They say the President acted outside his authority and critics say it amounts to amnesty.

State Senator Martin Quezada of District 29 in Phoenix, says the majority of his constituents are concerned.

"It's frustration, and being sick and tired of the political games being played over and over, and I think at the end of the day this is a political game more than a legal one. We fight and we do feel confident when we are going to be victorious when this case is heard on its merits in the court of appeals," said Sen. Martin Quezada.

There is no word on whether the Federal Government will appeal the decision. In July, a court of appeals will hear the arguments and make a final ruling. --Original Associated Press Story below:--


NEW ORLEANS (AP) -- A federal appeals court refused Tuesday to lift a temporary hold on President Barack Obama's executive action that could shield as ma ny as 5 million immigrants illegally living in the U.S. from deportation.


The 2-1 ruling by a panel of the 5th U.S. Circuit Court of Appeals is far from the final word; more arguments on the merits of the case are tentatively set at the 5th Circuit for early July.

But immigrant advocates decried the continued roadblock on Obama's actions. And, White House spokeswoman Brandi Hoffine said the two-judge majority in Tuesday's ruling "chose to misinterpret the facts and the law."

Obama announced the executive action in November, saying lack of action by Congress forced him to make sweeping changes to immigration rules on his own.

Twenty-six states sued to block the plan, led by Texas. They argue that Obama acted outside his authority and that the changes would force them to invest more in law enforcement, health care and education.

U.S. District Judge Andrew Hanen sided with the states and, from his court in Brownsville, Texas, issued a temporary injunction on Feb. 16 to block the plan from taking effect while the lawsuit works its way through the courts.

Justice Department lawyers sought a stay while they appealed the injunction. They argued that keeping the temporary hold interfered with the Homeland Security Department's ability to protect the U.S. and secure the nation's borders. They also said immigration policy is a domain of the federal government, not the states.

But 5th Circuit judges Jerry Smith and Jennifer Walker said that the federal government lawyers are unlikely to succeed on the merits of the appeal.

Smith and Elrod rejected the government's argument that it has the discretion to selectively defer legal action against immigrants. The Obama policy, the ruling said, goes beyond simple non-enforcement. "It is the affirmative act of conferring `lawful presence' on a class of unlawfully present aliens," Smith wrote.

Judge Stephen Higginson dissented, saying the administration had not abused its discretion. He also noted congressional inaction on immigration issues.

Smith and Walker were nominated to the court by Republican presidents, Ronald Reagan and George W. Bush; Higginson, by Obama.

The White House said its appeal of the preliminary injunction will proceed on an expedited basis in the 5th Circuit while the Justice Department reviews Tuesday's opinion and contemplates other possible steps.

"This decision is a victory for those committed to preserving the rule of law in America," Texas Attorney General Ken Paxton said in a statement.

Marielena Hincapie, executive director of the National Immigration Law Center, said the decision will result in confusion and fear in immigrant communities. But she predicted eventual victory in the courts.

The first of Obama's orders - to expand a program that protects young immigrants from deportation if they were brought to the U.S. illegally as children - was set to take effect Feb. 18. The other major part, extending deportation protections to parents of U.S. citizens and permanent residents who have been in the country for some years, had been scheduled to begin May 19.

Hanen issued his injunction believing that neither action had taken effect. But the Justice Department later told Hanen that more than 108,000 people had already received three-year reprieves from deportation as well as work permits. Hanen said the federal government had been "misleading," but he declined to sanction the government's attorneys. Earlier this month, the U.S. government told Hanen it had mistakenly awarded three-year work permits to another 2,000 people.

Along with Texas, the states seeking to block Obama's action are Alabama, Arizona, Arkansas, Florida, Georgia, Idaho, Indiana, Kansas, Louisiana, Maine, Michigan, Mississippi, Montana, Nebraska, Nevada, North Carolina, North Dakota, Ohio, Oklahoma, South Carolina, South Dakota, Tennessee, Utah, West Virginia and Wisconsin.


Copyright 2015 The Associated Press modified.