Arizona family sends warning after toddler suffers second-degree burns on feet from hot concrete
PHOENIX - As temperatures heat up, a Valley family has a warning for other parents about the dangers of hot surfaces like pavement and concrete.
It comes after their son suffered burns to the bottom of his feet.
The pavement heats up quickly, and pets and children are particularly vulnerable when it comes to getting burned on the bottoms of their feet.
18-month-old Mason is walking softly on his feet after they were bandaged. He suffered contact burns from the hot pavement.
So hot that he suffered second-degree burns on the bottom of his feet.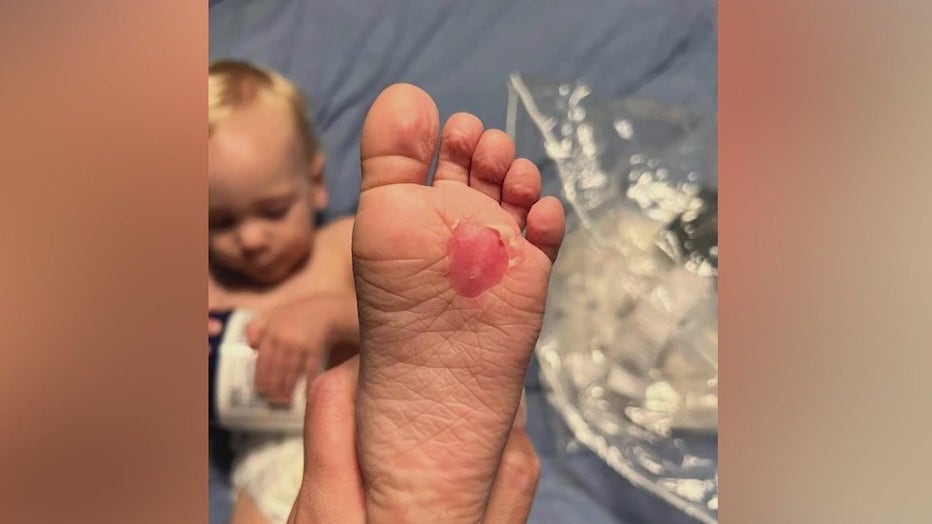 On May 15, Mason had slipped out the back door of his home in Phoenix with no shoes or socks on. His parents didn't realize he was hurt until he started screaming in pain.
The hot sidewalk had given him bad burns.
"Yeah, it's traumatizing. He was in so much pain and there was nothing we could do. It was horrible. I felt sick the whole day," Mason's mom said.
Dr. Kevin Foster with the Arizona Burn Center at Valleywise Health says they see hundreds of children like Mason every year with burns from hot asphalt, especially in the summer months.
"It's not that rare. It happens almost on a daily basis, especially in June, July and August. Once the sun is out, the pavement gets to be 140, 150, and sometimes even 180 degrees," Foster explained.
Mason was treated at the burn center and sent home to heal, which he did quickly, his mom said. 
His parents want others to be aware of the dangers that may be lurking underfoot for their kids. It doesn't take long for damage to be done.
"It only takes a few seconds. If you're an older person and a younger person, it doesn't take any time at all," Foster warned.
"Those baby tender feet – man they just burn so fast," Mason's mom said. "I just don't want this to happen to anybody else if we can avoid it."
If someone is suffering from a contact burn, Foster says you should submerge your feet in room temperature water and call the burn center for advice.
Link to Valleywise Health's burn center: https://valleywisehealth.org/arizona-burn-center-valleywise-health/