Arizona public schools once again at risk of massive budget cuts and layoffs; here's what you should know
PHOENIX - Public schools in Arizona are once again at risk of massive budget cuts and layoffs unless lawmakers vote to lift a constitutional spending cap that has been in place for decades.
If lawmakers fail to raise the cap, public school districts could lose over a billion dollars in funding.
Here's what you need to know about why the state came so close to cutting school spending.
Why was there a possibility for budget cuts?
Back in 1980, a cap on school funding, also known as an Aggregate Expenditure Limit, was added to the Arizona Constitution.
The school spending cap was enacted as part of a wave of proposed laws the Legislature asked voters to approve to limit taxes and government spending. It is adjusted each year to take into account inflation and the number of students who are enrolled.
Didn't we go through the same thing in 2022?
Yes.
During the 2021-2022 school year, public schools were staring at 16% across-the-board cuts, and looking at layoffs and school closings, according to education advocates.
"If it's not addressed in a permanent manner, we are going to be pretty much sealing our feet from now on be at the bottom of the nation in funding," said David Lujan, a former state lawmaker.
Ultimately, on Feb. 21, 2022, lawmakers in the Arizona State Senate voted 23-6 to waive a constitutional spending cap for K-12 school spending, a week after members of the State House voted on the measure. The measure did not need to be signed by the Governor.
In what ways would the budget cut impact schools?
For 2023, school district officials say they will be forced to cut their budgets for the current school year by more than $1.3 billion.
"That would mean laying off two-thirds of the teachers," said Superintendent of Public Instruction Tom Horne. "That would be an incredible disaster. It would be a disaster for the parents, and I think parents of all ideologies would be resentful of the Legislature not passing something to alleviate that problem."
The deadline for a decision is March 1. The spending cap does not affect public charter schools, which educate about 240,000 K-12 students.
"We are hoping it gets through a little faster this year with the governor pushing, because that way, districts are not hanging in this weird limbo, where they don't know if they are going to stay open or not," said Beth Lewis with Save Our Schools Arizona.
Why is there such a delay in waiving the limit?
The State Legislature, under the Arizona State Constitution, has the power to authorize expenditures in excess of the limitation for a single fiscal year. Two-thirds of each house of the legislature would need to vote on a concurrent resolution to approve the excess spending.
"I think the community is really just frustrated and kind of sick of this because it feels almost like a political football game. Can we just fund our schools?" said Lewis.
Are there calls to reexamine the spending cap?
Yes.
In 2022, then-State Senate President Karen Fann said the 1980 law needs to be re-examined.
"When this was set in 1980, we didn't have Chrome tablets or whiteboards or any of the stuff that we have now that teaches our kids," State Sen. Fann said at the time. "Back then in '80, we had schoolbooks and chalkboards and all kinds of things that didn't cost near as much."
Horne, for his part, says he is in support of lifting the cap and is even considering a repeal. During his State of Education Address on Jan. 31, Horne touched on the spending cap, among other issues such strengthening student discipline, improving test scores, and his opposition to Critical Race Theory, which is a hot-button conservative political issue.
However, not all agree with repealing the spending cap. State Sen. T.J. Shope, a Republican, does not support repealing the cap. However, he says he is hopeful that a decision will be made relatively soon.
"It looks like we will begin moving that piece forward in the next couple of weeks," said State Sen. Shope. "[State Senator Ken Bennett], the chairman of the Education Committee here in the Senate, will have that legislation to override the AEL for this coming year,"
The Associated Press (AP) contributed to this report.
Other Arizona Politics Stories
Tune in to FOX 10 Phoenix for the latest news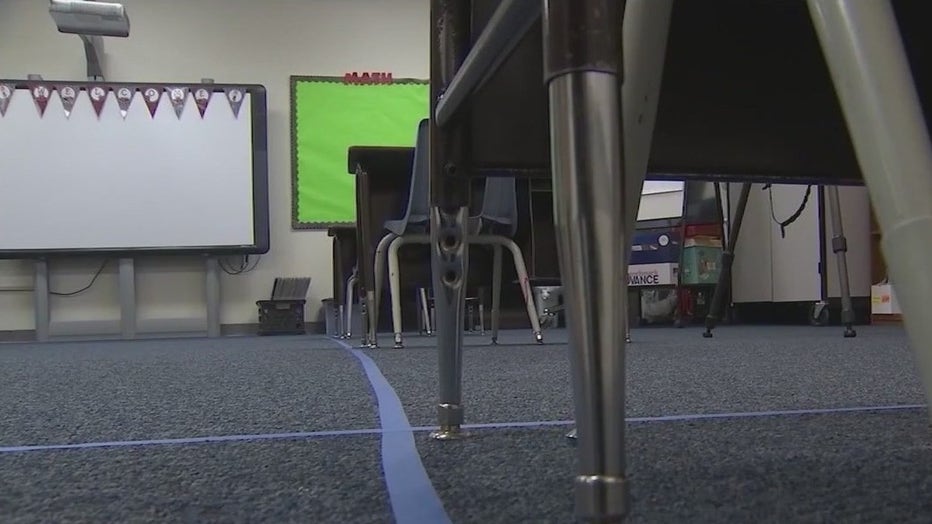 Public schools in Arizona are once again at risk of massive budget cuts and layoffs unless lawmakers vote to lift a constitutional spending cap that has been in place for decades.