Contreras Fire: Wildfire damages Kitt Peak National Observatory in southern Arizona
SELLS, Ariz. - Fire crews have fully contained a wildfire in southern Arizona that burned thousands of acres and damaged Kitt Peak National Observatory.
The Contreras Fire is burning in a remote area of the Tohono O'odham Nation southwest of Tucson.
It lies on a ridge of the Baboquivari Mountain range 20 miles east of Sells, Arizona.
As of June 23, the fire is 29,482 acres in size and is 83% contained.
More than 250 firefighters continue to work the wildfire, which is believed to be caused by lightning.
Kitt Peak National Observatory was damaged in the fire.
Four non-scientific buildings on the west side of the observatory property — a house, a dorm, and two minor outbuildings — were destroyed.
Buell T. Jannuzi, who leads the Department of Astronomy at the University of Arizona, said the fire didn't appear to have damaged the telescope and science buildings at the observatory, though a closer examination of the site hadn't yet been made due to safety concerns.
"This is the most threatening fire I can remember at Kitt Peak in the last 25 years," Jannuzi said.
The fire reached the observatory early Friday. Crews were planning to assess the damage at the observatory later Saturday if conditions allowed for safe entry into the area.
Structure protection crews have successfully placed defensible lines around all remaining structures at Kitt Peak, according to firefighters.
Kitt Peak National Observatory is operated by NOIRLab, the National Science Foundation's center for ground-based optical-infrared astronomy. The University of Arizona, which has had a telescope at the site since 1962, is a tenant of the observatory.
Latest: https://inciweb.nwcg.gov/incident/8154/
Evacuations
Evacuations for the Kitt Peak National Observatory have been lifted, however, the observatory remains closed. Evacuations for the Pan Tak and Elkhorn Ranch areas have also been lifted.
Closures
State Route 386 is closed at milepost 1.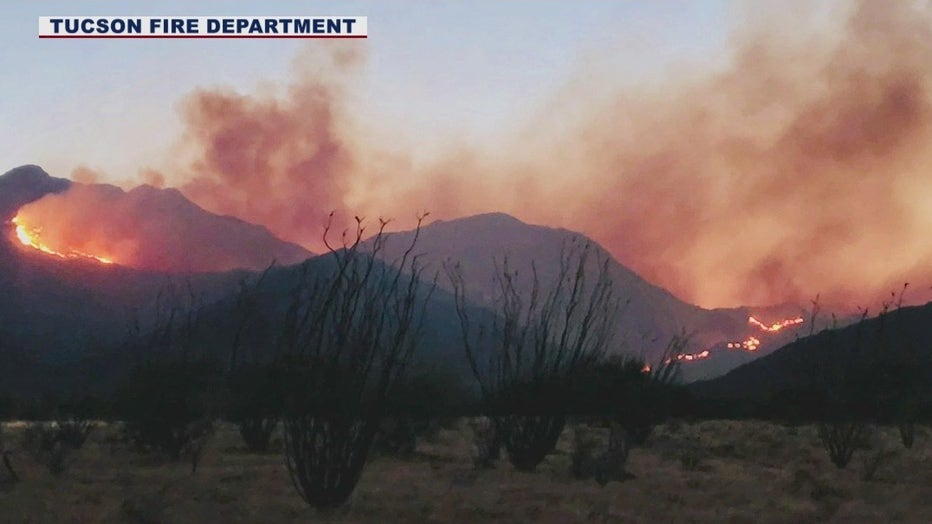 Timeline of the Contreras Fire
June 24
The Contreras Fire is now 100% contained. The fire received two inches of rain on Thursday, helping crews bring containment to 100%, officials said.
June 23
The fire is 29,482 acres and is 83% contained.
June 22
June 21
The Contreras Fire has burned 23,106 acres and is 50% contained.
June 20