Critics say bill proposed by lawmakers will hurt LGBTQ+ students: What to know about SB 1700
PHOENIX - State lawmakers in Arizona are considering a bill that would ban certain books in public schools.
While supporters of the bill say it gives parents a say in what their kids are being taught, critics are calling it a brazen book ban that harms students who are members of the LGBTQ+ community.
Here's what you should know about SB 1700.
What will SB 1700 do, if it is passed and signed into law?
According to documents on the Arizona State Legislature website, the bill amends current state law that requires school district governing boards, in consultation with parents, teachers, and administrators, to develop and adopt a policy that will "promote the involvement of parents and guardians of children enrolled" in schools within the district.
Current law requires school districts to, among other things, adopt "procedures by which parents may learn about parental rights and responsibilities" under state law. The law lists a number of rights, including:
The right to opt their kids into sex education courses
The right to opt their kids out of immunization
The right to opt their kids out of instruction on AIDS
The right to access instruction materials
SB 1700 will add to the rights by giving parents the "right to review and request the removal of a book" that is available to students in a school library, or books that will be used for classroom instruction.
The bill will also require the state's Department of Education to establish rules and procedures for "establishing and maintaining a list of books that public educational institutions in this state are prohibited from using or making available to students," with the list being posted to the Department of Education's website.
The bill will also allow parents to submit a book to the Department of Education for inclusion on the banned books list, if the parent finds the book to be:
Lewd or sexual in nature
Promoting gender fluidity or gender pronouns
Groom children into normalizing pedophilia
"The department shall review each submission made by a parent, together with the basis for the parent's findings and, if the department agrees with the parent's findings, the department shall add the book to the list," read a portion of SB 1700.
Who sponsored the bill?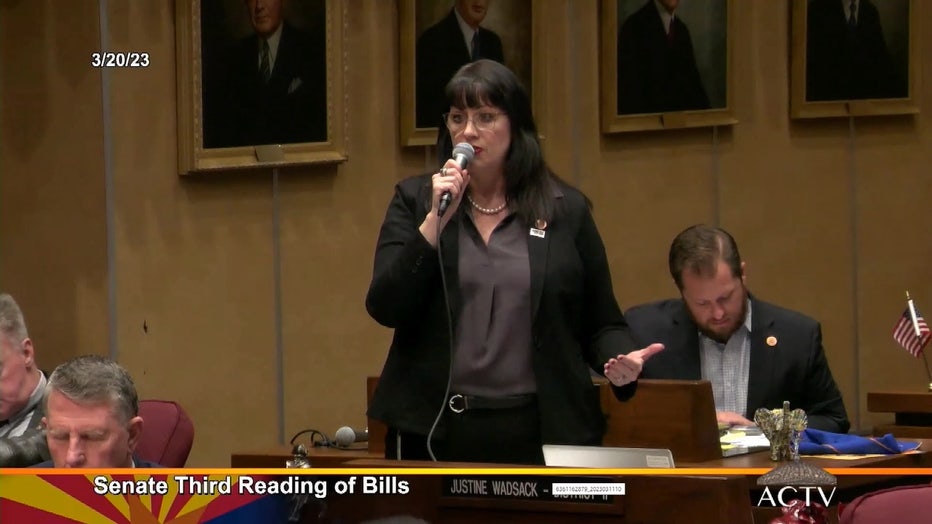 Arizona State Senator Justine Wadsack (Courtesy: ACTV)
The bill lists State Sen. Justine Wadsack (R) as the main sponsor. She represents the state's 17th Legislative District, which covers a portion of Pima County outside of Tucson, as well as a portion of southern Pinal County.
"This bill literally gives parents a say on what they are able to read," said State Sen. Wadsack. "I find it very disturbing that my counterparts on the other sides of the aisle just continue to make excuses after excuses, as does the public, for these books found in our children's schools."
What's the status of the bill?
The bill passed the State Senate by party line on Mar. 23, with all Republicans voting in favor.
"I'm just waiting for the justification for the compelling need to have sexually explicit material available to minors," said State Sen. Sonny Borrelli. He represents the state's 30th Legislative District, which covers most of Mohave County, all of La Paz County, and a portion of northwestern Maricopa County.
The bill has been assigned to the House Rules Committee.
Why are some against the bill?
As mentioned above, some are against SB 1700 because they believe it will harm students who are members of the LGBTQ+ community. Some also expressed concern with what would be labeled inappropriate, and why.
"Gender fluidity is not a thing promoted. There's no brochures trying to sell it. Gender fluidity is a naturally occurring phenomena that some people experience, it's part of the human condition," said State Sen. Anna Hernandez (D). She represents the state's 24th Legislative District, which covers a portion of the West Valley.
"Obviously, there is a line, and of course, there is indeed content that is too graphic for the classroom," said State Sen. Christine Marsh (D). She represents the state's 4th Legislative District, which covers a portion of Phoenix and Scottsdale. "However, there is no room of banning books simply because it upsets one group, under the expense of any others."
K. M. Bell with the ACLU, meanwhile, argues parents already have federal and state rights surrounding curriculum.
"This bill is in no way necessary to do any of those things. What it does do it create a chilling effect on the part of school administrators as well, and a climate of fear among teachers and administrators who are afraid to support LGBT students," said Bell.
Are there similar bills elsewhere?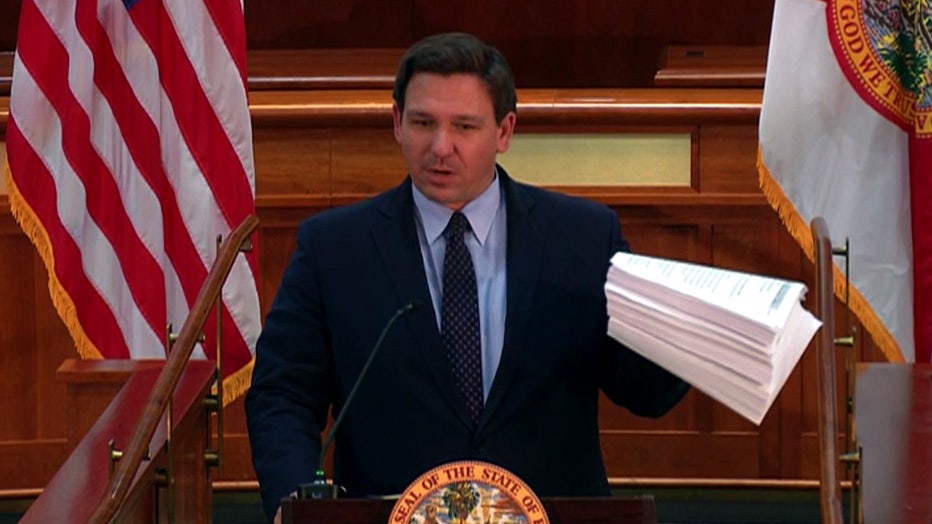 Florida Governor Ron DeSantis
Yes.
In 2022, Florida Governor Ron DeSantis signed a somewhat similar bill that gave parents a say in what books schools can and can't have in their libraries.
The Florida law, according to the Associated press, forces all elementary schools to provide a searchable list of every book available in their libraries or used in instruction. School boards must let the public know when they plan to consider approving new instructional books and allow anyone to comment. Any objections to the material, by a parent or not, must be reported to the state.
"Unfortunately, we've seen some books in some of these libraries, I mean you're talking about kids in middle school, some of the stuff that has ended up there is incredibly, incredibly disturbing stuff," DeSantis said. "Parents understand when they see this. They understand how to blow the whistle on this."
The AP has reported that Florida's Martin County school district removed dozens of books from its middle schools and high schools, including numerous works by novelist Jodi Picoult, Toni Morrison's Pulitzer Prize-winning "Beloved" and James Patterson's "Maximum Ride" thrillers, a decision which the bestselling author has criticized on Twitter as "arbitrary and borderline absurd.
The AP reported that in one Florida school district, a children's biography of late Puerto Rican baseball star Roberto Clemente was removed from shelves, to wide criticism. That book was later restored.
Nationally, attempted book bans and restrictions and schools and public libraries set a record in 2022, according to a new report from the American Library Association. Besides Arizona, bills facilitating the restriction of books have been proposed or passed in Iowa, Texas, Missouri and Oklahoma, among other states.
For his part, DeSantis has called reports of mass bannings a "hoax," saying in a statement released earlier this month that the allegations reveal "some are attempting to use our schools for indoctrination."
Will Arizona's SB 1700 become law?
It is unknown if Governor Katie Hobbs, a Democrat, will sign the bill into law.
Should Gov. Hobbs veto the bill, Republicans will not be able to override Hobbs' veto on their own, as the State House and the State Senate need a two-thirds vote in order to override a veto.