Man's body found inside Scottsdale burning home
SCOTTSDALE, Ariz. - Police are looking into what led up to a man being found dead inside a home that caught fire in Scottsdale on May 22.
Scottsdale Police say the man's body found inside the garage near 136th Street and Shea Boulevard.
"The first on scene unit reported they had smoke coming from the front door and the garage," said Scottsdale Fire Capt. Dave Folio.
Within minutes, firefighters ripped off the garage door to get to the source of the fire.
"As the fire crews out here and began to suppress the fire, fire crews working through the home came across a human body," Folio said.
The man, who they're waiting to identify until his family is notified, was taken out of the garage so that Scottsdale Police could perform CPR, but he didn't make it.
Scottsdale Police believe the man lived in the home with two other people who weren't home at the time of the fire. A dog inside the home survived and made it out.
"Unfortunately, now what started out as a fire and has thankfully not spread to any other residences in this neighborhood, has now turned into a death investigation," Folio said.
Questions about what started the fire or how the man died could not be answered yet, but first responders say the man had burn wounds.
The investigation is far from over.
"It's unfortunate that this incident happened. Our detectives' jobs now are going to be to look to see how this happened, what steps and what things led up to this tragic event occurring, and so we're piecing it together on that side, so that's what our detectives will be busy doing here," said Scottsdale Police Officer Aaron Bolin.
The cause of the fire is under investigation, including if carbon monoxide was present.
On May 23, a day after the tragedy, Scottsdale PD said in an update that an autopsy is planned for later in the week, but says the body didn't have any signs of trauma and investigators don't suspect foul play, so no suspects are being sought.
"The cause of death is still being investigated by the ME's office with toxicology and carbon monoxide tests being ordered. The ME will also review the Scottsdale Police report and the Scottsdale Fire Dept. incident report as part of their determination process. The review and tests will take time to happen. Likely a few months," PD said.
'I was surprised'
A neighbor calling 911 as fast as they did could be the very reason why this house is still standing. They saw smoke coming from the garage and called the police just before 11 a.m.
"I was surprised. This is a very quiet, very safe neighborhood. It's a gated community," MaryLynn Johnson, a neighbor said.
Carino Canyon neighbors, just houses down from where the fire took place, are trying to wrap their heads around what happened.
"It actually shocks me. Carino Canyon is a pretty quiet neighborhood. Most of us are retired. Since we back up to the reservation, the only excitement we get is a little bit of wildlife every once in a while," a neighbor said.
A call might've helped stop the situation from getting worse.
"We try to do the right thing, which is let people know when something is going on," Johnson said.
To hear they lost a neighbor is weighing heavily on their hearts.
"I am going to keep them and their loved one who has passed in my prayers this evening," she said.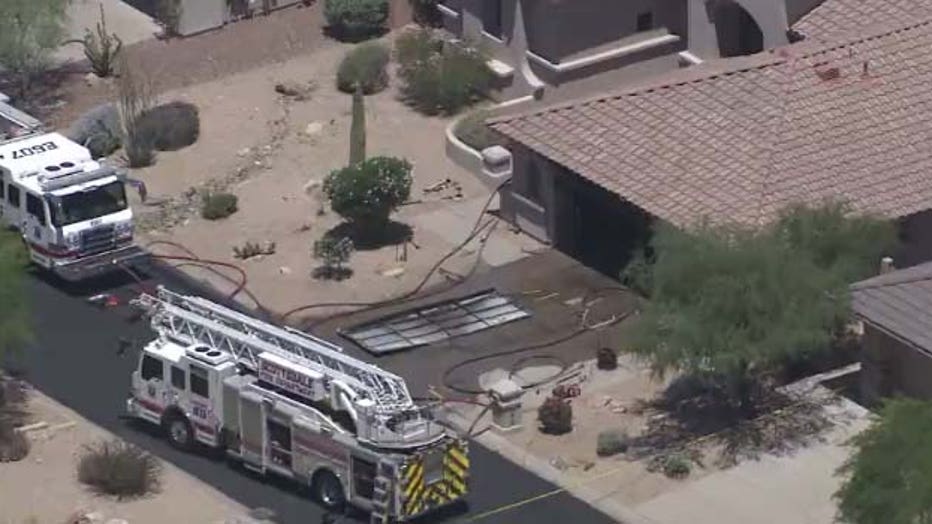 Scottsdale Police say the body of a man was found inside the garage of the home near 136th Street and Shea Boulevard on May 22.
More information on the fire:
Area where the fire happened: