Diamondbacks offer free tickets to fans who went to home opener amid game day issues
PHOENIX - What was supposed to be an exciting home run for the Diamondbacks turned into a strike out after the team received complaints from fans who attended April 9's home opener. Now the team is apologizing.
Arizona Diamondbacks fans who attended the home opener on Friday will receive a free ticket to a future game as an apology for issues related to fans' experiences at the concession stands.
One of the ways you can order is by text message. You send in your order and receive a message when it's ready. We spoke to one fan who said the text never came.
Ken Jackson and his son attend every home opener. This year was no different, except, they waited over an hour to get some food and drinks.
"We did the express order. I kept watching the game, waiting for the text to go through. No text after 50 minutes. After 30 minutes, closer to an hour, decided I'm going to get my food one way or another. Just get in the line, got up there in the line, it was well over an hour before we ended up getting food. People around me didn't get the text message," he said.
Plenty of other fans were annoyed with the wait as well. So much so that the Dbacks are making up for it.
"We appreciate all fans who attended our game last night and realize many experienced inconveniences and we have begun to address and make corrections," read a tweet from the team's president and CEO, Derrick Hall, on Saturday.
Single-game ticket buyers will receive a ticket to an upcoming game and season ticket holders will also be offered compensation.
"We are grateful for the continued support of our fans and are committed to immediate improvements," Hall said.
In a longer statement, the team admits it came up short due to concessions inefficiencies that caused long lines and issues with transactions.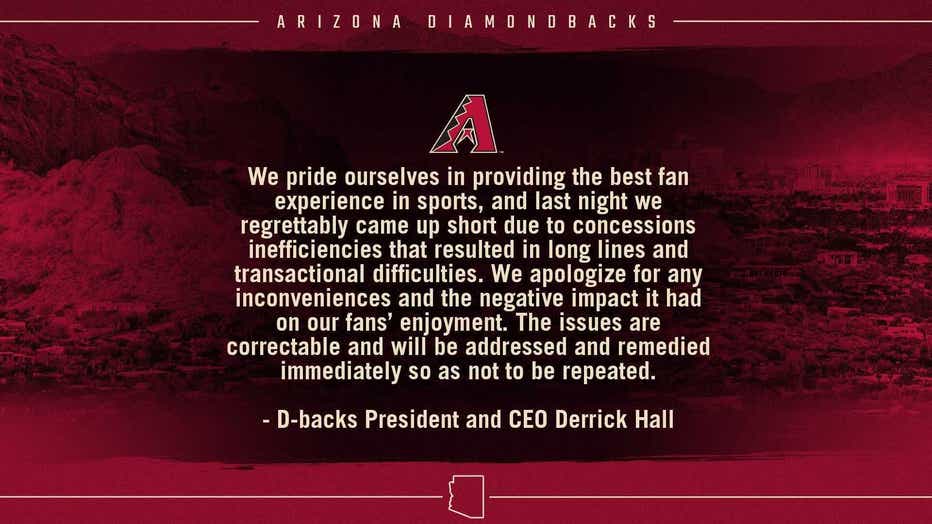 Courtesy of the Arizona Diamondbacks
Tweets by fans indicated there were issues with the concessions and the number of tickets being sold.