From a badge to a crown: Meet Tempe PD's officer representing Arizona in Miss USA
TEMPE, Ariz. - From a cop badge to a crown.
Miss Arizona USA is officially named and is poised to represent the state in Miss USA later this year.
From patrol to pageants, Candace Kanavel is passionate about both and is excited to be a role model for teens in Arizona.
"I'm Miss Arizona USA 2023, and a police officer," she said.
The Tempe Police officer swaps a uniform for an evening dress and handcuffs for high heels.
'While they are opposite worlds, they actually complement each other really well. I would say my pageant career has helped me so much as a police officer and vice versa," she said.
Talents she says that transfer nicely as a crisis intervention trained officer and hostage negotiator for the SWAT team.
"Talking to the judges is a little bit of a negotiation. You're trying to tell them about yourself and really have those personal connections with them, and that's exactly what we try to do as hostage negotiators. We're trying to have that connection with the person we are trying to help," Kanavel explained.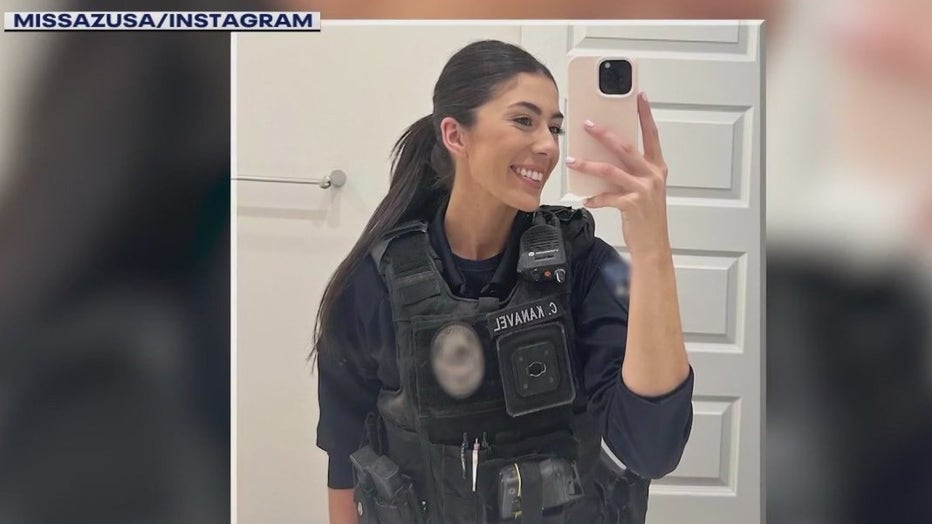 As a woman who can wear both the badge and the crown, she says she's confidently embraced who she is, hoping that all girls everywhere can do the same.
"Being a feminine woman in law enforcement has its challenges because you are stepping into a profession that traditionally was built for men, so having to carve out that path for myself and make it known that it's OK that I'm feminine and that I do pageants, and be just as good at my job as my co-workers who are not," she said.
Kanavel says she looks forward to fighting crime while also fighting for a chance at a national title as she will represent Arizona in the Miss USA pageant later this year.