Good Samaritan pins down drunk driver trying to run away after killing Euless cop
LAKE WORTH, Texas - FOX 4 has obtained video evidence from the scene of a deadly DWI crash that killed an off-duty Euless police officer.
Police also released video evidence from the investigation into the bartender they say served that drunk driver so much vodka that his blood alcohol level was more than twice the legal limit.
The videos were recently released now that the drunk driver has been convicted and sentenced to prison.
In November 2021, Dylan Molina drunkenly crashed his rental Jeep into a sedan while driving at a high rate-of-speed through a Lake Worth intersection.
Moments after the crash, Molina — 26 years old at the time — ran away from the scene. He did not make it far. Molina face-planted.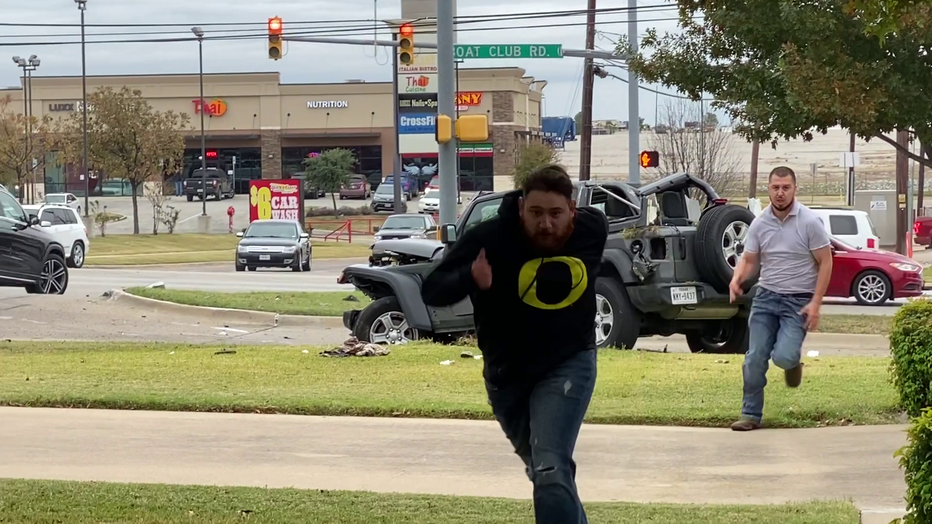 And while some neighbors desperately tried to save the family inside the sedan, one neighbor held Molina down and cussed him out.
"You stay right there, mother f**ker! You see what you did?!" the good Samaritan said.
*WARNING: The following video contains foul language.*
The driver of the sedan was off-duty Euless Police Detective Alex Cervantes. He died at the scene. His wife and two boys were injured but survived. 
In January, Molina took a plea deal and pleaded guilty to intoxication manslaughter. He was sentenced to 15 years in prison. 
Now, bartender Cala Richardson is facing a misdemeanor charge for allegedly overserving Molina before the crash. 
Lake Worth Police Chief J.T. Manoushagian is showing FOX 4 surveillance footage of Molina and Richardson at a Fuzzy's Taco Shop.
"You see Dylan Molina walking from behind the bar area from the inside out to the outer bar area, and you see the bartender waving him around, telling him you can't be back there. You need to move,'" he explained. "At this point, he stumbles backwards and grabs the bar to try to maintain his balance."
Richardson served Molina eight double vodka Red Bull cocktails that Saturday morning, according to an arrest warrant affidavit. 
"Eight doubles, 16 single shots, is more than anybody should have in a three-hour period. Maybe even at all," Manoushagian said. "Clearly, not in a good place to be operating a vehicle. Clearly intoxicated. he's holding another one of those double vodka and Red Bull drinks there, and then he simply walks away."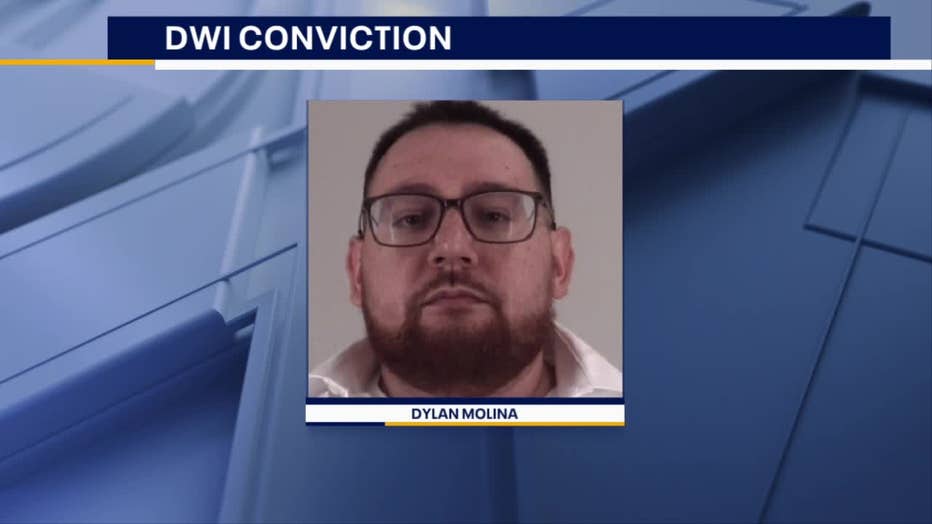 But as Molina began to leave the parking lot, he was involved in a minor crash and drove away. Minutes later, he killed Cervantes. 
Earlier this month, FOX 4 sat down with Priscilla Cervantes as she spoke about raising a family without her husband and Molina's 15-year sentence.
"It's not gonna bring Alex back, but at least he's locked behind bars and not able to hurt another family like he did ours," she said.
Lake Worth police showed Priscilla the video of Molina running away. Now, the department wants everyone to see it because they say it highlights a heartbreaking story that hopefully someone can learn from. 
"The offense of driving while intoxicated is something that we're not going to tolerate," Manoushagian said.
Molina also had a previous DWI arrest in Sansom Park in 2021. But for unknown reasons, he was not charged in that case until after the crash in which he killed Cervantes. That charge was tied into his 15-year sentence.