What's the Grappler Police Bumper? How this Arizona invention is stopping police chases
PEORIA, Ariz. - Police pursuits are unpredictable, dangerous, and in some cases, even deadly. These pursuits put not only officers' lives in danger, but also innocent people who happen to get caught up in the chaos.
Until recently, there was no safe way to bring them to an end. Officers would have to rely on something called a 'PIT Maneuver' (PIT, according to an article on the U.S. Department of Justice's website, stands for Precision Immobilization Technique) to try to stop the vehicles they were after by forcing a vehicle to spin out and come to a stop. Another option is to lay down spike strips to deflate the tires, but even then, the suspects would often keep going on the rim only.
Five years ago, however, a new option emerged in the form of the Grappler Police Bumper.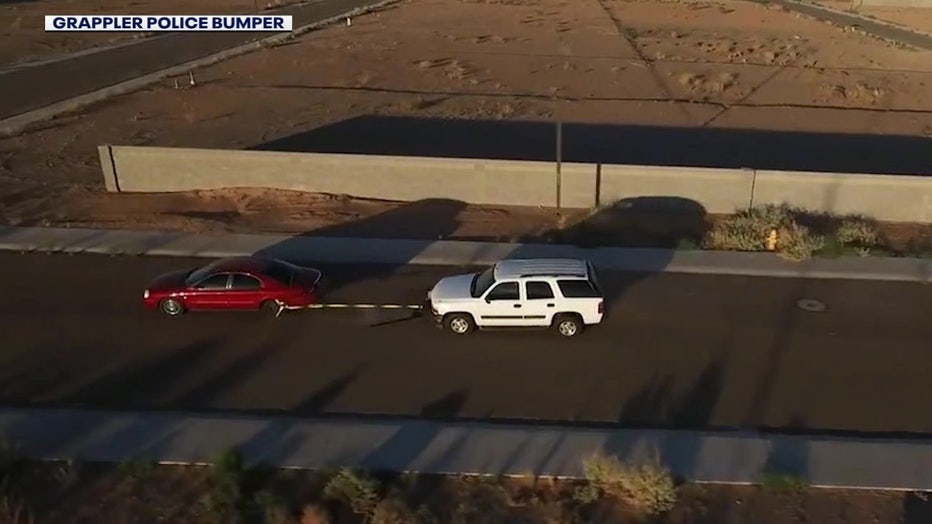 >> Read our Explainer on the Grappler
The Grappler is a device that uses a heavy-duty nylon net deployed from the front of a pursuing police vehicle, and the net wraps around the rear tire of the suspect vehicle, Bringing a pursuit to a controlled stop.
"We're not putting them into a spin. We're not doing deflating tires. We are just stopping their vehicle," said Arizona Department of Public Safety Sgt. Eric Andrews.
When Sgt. Andrews first saw the Grappler device demonstration several years ago, he admits he was skeptical. 
"I saw the YouTube video of it being used, and I went 'no way that that's actually true,'" he recalled. "The more I learned about it, and especially coming into the Highway Patrol Division and seeing it firsthand and going through the training myself, it's astonishing. It works as described. It's a great tool that we've added to our arsenal here."
Sgt. Andrews was hardly the only one intrigued by that YouTube video of the Grappler.
"Within about a week, the video got a hundred million views," said the Grappler's inventor, Leonard Stock.
Stock, who lives in Peoria, was a roofer for three decades before coming up with the idea, in a dream, as a way to safely end police pursuits.
"When I first thought of the idea, I thought, you know, this could just flop and not go anywhere, or it could potentially be huge," said Stock.
As it turns out, the Grappler did not become a flop. Stock said since this first successful use of the Grappler by the Border Patrol in 2018, there have been roughly 550 more by police agencies all over the country.
Now, nearly 1,000 of the devices have been installed on law enforcement vehicles, with more orders coming in almost daily.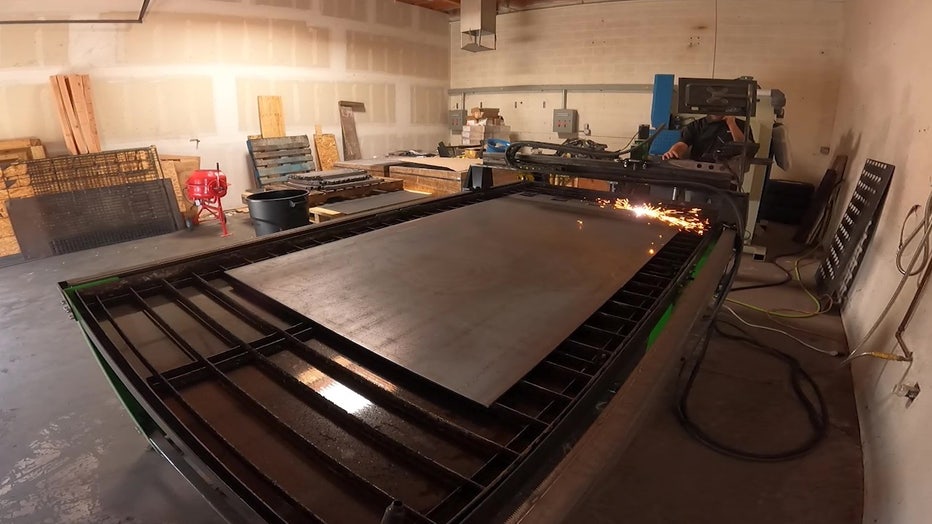 Stock's workforce of 15 people are working nearly non-stop at a West Valley workshop, trying to keep up with the demand. 
"Every day, we're trying to figure out how much more space we need, how many more people we need to hire, and it's just a constant update. Like, almost every day," said Stock.
Arizona DPS is the biggest Grappler customer, and more than 350 of them will be installed on DPS vehicles by the end of 2023.
"I think when it was more widely used, that's when people really saw the potential, and that's when officers started going in, and troopers started going 'oh man, this is a game changer. This is a really cool device that works as advertised,'" said Stock. "I mean, this is something that you kind of think of like a Batman tool that you've seen on TV, or in the cartoons when you were a kid, but actually seeing it deploy and seeing it work, it really is a cool experience to see that happen."
Sgt. Andrews said most of the drivers who end up getting grappled have no idea what just happened.
"It's the reaction of almost every single person that I've ever heard of that gets grappled," said Sgt. Andrews. "They go 'oh my gosh, what just happened?' They're shocked that they don't know why they can't go forward. They just know that they're stopped, and it's done at that point."
DPS officials say their success rate with using the device is nearly 80% It is impossible to know how many lives may have been saved by using it, but Stock says he's happy an idea that came to him in a dream is having such an impact.
"With the amount of grapples that have happened out in the field, maybe one of those did save a life," said Stock.
The grappler has also been used to stop a driver having a medical episode and a woman whose accelerator got stuck.
Each one costs about $5,000, but law enforcement agencies say it's a small price to pay if they can save even one life.