How is 'The Zone' cleanup going so far? Business owner sounds off
PHOENIX - It's been more than six weeks since the city of Phoenix began a massive undertaking of the clearing of hundreds of homeless people from an encampment known as The Zone. 
The city started the cleanup on May 10. Since then, they've returned three times and say more than 120 people have accepted services.
Now, the man who has become the voice of the businesses dealing with The Zone's impact says the city's efforts are not helping.
"No, they're worse for me," said Joe Faillace, owner of Old Sub Station. "There's more people camped in front of my restaurant, more garbage."
Faillace has owned the business for 37 years. He says that five more tents have popped up on the sidewalk across from his restaurant since last Friday.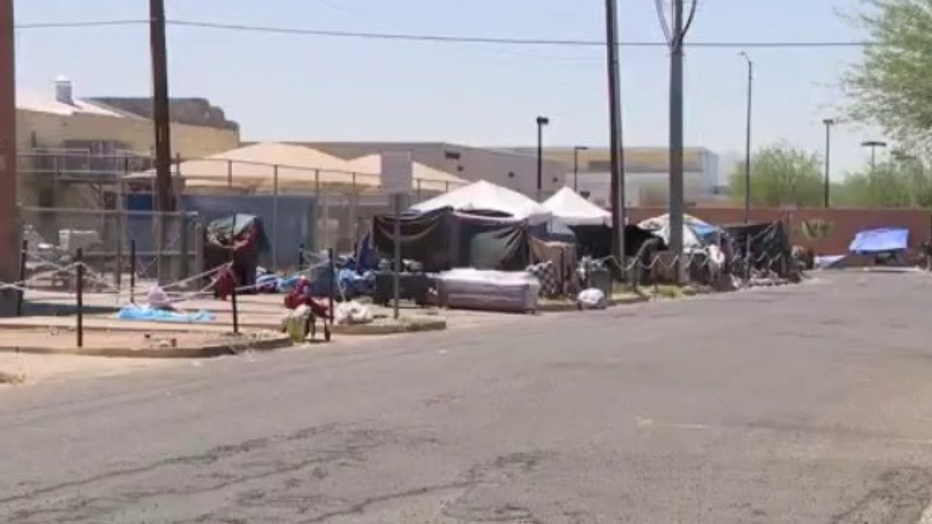 "A bunch of people went across the street, started tenting up," he said. "I told them, 'I think you're making a mistake because people are going to come and kick you off,' and they said, 'No, we're allowed in this area.'"
While we were there, Phoenix police did drive by and tell people they had to clear the sidewalk. Most of them picked up their belongings and left, but Faillace says they will return.
He says the Phoenix city agencies do not return his calls for help. He is hopeful, but frustrated.
"I just want to come here and work. I don't want to pick up garbage, pick up poop," Faillace said."I don't want to bleach my property. I want to come to work and do business and make money. That's what I'm here for."
We reached out to the city of Phoenix's Office of Homeless Solutions about Joe Faillace's concerns.
They responded, although they did not specifically address the issues brought up by Faillace:
The City of Phoenix continues our approach to address the area around the Human Services Campus one block at a time, engaging with individuals and help connect them with the appropriate resources needed to end their homelessness. The City has conducted three enhanced engagement efforts in the area around the Human Services Campus after which those individual blocks were closed to camping. Each block that the City has closed to camping has remained clear of encampments since they were addressed. We've been able to offer every individual in the designated areas an indoor shelter location and have had an 80% success rate of people accepting services.
Here is the breakdown:
June 21: 12/17 people engaged accepted services.
May 10: 47/60 people engaged accepted services.
May 31: 37/44 people engaged accepted services.
We will continue taking this strategic, block-by-block approach, leading with services to assist both individuals experiencing homelessness and nearby businesses and homeowners.