Japan beats USA in WBC final; Shohei Ohtani strikes out Angels teammate Mike Trout to end game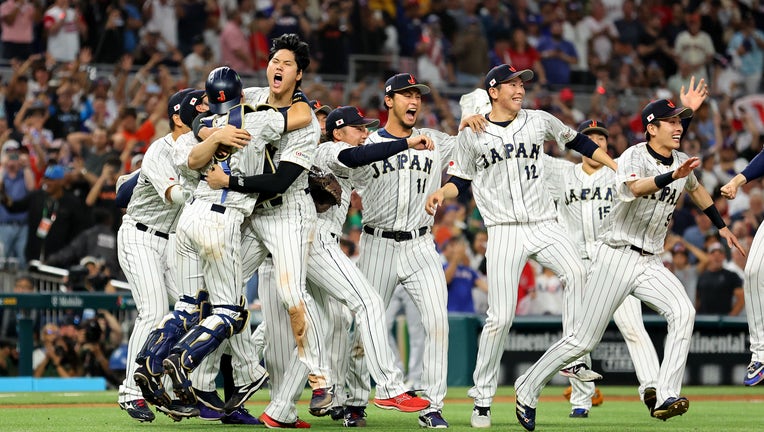 article
MIAMI (KTTV-TV) - Team Japan captured its third World Baseball Classic title after beating USA in the final 3-2 Tuesday.
Samurai Japan's victory was not without drama as Los Angeles Angels teammates Shohei Ohtani and Mike Trout faced each other in the biggest possible stage in baseball: in the last out of the ninth inning of a winner-take-all showdown. Ohtani got the better of his teammate after striking out Trout to end the game.
Ohtani finished the championship game going 1 for 3 with a walk at the plate and threw a scoreless inning from the mound. The 2021 AL MVP finished the tournament with a .435 batting average and a 1.86 ERA from the mound. 
Trout went 1 for 5 in the title game, finishing the tournament with a .296 batting average.
Team USA drew first blood after a solo homer from former Los Angeles Dodger Trea Turner in the top of the second inning off Japanese pitcher Shota Imanaga. Samurai Japan responded in the following frame with a solo homer from Munetaka Murakami and then an RBI fielder's choice from St. Louis Cardinals' Laars Nootbaar to take a 2-1 lead over Team USA.
Japan then extended the lead to 3-1 after a solo home run from Kazuma Okamoto in the bottom of the fourth. 
Team USA cut Japan's lead to 3-2 after Kyle Schwarber blasted a moonshot to the stadium's upper deck off former Dodger Yu Darvish.
HOW THEY GOT HERE
Team Japan advanced past pool play after going undefeated in Pool B with wins over Australia, China, Czech Republic and South Korea. Samurai Japan punched their ticket to the final after beating Italy 9-3 in the quarterfinals and Mexico 6-5 in the semis.
PREVIOUS COVERAGE: Ohtani, Japan rally late to beat Mexico to reach WBC final
Team USA advanced past pool play after finishing second in Pool C, with the lone loss coming against Mexico. Team USA punched its ticket to the final after beating Venezuela 9-7 in the quarterfinals and Cuba 14-2 in the semis. 
FAMILIAR FACES
Current Los Angeles Dodgers in the final: Mookie Betts, USA; Will Smith, USA; Dino Ebel (third base coach), USA
Current Los Angeles Angels in the final: Shohei Ohtani, Japan; Mike Trout, USA
Former Dodger in the final: Yu Darvish (2017), Japan; Trea Turner (2021-2022), USA
Former Angel in the final: Dino Ebel (with LAA's coaching staff 2006-2018), USA