Impaired 19-year-old driver sped more than 125 mph in Phoenix Loop 202 crash, DPS says
PHOENIX - A 19-year-old is being accused of driving impaired after he reportedly sped more than 125 miles per hour down the Loop 202 freeway in Phoenix, causing a rollover crash that shut down the road for several hours during the morning commute on Wednesday.
The collision happened around 5:40 a.m. near State Route 143 and involved four vehicles. One person was hospitalized with non-life threatening injuries, officials said.
"Troopers received a call regarding a vehicle traveling in excess of 125 miles per hour on State Route 202," said Bart Graves with the Arizona Department of Public Safety. "The vehicle struck three different vehicles before striking the wall and overturning near the 52nd Street exit."
A 19-year-old man who remains in the hospital will be booked into jail on suspicion of criminal speed, two counts of DUI, two counts of criminal damage and two counts of endangerment.
He hasn't been identified.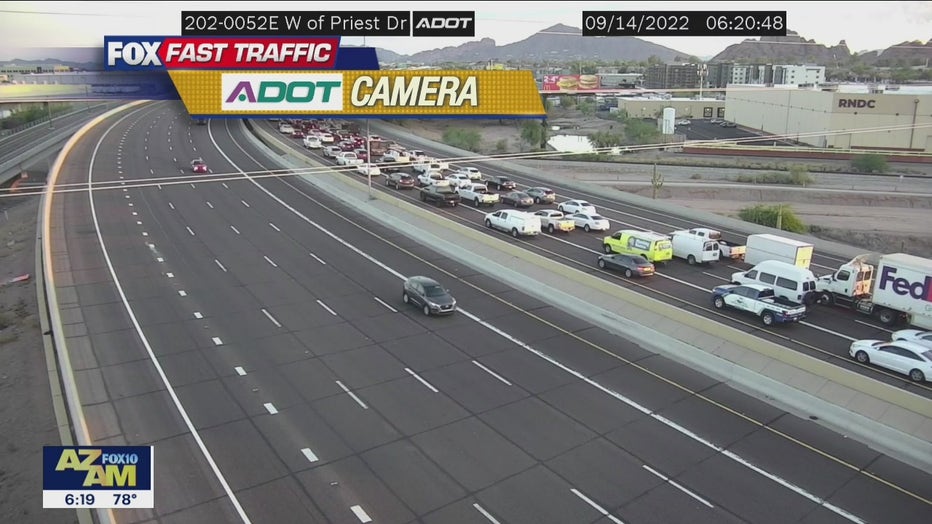 A view of the traffic backup on Loop 202
More Arizona headlines