Man allegedly kills son with axe; believed he was possessed by a demon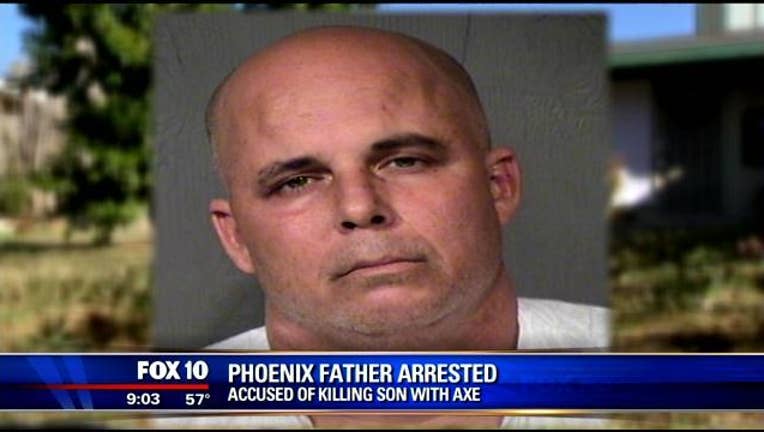 article
PHOENIX - Police say a 51-year-old man killed his 13-year-old son because he believed he was a demon who was going to eat him.
Officers discovered the boy's body after his mother called the Phoenix Police, saying she couldn't get a hold of her son who was staying with her ex-husband.

When officers entered the home near Bethany Home Road and 10th Street, they found an unimaginable scene -- the young boy was stabbed to death.

The home is now an unthinkable murder scene and police say the father confessed to killing his son with an axe.

According to police, Gary Reagan Sherill believed his son, David Sebastian Sherill, was demon-possessed and was going to eat him.

"I'm heartbroken. I cried a lot last night."

This neighbor didn't want to show her face, but says she noticed strange behavior from the father -- at one point, reporting him to Child Protective Services.

"I know that all the windows were blacked out with tin foil. I never saw the child playing whenever he was let out of the house.. he had a tight hold on him. In the beginning, I kind of thought he might be kidnapped," she said.

Several neighbors reported seeing police respond to the home on several occasions leading up to the murder.

The boy's body was discovered New Year's Eve afternoon after his mother called police, saying she couldn't reach her ex-husband or her son.

"The mother of the child was down here and crying and screaming and inconsolable obviously," said Divina West, a neighbor.

Divorce court paperwork reveals very little about the father's mental state, only stating "The father is unemployed and this has likely impacted his mental state.." According to records, the parents had joint legal custody.
According to court records, Sherill and his ex-wife have had a tumultuous relationship. In 2005, the ex-wife filed a motion of protection, claiming she feared for her safety and the safety of her two children. Court documents also show that Sherill had majority custody of David until his ex-wife filed a petition in 2010.
In that petition, she claims Gary could have been using morphine, he was not sending David to school and was not allowing her to see her son.
A few months later, a joint custody agreement was reached. In that agreement, Gary was to have David on New Year's Day.

"I feel horribly for the mother who I witnessed when they told her the news and heard her gut-wrenching scream.. that is just something that will stay with me forever," said a neighbor.

Neighbors also told FOX 10 the father was screaming hysterically when police arrested him and that he was yelling about war.
CPS says there was never any complaint filed about this particular family and therefore, there was no investigation.
Sherill faces first degree murder charges. He is being held on a million dollar bond and is expected to be back in court next week.
NEIGHBORS OPEN UP ABOUT MURDERED TEEN, CALLING HIM A SWEET, KIND BOY
On Thursday, neighbors lit candles in front of the home where police say the 13-year-old's father murdered him. Those closest to the family are too distraught to say much about the teen, but said off-camera that David was a sweet, kind boy -- one neighbor told FOX 10 she called him her little buddy.
Many neighbors said they witnessed odd behavior from the father leading up to the murder.
"From what I understand, the father was very possessive and didn't let him get out too far," said West.
Now just feet away from the crime is a memorial to David and a sign reading "Gone but not forgotten."