Alleged gang members arrested after deadly Phoenix drive-by shooting
PHOENIX - Police say two suspects have been arrested after a man was killed and another was hurt after being shot while driving in Phoenix on New Year's Day.
Phoenix Police say officers responded to reports of a shooting at around 2:30 a.m. on Jan. 1 in the parking lot of a Waffle House near I-10 and University Drive. When they got there, they found 19-year-old Leon Greer who had been shot. 
Greer was taken to a hospital where he later died. A second man had been driven to a hospital with non-life-threatening injuries.
"This second victim was identified as being the passenger when the shooting occurred," police said. "It was learned that both victims were driving along I-10 eastbound when their car was shot at. The driver pulled off the freeway and parked in the parking lot."
Police say the actual shooting happened near 18th Street and Jefferson.
On Jan. 20, police said two suspects were arrested in connection to the crime.
According to court documents, the suspects are identified as Gary Green and Randale Thomas. They are members of a local gang and are known to be feuding with other south Phoenix gangs that have resulted in other homicides.
If you have any information, you're asked to call police at 602-262-6151 or Silent Witness at 480-WITNESS.
Suspects were affiliated with gang, court docs reveal
An investigation revealed that the victim and his friends had been at Tru Lounge that night before heading to a Circle K near 7th Street and Roosevelt to get gas, according to newly released court documents.
One of the survivors of the shooting told police that he had seen a black Charger circling the parking lot.
When they left the Circle K and got on the freeway, the Charger was seen on surveillance video following them.
Detectives were able to identify one of the suspects as Gary Green after recognizing his distinct tattoos and clothing.
Green was associated with Randale Thomas, who was listed as owning a black 2018 Dodge Charger.
Court documents revealed that a GPS tracker had previously been placed on vehicles they owned as part of an unrelated investigation.
The data showed that their Charger was at Tru Lounge that night. It traveled to that same Circle K, slowed down near 18th Street and Jefferson, and then sped away at the time of the shooting.
Facebook records showed that Randale and another user talked about the shooting. Randale told another person that "he was shot on a mission and described how he was on the frontline and takin all the risk," officials said.
Randale had gone to the hospital that same night after being shot in the hand.
Green and Randale are reportedly members of the West Side City Crips, who are currently in a dispute with several gangs in south Phoenix.
Police say one of the victims was associated with one of the south Phoenix gangs, and another was wearing a red jacket - a rival color of the West Side City Crips.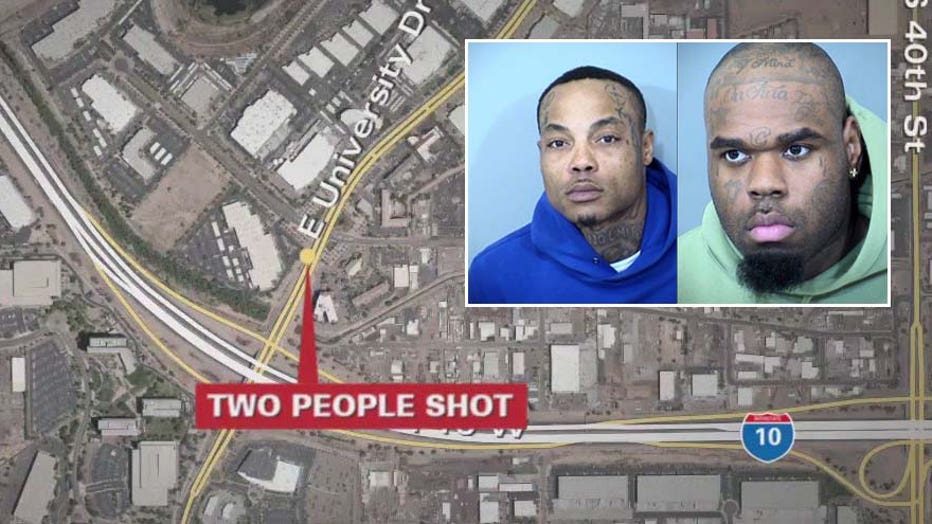 Gary Green (blue shirt) and Randale Thomas