Man shot by Phoenix Police officer to file lawsuit against city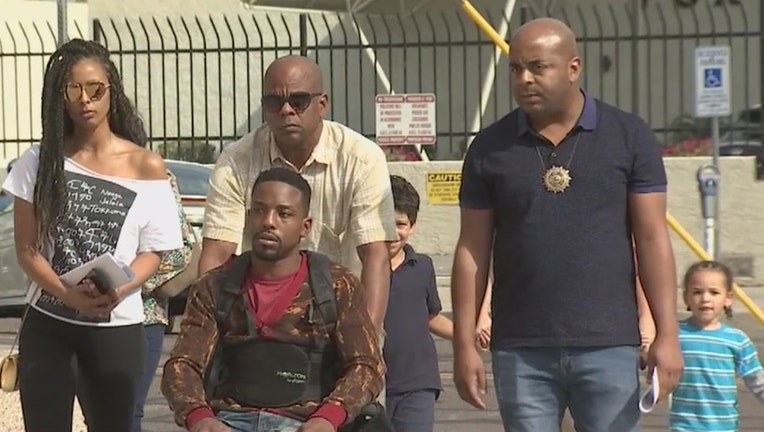 article
PHOENIX (KSAZ) -- The City of Phoenix, as well as the city's police department, could soon be looking at a multimillion dollar lawsuit, as a Notice of Claim has been filed on behalf of a man shot by a police officer last summer.
The claim, which seeks $50 million, is for violation of Edward Brown's civil rights. The notice to file is the first step in a lawsuit that could end up costly the City of Phoenix tens of millions of dollars.
On Wednesday, surrounded by his caregiver and extended family, 35-year-old Brown talked about plans to file the lawsuit against the City of Phoenix, the Phoenix Police Department, and police officer Kenneth Sylvia.
"Don't be so quick to pull your weapon out, and due to the fact it was a hollow point bullet, they should change that because I still could have been walking, even with his wrong decision making," said Brown, who was shot in the back on August 5, near 23rd Avenue and Glenrosa in Phoenix.
There is disagreement on how things unfolded, as Officer Sylvia tried to arrest Brown, The officer fired, hitting Brown in the back, paralyzing him from the chest down.
Browns lead attorney in the case is former Arizona Attorney General Tom Horne. He was not at Wednesday's news conference. Horne is also defending Brown, who faces charges of assaulting a police officer and marijuana possession from the August 5 incident. Brown is due in court on the drug charge and the assault charge next month.