New NAU thermal imager can detect asteroids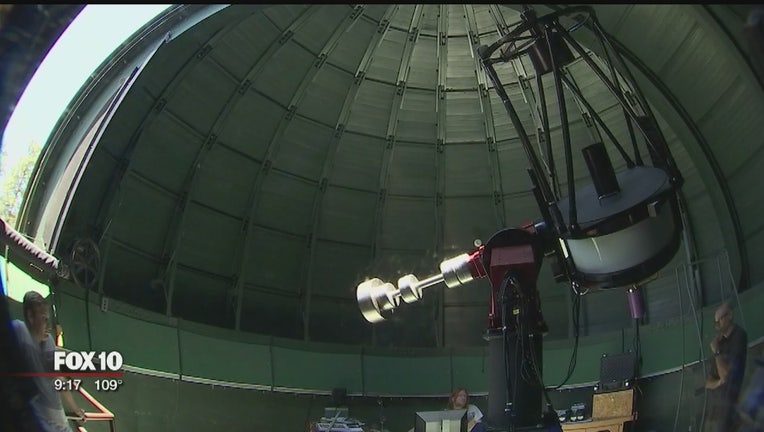 article
FLAGSTAFF, Ariz. (KSAZ) - If there was an asteroid headed toward Earth (and to be very clear, there is none, that we know of), people might turn to students at Northern Arizona University for answers.
A new telescope there is almost completely created by students, and it is being used to track asteroids.
The telescope is called TIPSI, or "Thermal Infrared Planetary Science Imager", to be precise. TIPSI is an infrared camera that is connected to the Barry Lutz Telescope (BLT, yes).
Astronomer David Trilling assembled a team of seven students and three faculty at the beginning of the last school year to create the new imager. It can detect heat coming off space rocks, like the moon, planets, or asteroids.
In a way, it is similar to the movie Predator, in which the antagonist saw the world through thermal imaging - heat vision. The practical use for TIPSI is actually a pretty important one
"For me, the driving purpose is to study asteroids that come close to the Earth," said Trilling. "They're called Near Earth Asteroids. They fly by the Earth all the time. Some big, some small."
Some of the asteroids occasionally hit the Earth, and one 65 million is believed by some scientist as having a role in the extinction of Dinosaurs.
By using thermo imaging on asteroids, astronomers can get a better idea of size, as bigger asteroids give off more heat.
Besides asteroid detection, TIPSI also considerably shrunk the size and costs of infrared telescope technology. In the past, similar telescopes would have to be cooled by liquid gas. TIPSI operates at room temperature.
Nathan Smith is working on his Master's Degree in Applied Physics, and was one of the seven students who completed the project. It was kind of like a puzzle.
"The first big task was how do we attach this $10,000 thermal camera to our telescope," said Smith.
Meanwhile, Electrical Engineering Student Dan Krollman helped with how images are received and viewed, and he hopes TIPSI will be a launching pad for other, aspiring astronomers around the country and the world.
"I think if we can get this project off the ground in other universities, it would open a new world to infrared astronomy. It would be a lot more accessible for students," said Krollman.
The team plans to make their design available for astronomers around the world.