New university opens in Phoenix amid Arizona's nursing shortage
PHOENIX - A new university has just opened in Phoenix, and the school could help solve Arizona's nursing shortage.
California-based Alliant International University is launching its first Nursing and Health Sciences program in Arizona. The school has several campuses in California that specialize in psychology, education, and other professional licensure programs.
In Arizona, AIU's campus at Park Central marks the school's first venture in nursing. According to the U.S. Census bureau, more people are moving to Maricopa County, which includes the Phoenix metropolitan area, than any other county in the country.
"We see Phoenix as the fastest growing city in the country, and a city that's in desperate need of nurses and other health sciences professions," said Andy Vaughn, CEO of Alliant International University.
According to the latest numbers from Maricopa County, there were over 5,500 nursing vacancies in 2022, and there is now a push to not only increase the number of nursing students in the state, but also to provide hands-on training and experience, so they are ready to be hired once they graduate.
AIU's nursing program includes simulation scenarios using life-like mannequins, which helps students learn skills to handle childbirth emergencies.
"We have the option to put them through experiences they may not go through when they go into clinical practice," said Sherrie Palmieri, Dean of Alliant International University's School of Nursing.
The university just hired an admissions counselor, who will be looking through applications, transcripts, and conducting interviews for its first class of nursing students over the next month.
"We're a professional practice university," said Vaughn. "We don't have sports teams, undergraduate populations or dorms. We're focused on licensure programs that lead to professional practices career."
Although AIUis new to Arizona, the private, for-profit university has been around for decades, and is accredited by the Western Association of Schools and Colleges.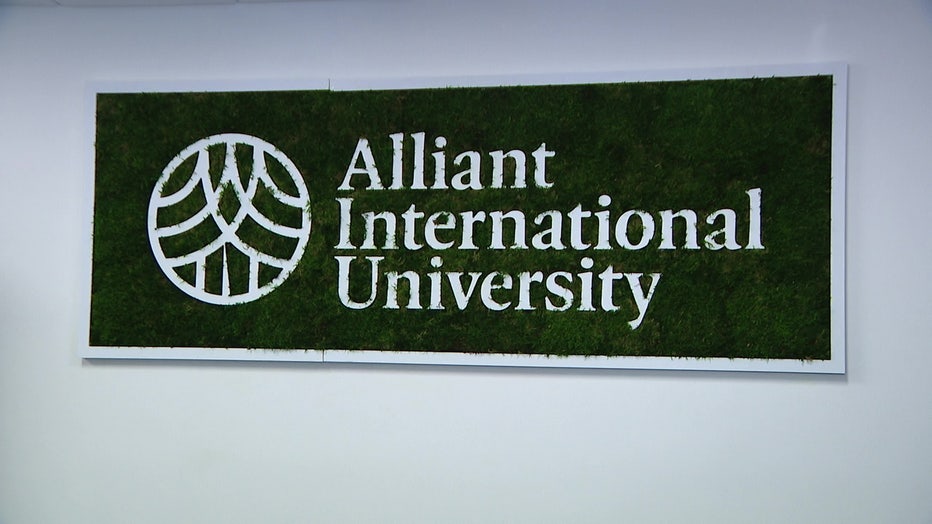 Logo of Alliant International University.